MOTOR SPORT CHAMPIONS OF 2015 HONOURED IN PARIS
The winners of this year's FIA Championships have been honoured in a glittering 2015 FIA Prize-Giving ceremony at the famed Lido theatre in Paris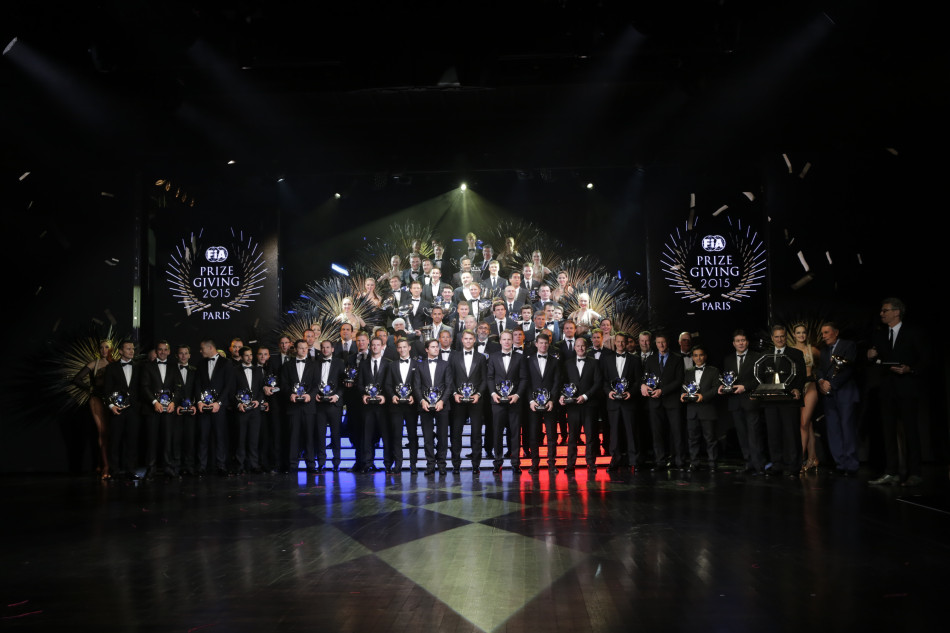 In the shadow of the Arc de Triomphe, the most significant triumphs of the motor sport year took centre stage at the iconic home of cabaret on the Champs-Elysées.
While the gala evening was naturally somewhat restrained in light of the shocking events in Paris three short weeks ago, the evening was still a celebratory and quintessentially French affair, while giving the year's biggest winners their due.
At the head of the list of Champions sits 2015 FIA Formula One World Champion, Lewis Hamilton who in accepting the Drivers' Championship trophy for the third time took his place among the legends of the sport.
Hamilton's 2015 triumph writes his name in the history books alongside iconic names such as Sir Jack Brabham, Sir Jackie Stewart, Niki Lauda, Nelson Piquet and his boyhood hero, Ayrton Senna. On his way to the title, the Briton climbed to third on the lists of both all-time wins and pole positions, and matched the record for the highest number of podiums in a season.
"It's pretty much impossible to put into words what it means to be a three-time world champion," said Hamilton.
"It is a dream, it's an incredible feeling and I'm very proud of my family for everything they did to get me here today.
"I remember how hard my Dad and my Mum worked to make sacrifices for me. It's been a long, long journey – I've been racing for 22 years.
"This year, winning the race in Austin and sealing the championship there was one of the most special races – there's a huge sense of pride in what I have achieved."
This year's FIA World Rally Champion, Sébastien Ogier, is another driver in the process of immortalising himself as one of the greats of his discipline.
Alongside his long-time co-driver Julien Ingrassia, Ogier claimed his third consecutive World Championship title with Volkswagen Motorsport. The victory places him fourth on the list of all-time Champions in the WRC, and in seven short seasons Ogier has the second-highest number of event wins of all time, only beaten by nine-time Champion Sébastien Loeb.
Conversely, the winning crew of the 2015 FIA World Endurance Championship are all first-time World Champions.
Mark Webber, the battle-hardened Formula One veteran taking on a new challenge, Brendon Hartley, the young and raw talent, matured by endurance racing and Timo Bernhard, the experienced Le Mans winner. The trio proved to be a formidable combination, and after finishing second at the 24 Hours of Le Mans, they took four consecutive race wins to seal the title in a dramatic season finale in Bahrain.
In the FIA World Touring Car Championship and the FIA World Rallycross Championship, drivers José Maria Lopez and Petter Solberg both defended their respective titles from last season. However, they did so in dramatically different fashion.
Lopez always looked like a title favourite, from the start of the championship to the end, taking ten race victories out of 24 to clinch the title with a round to spare. Solberg, though, endured a difficult middle part of the season before finishing with four podiums in the last five rounds to confirm his Championship at the finale in Argentina.
Champion teams were also honoured during the gala, with Mercedes-AMG Petronas (F1), Volkswagen Motorsport (WRC), Porsche (WEC), Citroen (WTCC) and Peugeot-Hansen (World RX) displaying their victorious cars on the Lido stage.
Another highlight of the evening was the crowning of the very first FIA Formula E Champion, Nelson Piquet Jr, who endured a thrilling battle in the final round at London earlier this year to win by one point from Sebastien Buemi.
CIK-FIA World Karting Champions Karol Basz (KF), Jorrit Pex (KZ) and 14 year-old Logan Sargeant (KF Junior) also received their awards; one of the biggest reactions of the night was saved for Sargeant when he told the crowd of the eight long years that had gone into his World Championship.
While the stars headlined the evening, Champions from a huge array of disciples and international regions were honoured at the gala. This year's dominant Formula 3 driver, Felix Rosenqvist collected his FIA Formula 3 European Championship and FIA F3 Intercontinental Cup (Macau Grand Prix) trophies. French rally star-of-the-future Quentin Gilbert also collected trophies for WRC3 and Junior WRC, while Qatar's Nasser Al-Attiyah took home both the FIA World Cup for Cross Country Rallies and the WRC2 trophies.
Winning drivers and co-drivers for all of the FIA Regional rally championships were celebrated, as were the FIA Formula 4 champions from all around the world. The FIA GT World Cup winning driver (Maro Engel) and manufacturer (Mercedes-Benz) picked up their trophies, while Richard Lietz and Porsche took the titles in the FIA World Endurance Championship GT category.
A number of special Formula One awards were presented to those achieving excellence at the pinnacle of the sport. Broadcaster Canal Latin America was awarded the F1 Television Trophy, CIE was presented with the Best Promoter Award for the incredible Mexican Grand Prix event, and the FIA's German ASN, DMSB, won the Bernie Ecclestone award with German drivers having scored most points during the FIA Formula One World Championship.
Other award winners included FIA Masters Historc classes, the successful Venturi land speed record attempt and Adrian Fawdington, the FIA's Outstanding Official of the Year. 
---
LES CHAMPIONS DU SPORT AUTOMOBILE 2015 RECOMPENSES A PARIS
La FIA a rendu hommage aux vainqueurs des Championnats de la FIA 2015 à l'occasion de son prestigieux Gala de Remise des Prix qui s'est tenu à Paris au Lido.
C'est à deux pas de l'Arc de Triomphe, dans ce cabaret d'exception sur les Champs-Elysées, que le sport automobile a célébré ses plus grandes victoires de l'année.
Si le gala a été moins festif que les éditions précédentes en raison des événements survenus à Paris à peine trois semaines plus tôt, le spectacle n'en est pas moins demeuré typiquement parisien et les plus grands Champions de l'année y ont été récompensés comme il se doit.
Tête de liste incontestée, Lewis Hamilton, Champion du Monde de Formule Un de la FIA 2015, en venant retirer pour la troisième fois son trophée de meilleur Pilote, est entré dans la légende.
Le triomphe d'Hamilton lui vaut d'inscrire son nom dans les annales du sport automobile aux côtés de figures emblématiques telles que Sir Jack Brabham, Sir Jackie Stewart, Niki Lauda, Nelson Piquet et le héros de sa jeunesse, Ayrton Senna. Dans sa quête du titre, le Britannique s'est classé troisième de tous les temps pour le nombre de victoires et de pole positions et a égalé le record du plus grand nombre de podiums dans une saison.
"Je n'ai presque pas de mots pour décrire ce que signifie être triple champion du monde" a déclaré Hamilton.
"C'est un rêve, une sensation merveilleuse et je suis très fier de ma famille et de tout ce qu'elle a fait pour que je sois ici aujourd'hui.
Je me rappelle combien mon père et ma mère ont travaillé dur et ont fait des sacrifices pour moi. Ce fut un très long cheminement – je cours depuis 22 ans.
La course de cette année à Austin fut l'une des plus incroyables, j'ai gagné le Grand Prix et j'ai remporté le championnat – je suis très fier de ce que j'ai réalisé."
Le Champion du Monde des Rallyes de la FIA 2015, Sébastien Ogier, est lui aussi bien parti pour figurer parmi les plus grands de sa discipline.
Aux côtés de son copilote de longue date Julien Ingrassia, Ogier a décroché son troisième titre consécutif de Championnat du Monde avec Volkswagen Motorsport. Cette victoire le place quatrième sur la liste des Champions de tous les temps en WRC et, au terme d'à peine sept manches, il est le deuxième meilleur pilote français de l'histoire du WRC juste derrière le nonuple Champion Sébastien Loeb.  
A l'inverse, les vainqueurs du Championnat du Monde d'Endurance de la FIA 2015 sont Champions du Monde pour la première fois.
Mark Webber, le vétéran aguerri de la Formule Un qui relevait un nouveau défi, Brendon Hartley, le jeune talent mûri par les courses d'endurance et Timo Bernhard, le vainqueur du Mans expérimenté. Le trio s'est révélé un formidable équipage et, après avoir terminé deuxième aux 24 Heures du Mans, ils ont remporté quatre épreuves consécutives décrochant le titre lors d'une finale de saison spectaculaire à Bahreïn.
Dans le Championnat du Monde des Voitures de Tourisme de la FIA et le Championnat du Monde de Rallycross de la FIA, les pilotes José Maria Lopez et Petter Solberg ont tous deux défendu leurs titres respectifs de la saison passée, de façon toutefois radicalement différente.
Lopez a toujours été donné favori, du début à la fin du championnat, décrochant le titre à une manche de la fin avec 10 victoires sur 24. Solberg, quant à lui, a connu un milieu de saison difficile avant de rafler quatre podiums sur les cinq dernières manches pour confirmer son titre lors de la finale en Argentine.
Les équipes championnes ont également été honorées à l'occasion du gala, Mercedes-AMG Petronas (F1), Volkswagen Motorsport (WRC), Porsche (WEC), Citroën (WTCC) et Peugeot-Hansen (World RX) exposant leurs voitures victorieuses sur la scène du Lido.
Autre point fort de la soirée, le couronnement du tout premier Champion de Formule E de la FIA. Nelson Piquet Jr a triomphé, au terme d'un affrontement d'une grande intensité, lors de la dernière manche à Londres plus tôt cette année, battant d'un point Sébastien Buemi.
Les Champions du Monde de Karting de la CIK-FIA Karol Basz (KF), Jorrit Pex (KZ) et Logan Sargeant âgé de 14 ans (KF Junior) se sont également vu décerner leurs récompenses. Sargeant a ému le public quand il a évoqué les huit longues années consacrées à son Championnat du Monde.
Si les stars occupaient le devant de la scène, le gala a également mis en lumière des Champions provenant de très nombreuses disciplines et régions du monde. Le pilote de Formule 3 qui a dominé cette année, Felix Rosenqvist, a retiré ses trophées pour le Championnat d'Europe de Formule 3 de la FIA et la Coupe Intercontinentale de F3 de la FIA (Grand Prix de Macao). La star montante des rallyes, le Français Quentin Gilbert, a également reçu des trophées pour le WRC3 et le WRC Junior, tandis que le Qatari Nasser Al-Attiyah a remporté les trophées pour la Coupe du Monde des Rallyes Tout-Terrain de la FIA et le WRC2.
Les pilotes et copilotes vainqueurs de tous les championnats des rallyes régionaux de la FIA ont été célébrés, de même que les champions de Formule 4 de la FIA du monde entier. Le pilote vainqueur de la Coupe du Monde FIA GT (Maro Engel) et le constructeur (Mercedes-Benz) se sont vu remettre leurs trophées tandis que Richard Lietz et Porsche ont remporté les titres dans la catégorie GT du Championnat du Monde d'Endurance de la FIA.
Plusieurs prix spéciaux de Formule Un ont été décernés en récompense de l'excellence dans la catégorie reine. La chaîne Canal Latin America a reçu le F1 Television Trophy, CIE a reçu le Prix du Meilleur Promoteur pour l'incroyable Grand Prix du Mexique et l'ASN allemande de la FIA, le DMSB, a remporté le prix Bernie Ecclestone, les pilotes allemands ayant totalisé le plus de points lors du Championnat du Monde de Formule Un de la FIA.
Egalement à l'honneur les classes Historiques Masters de la FIA, la tentative réussie de record de vitesse sur terre de Venturi et Adrian Fawdington, l'Officiel Exceptionnel de l'année.