Monte Carlo fully charged for 2023 Bridgestone FIA ecoRally Cup Round 7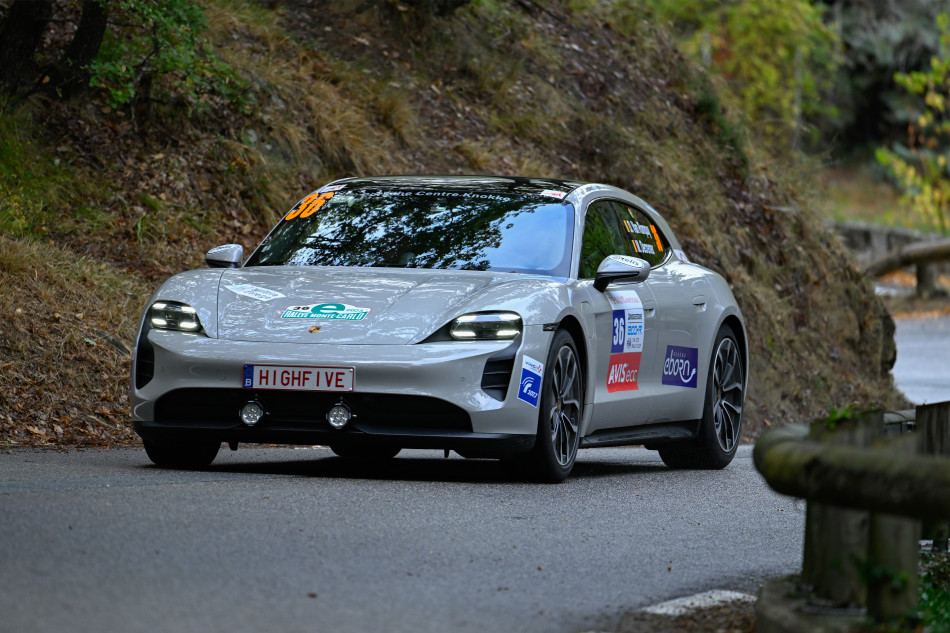 Title battle on a knife-edge as the crews prepare to take on the most celebrated event of the year
Huge entry list representing 60 cars, 19 manufacturers and 15 competing nations
Star power brings drivers with Formula 1® and World Rally Championship pedigree
The 2023 Bridgestone FIA ecoRally Cup reaches the start of its penultimate round today, when the 7th E-Rallye Monte Carlo gets underway.
As is to be expected when the series reaches the most evocative and historic host of international rallies, the entry list for the event is huge – with 60 entries representing 15 nations among the crews. An unprecedented 19 manufacturers are reflected on the entry list, with 36 different models of all-electric car preparing for the five-day regularity event.
As an amateur series, the Bridgestone FIA ecoRally Cup is open to all who wish to compete in showroom-standard electric vehicles. Being a regularity means that there are no timed special stages of the kind seen in the FIA World Rally Championship and the many regional and national rally categories for hybrid and internal combustion vehicles.
Instead, the all-electric competitors must at all times adhere to local traffic laws and speed limits. A regularity means that each car is given a target time to check in at the various checkpoints along the route, if an optimum and legal average speed can be maintained. Penalty points are then added for being early or late in to each checkpoint.
Drivers and co-drivers receive the route of each day's regularities shortly before they set off, in order to maintain a level playing field and provide a suitable test of navigational skill. Meanwhile, sensors mounted on board each competing vehicle measure the amount of energy that each car consumes in order to complete the route. Each crew's final result is then a combination of the number of penalties that they accumulated in completing the course and the efficiency of their vehicle and driving style in conserving battery energy.
The cars will gather in Monaco's fabled Casino Square to be flagged away for the opening leg of the rally at 14:00.
At the front of the field will be the three crews who are locked in battle for the overall 2023 Bridgestone FIA ecoRally Cup title: Spanish former champion Eneko Conde and his co-driver Lukas Sergnese in their Kia E-Soul carrying number 1; Czech pairing Michal Zd'arsky and co-driver Jakub Nabalek in their number 2 Hyundai Kona and Italy's Guido Guerrini with Polish co-driver Artur Prusak in their number 3 Kia E-Niro.
At present it is Zd'arsky who holds a slender six-point advantage over Guerrini, with Conde just one point further behind. All three crews have achieved one win so far this season and all have shown remarkable consistency in the six events to date, spanning Sweden, Chechia, Portugal, Slovenia and Spain.
While the 'big three' in the championship battle it out, the unpredictable nature of ecoRally Cup events mean that it is possible for anyone to shine, whether through regularity prowess or efficient energy consumption. At the last round in Slovenia, for example, one crew finished only 19th in terms of their driving performance, but were propelled up to fifth overall when their energy consumption data was assessed.
Being a Monte Carlo rally means that there is star appeal in abundance relishing the opportunity to take part in an event organised by the Automobile Club de Monaco. Bridgestone has entered a car for Italy's 60-year-old former F3000 champion and Formula 1® driver Stefano Modena, co-driven by British motoring influencer Paul Wallace. Also joining the fray will be Belgian former FIA World Rally Championship front-runner Bruno Thiry, co-driven by fellow countryman Laurent Secretin, who will share a Volkswagen ID4.
"This 7th edition of the E-Rallye Monte C will be an opportunity for competitors not only to cover some 1,000 kilometres of the hinterland, but also to take a trip to Italy, and in fact to Dolceacqua," said Eric Barrabino, General Commissioner of the Automobile Club de Monaco.
"The Organising Committee wanted this to celebrate the twinning between the Italian town and Monaco, which will be solemnly concluded on November 3, five centuries to the day after the syndics of Dolceacqua swore their loyalty to Augustin Grimaldi, Lord of Monaco. The route has been kept secret for the very first time since the event's inception, but it will include visits to some of the most legendary places in the history of Monte-Carlo. The 60 crews taking part are also sure to appreciate these roads."
Another proudly-held achievement by the event organisers is being able to host an all-electric rally without requiring any external recharging infrastructure to be transported to the event. All of the competitors will be able to recharge using the 334 publicly-available recharging points spread across the Principality, primarily in the Parc Fermé and Rally HQ to which they will return at the end of each day, based in the heart of Carré d'Or at the Terrasses du Soleil.
Schedule 2023
LEG 1: MONACO - MONACO - Wednesday 18th October 2023
Start from Monaco Place du Casino at 14:00
3 x Regularity Stages (RS 1/2/3) to be run
Return to Parc Fermé at 23:10
LEG 2: MONACO - MONACO - Thursday 19th October 2023
Start from Monaco Terrasses du Soleil at 08:00
3 x Regularity Stages (RS 4/5/6) to be contested
Entry to Parc Fermé at 20:30
LEG 3: MONACO - MONACO - Friday 20th October 2023
Start from Monaco Terrasses du Soleil at 08:00
4 x Regularity Stages (RS 7/8/9/10) to be contested
Entry to Parc Fermé at 20:20
LEG 4: MONACO - MONACO - Saturday 21st October 2023
Start from Monaco Terrasses du Soleil at 08:30
3 x Regularity Stages (RS 11/12/13) to be contested
Entry to Parc Fermé at 19:00
LEG 5: MONACO - MONACO - Saturday 21st October 2023
Start from Monaco Place du Casino at 21:00
2 x Regularity Stages (RS 14/15) to be run
Entry to Parc Fermé at 00:40