This page contains archived information and may not display perfectly
MERC - Rashed Al-Naimi claims dramatic victory in historic Qatar International Rally
Winning streak ends for Nasser Al-Attiyah who retired with engine issues on the penultimate stage promoting Al-Naimi to the top step of the podium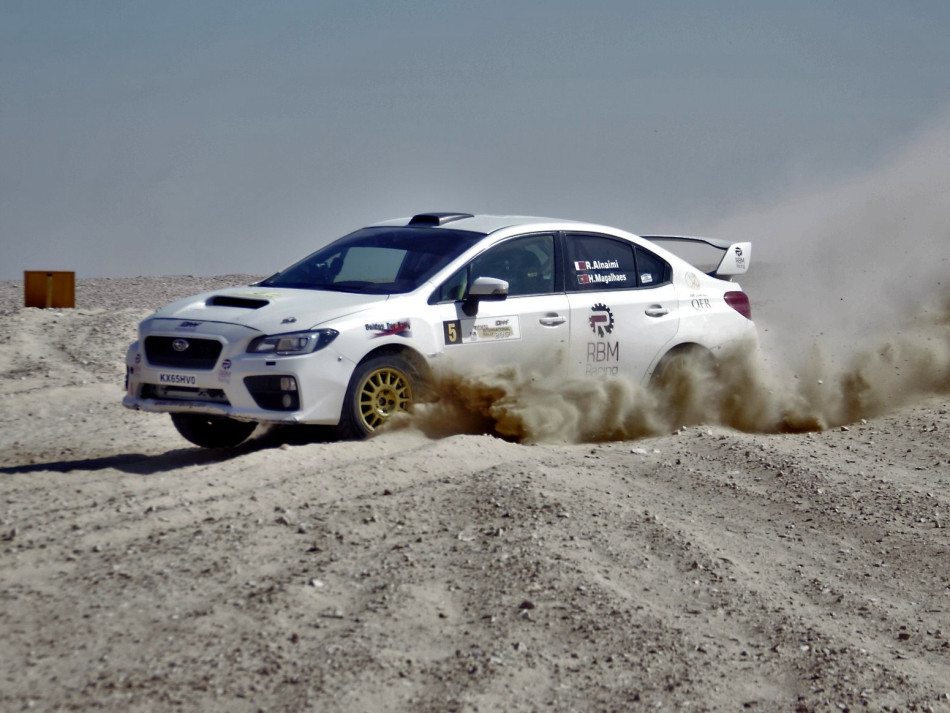 There may have been a small entry in this year's QMMF Qatar International Rally, but it didn't detract from one of the most exciting ever final days of a round of the FIA Middle East Rally Championship.
Qatar's talented youngster Rashed Al-Naimi and new Portuguese co-driver Hugo Magalães claimed a dramatic victory, when firm favourite Nasser Saleh Al-Attiyah suffered engine issues on the penultimate stage and retired his Skoda Fabia R5. A stunned Al-Naimi also claimed victory in the MERC 2 category, three special stage wins and now leads the regional rally championship by nine points.
"The target here was the win in MERC 2, but to win the Qatar Rally is a complete shock to me and changes my entire strategy for the rest of the season," said Al-Naimi. "It is a short championship and I have a really good chance to win the title. I had a flat tyre on the last stage and we damaged the suspension, but it was not too bad and I managed to finish and win my first rally in the Middle East. It's a great feeling."
The Kuwaiti pairing of Meshari and Fares Al-Thefiri controlled their pace perfectly to bring a Mitsubishi Lancer Evolution X to the finish in second overall and second in MERC 2. It was a career-best result for the Kuwaiti after he had been denied second place in his home country last year by a fuel violation.
Al-Attiyah won seven of the 11 special stages (SS2 was cancelled) with French navigator Matthieu Baumel, but the team could not repair a broken radiator at the remote service stop and the Qatari managed to coax his stricken Skoda through the next stage with a dying engine and a suspension issue. It proved too much, however, and the Qatari's 64th MERC rally win is on hold for a few more weeks.
Al-Attiyah said: "We damaged the radiator and, after that, we could not continue because we lost all the water. I was sure that we would have damaged the engine if we had carried on. I did not want to cheat or bend the rules by taking water from somebody. This is the game you know. I think, to have a good race, you also need to have a service between the three stages, like the old rule.
"I hope that we will be better in Jordan. After, we have Cyprus and Lebanon, so we try to score maximum points for the championship. It is not so easy now, but we will see."
Qatar's Khaled Al-Suwaidi put up a brave challenge over the opening leg and led the event until the fourth stage. He and navigator Marshall Clarke showed an impressive pace in a Skoda Fabia R5 to win the opening timed test and keep Al-Attiyah's lead to just 10.4 seconds at the night halt. But he struggled to match the defending champion after the restart on Saturday morning and rolled out of contention in the ninth stage.
Former co-driver Nasser Al-Kuwari delivered a superb performance as a driver in his Mitsubishi Lancer Evolution IX. With Irish navigator Killian Duffy reading his pace notes, the Qatari set impressive and consistent stage times from the start and, punctures aside, would have challenged for the MERC 2 win had car eligibility not prevented him from starting the international event. Al-Kuwari reached Losail 33min 8.9s in front of Khaled Al-Mohannadi to take a stunning win in the National Rally.
Al-Mohannadi and Indian co-driver Musa Sherif lost 18 minutes in the eighth stage with technical problems and bounced back to claim second place. Lebanon's Henry Kahy teamed up with Jordanian Musa Djiyerian to round off the National Rally podium.
The next round of the FIA Middle East Rally Championship will be the Jordan Rally on May 4-6
QMMF Qatar International Rally – positions after SS12:
1. Rashid Al-Naimi (QAT)/Hugo Magalhães (POR) Subaru Impreza WRX STi            1hr 56min 28.3sec
2. Meshari Al-Thefiri (KWT)/Fares Al-Thefiri (KWT) Mitsubishi Lancer Evo X            2hr 21min 57.0sec
QMMF Qatar National Rally – positions after SS12:
1. Nasser Al-Kuwari (QAT)/Killian Duffy (IRL) Mitsubishi Lancer Evo IX                     2hr 10min 17.2sec
2. Khaled Al-Mohannadi (QAT)/Musa Sherif (IND) Mitsubishi Lancer Evo VIII            2hr 43min 26.1sec
3. Henry Kahy (LEB)/Musa Djiyerian (JOR) Mitsubishi Lancer Evo VIII                       3hr 05min 07.1sec
FIA Middle East Rally Championship – positions after round 1 (unofficial):
1. Rashid Al-Naimi (QAT)                        37pts
2. Meshari Al-Thefiri (KWT)                     28pts
3. Nasser Saleh Al-Attiyah (QAT)             7pts     
4. Khalid Al-Suwaidi (QAT)                      6pts