MERC - Bumper entry announced for next week's Oman International Rally
Dakar Rally winner and MERC legend Nasser Saleh Al-Attiyah heads field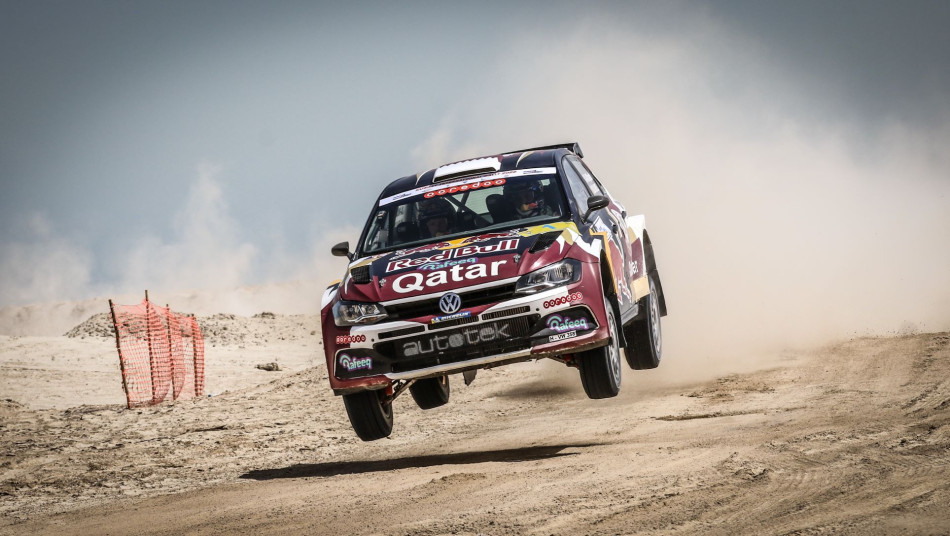 The Oman Automobile Association (OAA) has announced an impressive line-up of international drivers and national entries for the Oman International Rally, round one of the FIA Middle East Rally Championship (MERC), taking place on January 26th-28th.  
Fifteen international crews and 10 teams taking part in a national event grace the entry list announced by the organising committee. The field includes individuals from nine countries and is headed by the global motor sport stars of the moment, Nasser Saleh Al-Attiyah and his Andorra-based co-driver Mathieu Baumel.
On Sunday, the duo secured Al-Attiyah's fifth success in the world-renowned Dakar Rally and a fourth triumph for his co-driver. The Qatari makes the switch from that all-conquering Toyota Hilux to join forces with Autotek Motorsport in a bid to begin another defence of his regional rally title in a Volkswagen Polo GTi.
Al-Attiyah has seven wins under his belt in the Sultanate of Oman and is a clear favourite for victory next week over the 13 gravel stages that make up the challenge in Oman.
Four Rally2 cars grace the entry list, with local hopes resting on the shoulders of the Oman Rally Team's Abdullah Al-Rawahi and his Jordanian co-driver Ata Al-Hmoud in their Škoda Fabia. Al-Rawahi finished fourth in last year's championship.
Qatar's Nasser Khalifa Al-Atya – the runner-up in the regional series back in 1993 - again teams up with Giovanni Bernacchini to drive a Ford Fiesta R5. His Italian co-driver took part in the Dakar Classic event in Saudi Arabia over the last two weeks.
Completing the Rally2 line-up will be Petr Kačirek in his Duck Racing Škoda Fabia. The Czech finished second overall behind Al-Attiyah in Oman last year with Václav Kopáček. Václav is replaced by Petra Řiháková on this occasion, with whom Kačirek has taken part in numerous Czech events in the past.
Kuwait's Meshari Al-Thefiri is a multiple former MERC2 champion and will drive a Mitsubishi Evo X in Oman, where he lines up against 10 other Group NR4 cars on the entry list to compete in the MERC2 category.
The defending champion Issa Abu Jamous returns to defend his title in a Mitsubishi Lancer Evo IX and lines up against fellow Jordanians, Ihab Al-Shorafa, Shadi Shaban, Sheikh Bader Al-Fayez and Shaker Jweihan, in addition to Kuwait's Mohammed Al-Zafiri and Yousef Al-Dhefiri, Lebanon's Ahmad Khaled and Oman's Abdullah Al-Zubair and Zakariya Al-Aamri.
Local drivers dominate the entry for the Oman national event: Haitham Al-Zadjali and Ghaith Al-Qasmi wheel out a pair of Mitsubishis and there are two Subaru Imprezas for Faisal Al-Rashdi and Jarah Al-Touqi.
UTVs are becoming popular across several FIA motor sport disciplines and rally organisers have received entries from three crews driving Yamaha YXZs - Oman's Mohammed Al-Mazrui and Mutasim Al-Balushi and Lebanon's Alain Nawfal.
There are also national entries from Abdullah Al-Toqi, Musab Soomar and Salim Al-Toqi.
The former will be partnered by a famous Austrian female co-driver from the FIA World Rally Championship (WRC): Ilka Minor has partnered drivers of the calibre of Manfred Stohl and Henning Solberg to eight podiums and 25 stage wins in the WRC since she made her WRC debut with Achim Mörtl in Corsica in 1997. Her best results were a pair of second-placed finishes with Stohl at the 2005 Cyprus Rally and Wales Rally GB in 2006.
The 2023 Oman International Rally gets underway with a ceremonial start and a timed super special stage on Thursday, January 26th.