MERC - Al-Attiyah snatches 17th home victory after thrilling Qatar Rally battle
- Norwegian duo of Østberg and Mikkelsen round off podium places
- Kuwait's Meshari Al-Thefiri romps to second successive MERC2 victory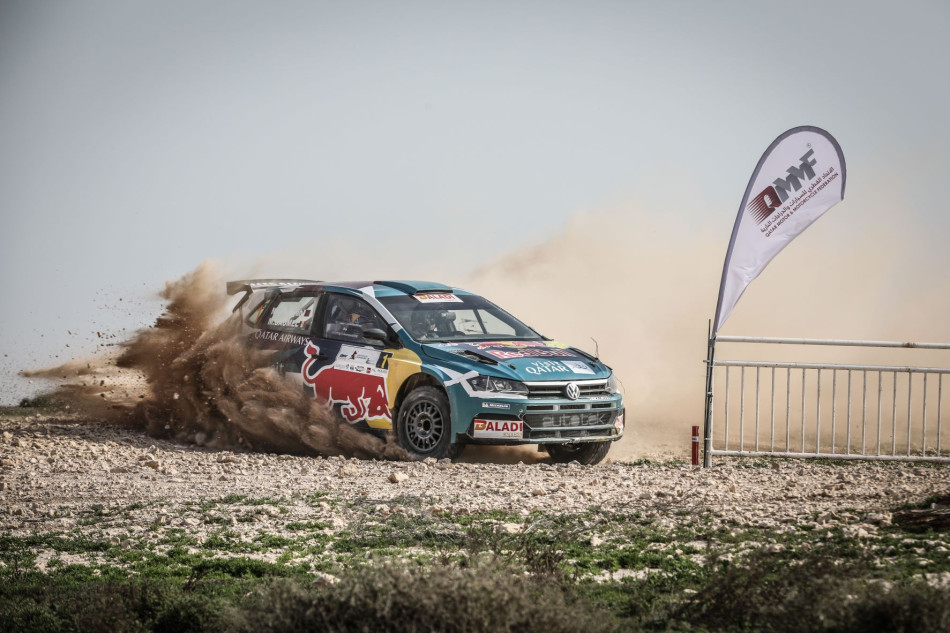 Nasser Saleh Al-Attiyah managed to secure his 17th career victory in one of the most exciting finishes in the history of the Qatar International Rally on Saturday 18 February.
The Qatari was unable to shake off Mads Østberg's unwanted advances throughout a pulsating two days of high-speed action in the windswept deserts of northern Qatar. As they had done in 2022, the pair traded blows throughout what became a thrilling spectacle in the shifting sand and enveloping dust on the stages.
A storming run through the final stage in his Autotek Volkswagen Polo GTI and a minor error by the Norwegian ensured that Al-Attiyah secured the win by 12.2 seconds and his Andorra-based co-driver Mathieu Baumel earned a sixth success in Qatar. The pair won seven of the 13 special stages and now lead the FIA Middle East Rally Championship.
The delighted five-time Dakar Rally winner said: "I am quite happy to win. This was an amazing weekend. To win 17 times is not easy. I am really quite proud of this. It was a big fight with Mads Østberg this week. I had nothing to lose at the start of the last stage. Just we go flat out everywhere."
Østberg had pushed the Qatari hard in 2022 and his challenge was even stronger on this occasion with Swedish co-driver Patrik Barth reading the notes. The duo led twice in an SRT Škoda Fabia Rally2 Evo and won four stages before falling just short on the final speed test. Østberg could have become the first Scandinavian driver to win the Qatar event since the late Björn Waldegård teamed up with Fred Gallagher to take victory in 1986.
Østberg said: "It was a great fight, no doubt. We enjoyed the rally a lot. I am starting to wonder if Nasser was just keeping it all under control all the way and did everything when he had to. I think we were able to stress Nasser and that was the only thing we could do. He knows his way around the desert. We are lacking still a bit of experience. I wanted to push on the last stage. I knew that this is Nasser's best stage in the whole of Qatar. I knew that from last year. I did one big mistake on the stage where I mixed up the crests and the road disappeared to the left but this was not nine seconds. It was less than that. I have huge respect for Nasser. He is a very good driver and he knows what he is doing here. I am also very happy to be able to fight with him. We have led the rally two times and it's been a very good weekend. I have a few extra notes now and I know what I need to do. I hope to get another shot."
The Norwegian pairing of Andreas Mikkelsen and Torstein Eriksen were competing in Qatar for the first time and were not able to consistently match the leading pair. The 2021 FIA WRC2 champion won the opening tarmac stage and one desert special on his way to the final step of the podium in a second SRT Škoda.
Mikkelsen said: "I think third place is the most we could have asked for, having never been here before. I have to say I was very happy with the performance. We expected everyone to follow a little bit more the road. What we heard from the new FIA regulations, but there was still a lot of cutting going on. We just need to adjust our driving but, when we are done with the recce, it's too late. We have the notes following the road. Two stage wins and the one was basically where you could not cut and had to follow the road. That's where we felt more at home."
Finland's Emil Lindholm co-driver Reeta Hämäläinen improved markedly as the event progressed and adapted to the high-speed nature of the stages to confirm fourth place, while the QMMF-backed Abdulaziz Al-Kuwari and Lorcan Moore overcame a first day misfire to round off the top five.
Qatari Nasser Khalifa Al-Atya teamed up with Italy's Giovanni Bernacchini to finish sixth in his new Motortune Ford Fiesta R5.
Meshari Al-Thefiri and his Qatari co-driver Nasser Al-Kuwari completely dominated the MERC2 category and reached the finish in seventh overall with a winning MERC2 margin of 5min 12.5sec in their Mitsubishi Lancer Evo X. Al-Thefiri won all but one of the gravel stages in his category to extend his lead in the championship standings.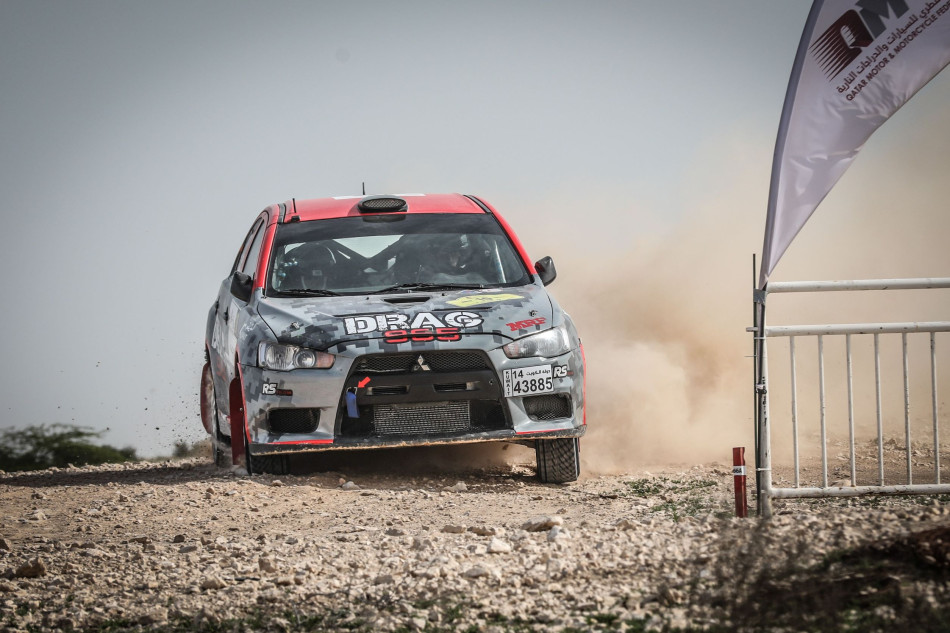 Fellow Kuwaiti Yousef Al-Dhafeeri won one stage in MERC2 alongside Lebanese co-driver Carlos Hanna and finished second in MERC2, ahead of Qatar's Abdullah Al-Rabban and Emirati co-driver Hassan Ali Obaid. The local crew of Rashid Al-Mohannadi and Fares Allouh rounded off the top 10 and finished fourth in the category.  
Action in the 2023 FIA Middle East Rally Championship resumes in Jordan on May 18th-20th.
2023 Qatar International Rally – positions after SS13 (unofficial @ 15.45hrs):
| | |
| --- | --- |
| 1. Nasser Saleh Al-Attiyah (QAT)/Mathieu Baumel (AND) Volkswagen Polo GTI | 1hr 44min 07.4sec |
| 2. Mads Østberg (NOR)/Patrik Barth (SWE) Škoda Fabia Rally2 Evo  | 1hr 44min 19.6sec |
| 3. Andreas Mikkelsen (NOR)/Torstein Eriksen (NOR) Škoda Fabia Rally2 Evo | 1hr 45min 44.9sec |
| 4. Emil Lindholm (FIN)/Reeta Hämäläinen (FIN) Škoda Fabia Rally2 Evo | 1hr 46min 13.6sec |
| 5. Abdulaziz Al-Kuwari (QAT)/Lorcan Moore (IRL) Škoda Fabia Rally2 Evo | 1hr 49min 59.9sec |
| 6. Nasser Khalifa Al-Atya (QAT)/Giovanni Bernacchini (ITA) Ford Fiesta R5 | 2hr 00min 22.8sec |
| 7. Meshari Al-Thefiri (KWT)/Nasser Al-Kuwari (QAT) Mitsubishi Lancer Evo X     | 2hr 06min 03.3sec |
| 8. Yousef Al-Dhafeeri (KWT)/Carlos Hanna (LEB) Mitsubishi Lancer Evo X | 2hr 11min 15.8sec |
| 9. Abdullah Al-Rabban (QAT)/Hassan Ali Obaid (ARE) Mitsubishi Lancer Evo X | 2hr 11min 24.9sec |
| 10. Rashid Al-Muhannadi (QAT)/Fares Allouh (QAT) Subaru Impreza STI | 2hr 17min 11.1sec |
| 11. Khalid Al-Muhannadi (QAT)/Waleed Al-Fuaim (SAU) Polaris Pro XP (T4) | 2hr 19min 48.2sec |
| 12. Sadoon Al-Kuwari (QAT)/Stéphane Prévot (BEL) Volkswagen Polo GTI        | 2hr 23min 21.2sec |
| 13. Ihab Al-Shorafa (JOR)/Yousef Juma (JOR) Mitsubishi Lancer Evo X | 2hr 33min 39.0sec |
| 14. Shadi Shaban (JOR)/Samer Issa (JOR) Mitsubishi Lancer Evo X | 2hr 47min 26.0sec |
| 21 starters: 14 finishers |   |
| National |   |
| 1. Sami Fleifel (JOR)/Ahmed Al-Khatab (JOR) Mitsubishi Lancer Evo VIII | 2hr 28min 58.4sec |