This page contains archived information and may not display perfectly
Macau Grand Prix circuit focus
Felix Rosenqvist details a lap of the famous Guia Circuit, and the difference he anticipated moving from the FIA F3 World Cup to the FIA GT World Cup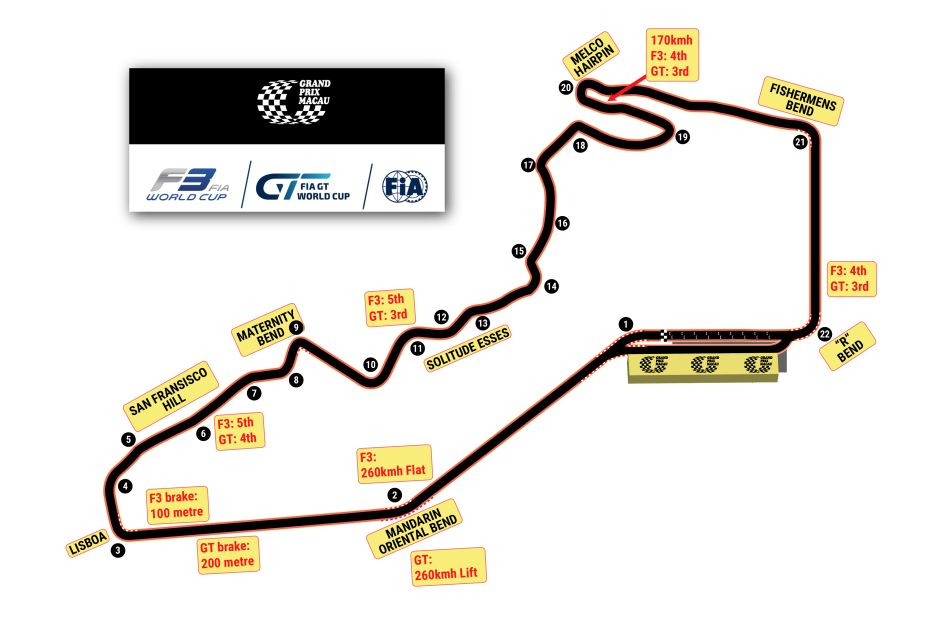 There is around a ten-second difference between the lap times of the fastest Formula Three and GT cars around the Macau Grand Prix circuit, in favour of the nimble F3s.
The mountainous road circuit, surrounded by high fencing for its entire 6.2km length and made relatively slippery by virtue of its use by normal traffic, is one of the greatest challenges in motor sport.
It has a long high-speed straight with a foreboding kink at mid-distance and one of the slowest downhill hairpin bends of all circuits. It is an extremely difficult track on which to accurately pick braking and turn-in points, rewarding accuracy and bravery.
Both F3 and GT lap records are relatively long-standing. Sergio Sette Camara, third in last year's FIA F3 World Cup, set the F3 lap record in 2015 at 2min 10.186seconds (169.23kph) Edoardo Mortara set the GT record in an Audi RS in 2013 at 2min19.55secs (157.87kph).
If both drivers crossed the start line together on a flying lap the F3 would have been 470 metres ahead the next lap around – a substantial part of Macau's long main straight. And yet the top speed of both cars is similar. The difference is in braking, mid-corner speed, acceleration, traction and to a degree aerodynamic efficiency.
For drivers stepping from one category to another – and the step is always F3 to GT – it's a new experience played out on a familiar landscape.
"For a start," says Felix Rosenqvist, twice F3 winner and now FIA GT World Cup aspirant, "the F3 car is far more able to be thrown around and the vision from it is so much better to enable you to accurately place the car."
Rosenqvist faces his first GT laps in Free Practice One on November 16 and expects a markedly different dynamic to his F3 experience.
TURN 2 (MANDARIN ORIENTAL BEND)
"This can be taken flat in sixth gear in an F3 car at approximately 260kph. A GT car will approach it at the same speed but a definite lift will be needed to get through. In 2016 Laurens Vanthoor clipped a kerb on the apex of the corner causing his GT car to run wide and overturn. This corner is one of the great sensations of the season.
TURN 3 (LISBOA BEND)
"Both cars will approach the braking area for the 90-degree right-hand Lisboa Bend at the same speed – above 280kph. You can get to the 100-meter mark before you brake in an F3 car. The GT car, with its greater mass, will need double that braking distance.  This is the most logical passing position on the entire circuit so it becomes very strategic in terms of where you place your car on the road.
TURN 4 (SAN FRANCISCO HILL)
"In an F3 car this is a precise piece of road where it is absolutely vital to be as close to the fence as possible. It looks very tight on turn-in, but opens up after the apex. You can get to fifth gear in an F3 car. I expect to hold fourth in the Ferrari GT3.
TURNS 6-7 (MATERNITY)
"Braking into Maternity sets the car up for the run through the following Solitude Esses. It's vital to get it right and to use the apron on the exit of the corner to extend the track limits. There's a solid concrete wall and you need to run very close to it. In the F3 car, third gear is used. In the GT car, I expect second.
TURNS 9, 10, 11 (SOLITUDE ESSES)
"The track is very narrow and if the balance of the car is good it's possible to take the 'S' curves completely flat in fifth gear in an F3 car. Smoothness and consistency are important. I expect in the GT car to be using third gear. There's some degree of negative camber in this section and it is always a danger that you will lose grip. I hit the wall two years ago and the F3 car was repairable. I'd not want to hit it in a GT car.
TURN 16 (MELCO HAIRPIN)
"This has been designated a no-overtaking zone for good reason. It is an incredibly tight downhill 180-degree hairpin which, if you enter too quickly, can strand you on the outside left-hand wall. Cars have been known to "back and fill" to get around.  I approach it downhill at around 170kph in either category of the car using either third or fourth gear and brake earlier in the GT. Both cars will apex in first gear.
TURN 17 (FISHERMAN'S BEND)
"You're up to 240kph then back to 120 for this right-hand corner. It tests you as to how much power you can get down early on the bumpy surface. The left-hand wall took out a backmarker GT car in last year's FIA GT World Cup. This year there is new fencing on the corner and better recovery mechanisms to lift damaged cars off the race track.
TURN 18 (R BEND)
"This is possibly the most important corner on the circuit because it governs your speed onto the long straight. In an F3 car it is important to carry as much speed as possible. A GT car can make up some of the deficit but not much. It's fourth gear in an F3, third in a GT."