Lejeune goes one better in #RallyAtHome Challenge 4
French teenager Louis Lejeune has won FIA Rally Star's #RallyAtHome Challenge 4 after finishing runner-up in the previous Challenge.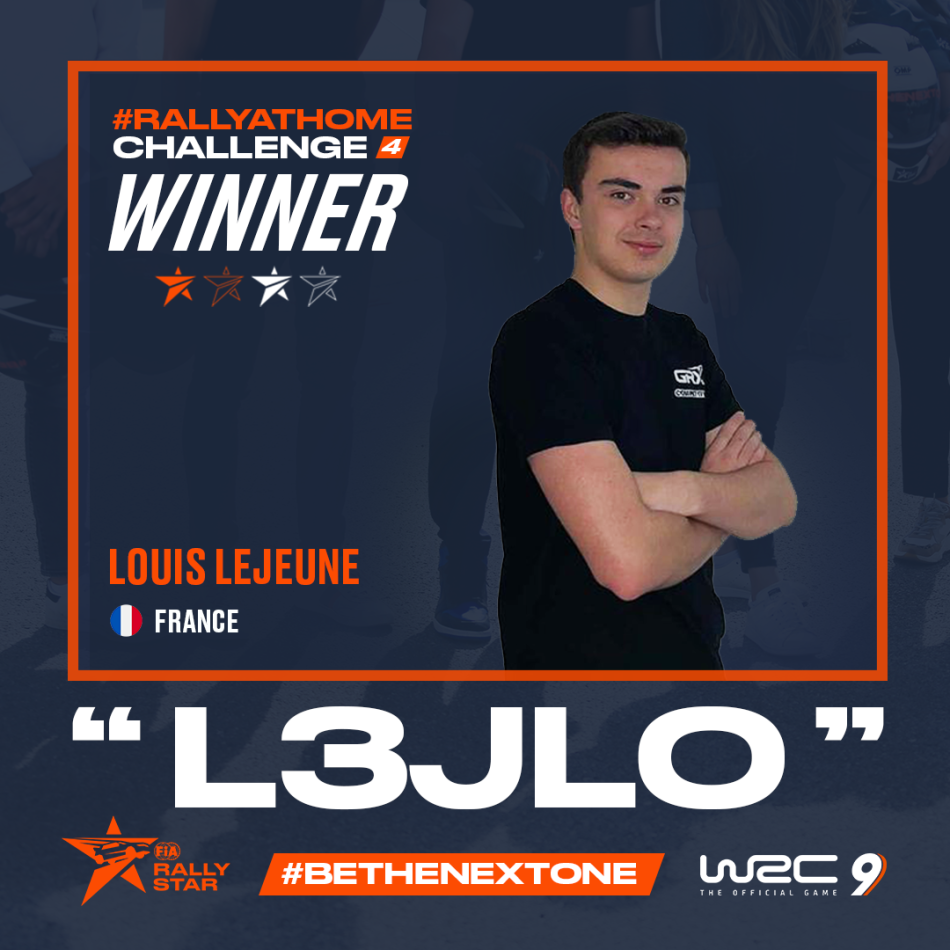 Eighteen-year-old Lejeune is the third French gamer in succession to land a place in the Continental Finals.
Louis completed the 8.20 kilometre stage one-hundredth of a second ahead of Lukas Mateja (Czech Republic) after what had been a tricky, late-evening run through a wet gravel test.
The delighted Lejeune said the FIA Rally Star programme offered him the opportunity to continue a long-running family tradition of motor sport participation.
"My great-grandfather competed in motor sport," he said. "Then my grandfather and my father did the same – my Dad actually won a French championship title in Cross Karts and now I have the chance to follow them."
Lejeune has already started on that journey in both the virtual and real-world racing, but FIA Rally Star offers the chance to take his participation to the next level.
"I've been competing in Cross Karts since I was doing junior sprints [aged 14]. But now I'm 18 and have a driving licence, this is the time to step up to the adult category. Honestly, I want to make motor sport my career. It's my dream/objective to become a professional driver – but I understand it can be complicated to do this."
"If I can't drive the car, I want to make sure I am working in motor sport as a technician or an engineer or somehow with a team. Now I'm just very happy to win #RallyAtHome Challenge 4 – the fight was really close."
Fortunately for Lejeune, he's had plenty of practice at driving virtual rally cars.
"It's quite funny," he said. "I have been driving the WRC game since I was four or five years old. I started out on a PlayStation 2 and now I have progressed quite well. When my friends told me about FIA Rally Star, I entered straight away, and to win this Challenge on the WRC 9 game is really special for me."
 #RallyAtHome is the online challenge element of the FIA's Rally Star programme. Organised and co-ordinated by the FIA and WRC 9, there's a new #RallyAtHome starting every two weeks. While the competitors will always drive an M-Sport-built Rally Star-liveried Fiesta Rally3 on Pirelli tyres, the stage and the weather conditions they will drive in will be decided by the FIA and WRC 9 and kept secret until the challenge opens.
Open to all 17 to 26-year-olds, #RallyAtHome Challenge requires competitors to create a free account on fiarallystar.com (https://fiarallystar.com/en) then purchase FIA Rally Star WRC 9 DLC for €9.99. The choice of how to play the game at home (computer or console) is up to the individual gamer.
FIA Rally Star is providing a series of tutorials to help less experienced sim racers, with Swedish driver Klara Anderson offering guidance for the Challenges.
#RallyAtHome Challenge 5 starts at 00:00 on April 24.