Junior WRC - Title fight tighten in Ypres
The penultimate round of the 2021 FIA Junior WRC Championship hits the flat-out asphalt roads of Ypres Rally Belgium this week as the next stars of the FIA World Rally Championship bid for their chance to win an EcoBoost-powered Fiesta Rally2.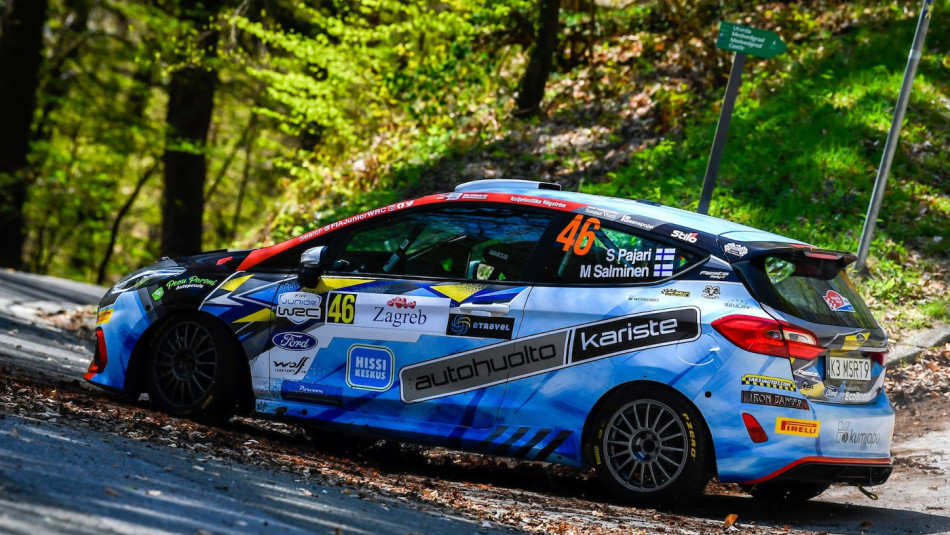 The Belgian classic, which has been running for over 50 years, is expected to provide the perfect battle ground for the hugely competitive Junior WRC field which has seen three different winners from three rounds of the championship so far this season. Adding to the difficulty and skill needed to master this rally, Ypres itself can deliver unpredictable and changeable weather on one of Europe's most challenging sealed surface rallies.
Ypres Rally Belgium is made up of a series of tight asphalt roads lined by ditches that drivers will be keen to avoid, especially those fighting for the highly-coveted FIA Junior WRC Championship and a chance to win their own Ecoboost-powered Fiesta Rally2. The final leg of the rally promises a dramatic finish to the championship battle at the legendary Spa-Francorchamps circuit, home to Formula One's Belgian Grand Prix, the 24 Hours of Spa endurance race and the Spa World Rallycross of Benelux for the second time in 2021.
Three gruelling days of fierce competition over 300 competitive kilometres await this year's crews, all in identical, Pirelli shod M-Sport Poland-built Ford Fiesta Rally4 cars. For Ypres Rally Belgium Pirelli is providing Junior WRC crews with 16 P Zero RA7+ (intermediate wet), 12 P Zero RA5 (hard) and 12 Cinturato RWB (wet) with a maximum allowance off 22 tyres for the rally including shakedown. In terms of tyre strategy, Ypres presents a challenge with not much grip, lots of cuts and as a result a lot of mud brought out onto the road after the cut making it very slippery. Friday night also sees the Junior WRC crews head out with lamp pods fitted for a loop of night stages which will require extra attention to detail with their pace-notes and complete faith in the co-driver's calls. Should it rain during Friday evening's stages the conditions could prove to be the most testing of the Junior WRC season, with incredibly limited visibility and grip.
Maciej Woda, FIA Junior WRC Championship Manager, said: "It's great to be heading to Belgium for WRC's first ever  Ypres Rally Belgium, it is one of the most iconic rallies on the calendar and a fantastic opportunity for our Junior WRC crews. Ypres Rally Belgium is a very special rally that has retained much of its character over the years and watching our crews navigate the tight and technical roads throughout West Flanders will be an exciting prospect. The characteristics of the rally rewards the skilled drivers that have put the hard work in and are really prepared, at the same time for those not bringing their A-game it can punish them hard. The night stages are certainly going to be interesting and it is a great opportunity for our crews from a learning objective as driving stages in the dark is a totally different beast that requires a lot of confidence."
#54 Sami Pajari / Marko Salminen
"I am looking forward to this rally, I was competitive in Croatia so let's see what the roads of Ypres will be like. It's a new feeling, ok it's not changed that much but it's a different sort of feeling still."
 
#55 Martins Sesks / Renars Franics
"I think the consistency on this rally will be the key, for sure it will be good if consistency comes with some stage points that's useful for the championship but I feel no pressure."
 
#56 Jon Armstrong / Phil Hall
"We're just gonna sere how it feels, try to get a good rhythm and see how the rally is developing, try to manage the rally. That's what we did in Croatia, we tried to be smart so let's see what this event brings."
 
#57 Lauri Joona / Mikael Korhonen
"I have a good rally in Croatia so we will try continue from there. We had a test rally the weekend before in Belgium I think we can do a good job."
 
#58 William Creighton / Liam Regan
"It's definitely nice to return to a rally that you're familiar with. As I said before the rally, the drivers of this championship are of such a high calibre that it's not going to make it easier by any means but for sure it's a bit of a confidence boost."
 
#59 Robert Virves / Aleks Lesk
"Right now I think its about getting the experience on WRC events, the result is what it is so I just want to go out and get a good feeling while enjoying this process.