This page contains archived information and may not display perfectly
Jose Maria Lopez ponders FE future
Argentina's double world champion visited the Buenos Aires ePrix and raised the prospect of a future with the series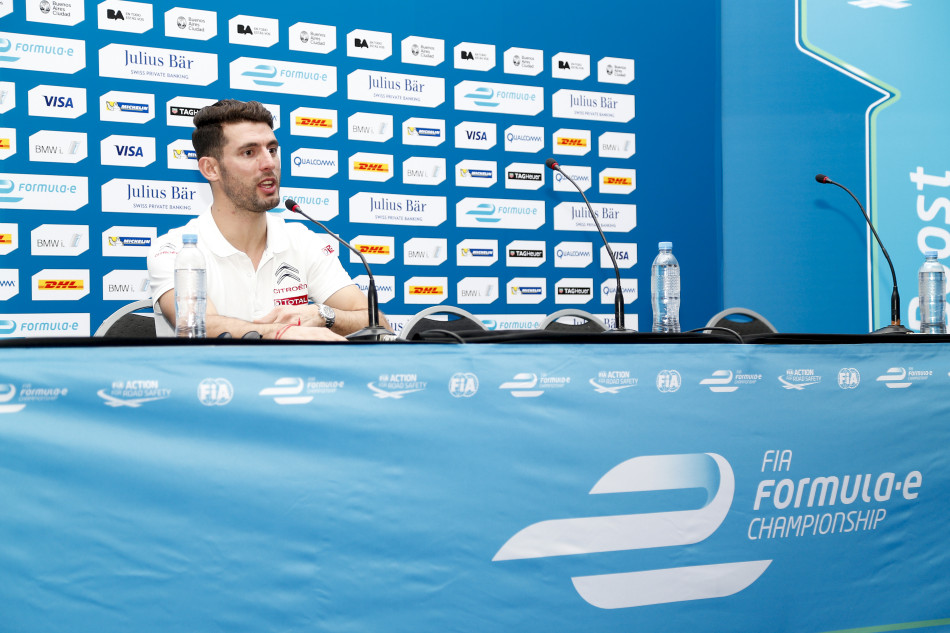 Jose Maria Lopez, Argentina's only current world champion in any category of motorsport, has been getting involved in the Buenos Aires ePrix, taking part in DS Virgin's street demo in the run-up to the race and meeting with the international media to share his enthusiasm for Formula E.
Lopez, who has dominated the World Touring Car Championship for the past two years, has experience of testing FE cars and said in Buenos Aires today that he is seriously considering the category for the future. 
"It would be fantastic for me to be part of this fantastic series, with this fantastic bunch of drivers," he said. "Today I have compromises with the brand with Citroen and also with the series I'm involved in - WTCC. We are developing the car, so the timing is not possible, but it would be fantastic because it's a series which is growing up really quick and it's very interesting for the drivers.
"The fact that we have a race in Argentina, it would be fantastic to have as well an Argentinian driver. We will see. Today, everything is guessing because nothing is concrete and we talk about why not in 2017? It could be a good option." 
For Lopez, part of Formula E's appeal as a racing series is in its technological inevitability. 
"After being in different series, [Formula E is] different, of course. It's a thing in the world that is coming - electric cars are already running the streets. The fact you have a clean energy car is fantastic. Of course, the first thing you notice - I did a small test with a team because there was no driver available and I was lucky enough to be there that day so I jumped in the car a few laps - the first thing is you don't have the noise of an engine.
"You hear everything that's going on in the car - when the car is touching the ground, for example, you can hear the noise of the gearbox all the time, when you hit a kerb you can hear the suspension suffering. It's quite a strange feeling but it's still racing - the level of the series is fantastic, the driving is fantastic. And that is also very important. I know the drivers - I've been racing in the past with them, I've shared teams with Loic Duval, Jerome D'Ambrosio, Lucas di Grassi - they tell me the races are really, really, really fun, the car is fun to drive and the competition is very very high."
Given Argentina's long history of motorsport, and the growth of other categories in the country in recent years, can Lopez see Formula 1 return?
"I think it would be amazing to have Formula 1 here," Lopez mused, "but I think that the priorities of the country maybe are on other things, are linked to another place. When I was testing in Formula 1, everyone I knew in motorsport really enjoyed coming here - that's what they told me. They loved the food, they loved the people, their interactions with the people. I think it's always a good place, or a place where the series want to come. We have Formula E, we have WTCC, we have MotoGP… We have very important series here, and let's hope for the future as a fan as well that we will bring back one day Formula 1 in Argentina."