Jean Todt visits the FIA stand at the UN Habitat III Conference
Committed to ensure safe, sustainable, affordable and accessible mobility in cities all over the world, the FIA participates in the UN Habitat III Conference in Quito, Ecuador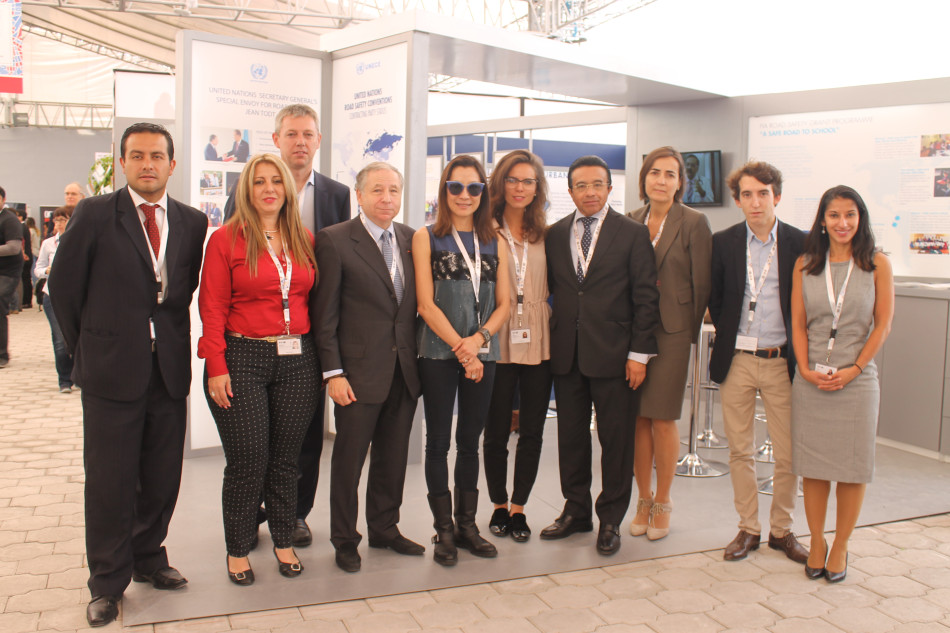 The United Nations Conference on Housing and Sustainable Urban Development Habitat III, which takes place in Quito, Ecuador, from 17 to 20 October 2016, aims at strengthening the global commitment to sustainable urbanization. The conference brings together leaders from around the world to agree on the implementation of a New Urban Agenda.  This event is also the first United Nations global summit after the adoption of the 2030 Agenda for Sustainable Development and the Sustainable Development Goals.
The FIA presence at the Conference is marked by its stand at the Habitat III exhibition village, where more than 100 governmental and international organizations are featuring their urban project and initiatives. This afternoon, the exhibition center and the FIA stand were visited by President Jean Todt, UNDP Goodwill Ambassador Michelle Yeoh, and General Manager of the Automóvil Club del Ecuador Lic. Gorki Obando.
The FIA stand focuses on the FIA Action for Road Safety campaign and the global #SaveKidsLives campaign. Visitors get a chance to learn about various  "Safe road to school" initiatives carried out by FIA Member Clubs in 23 different countries in the framework of the FIA Road Safety Grant Programme, supported by the FIA Foundation.
The work of the FIA Foundation on child safety in cities is represented through the Global Initiative for Child Health & Mobility. This program was established by a coalition of organisations and agencies, including the UNICEF, the UNEP, the Overseas Development Institute and the World Resources Institute, coming together to advocate for safe and healthy journey to school for all children.
Another key highlight of the stand, is the work of the FIA High Level Panel for Road Safety, an initiative launched last November with the support of the United Nations Secretary General, Ban Ki-moon. It aims at engaging both public and private sectors to raise funding and political awareness in response to the road safety crisis. A board of prominent members and ambassadors of the Panel is attracting attention of the Habitat's III audience.
Visitors can also get acquainted with the Jean Todt's role of the UN Secretary General's Special Envoy for Road Safety and his action to promote the UN Road Safety Conventions.
At its stand, the FIA has also demonstrated support extended to cities committed to the implementation of the New Urban Agenda:
The « Safer City Streets », a joint project of the FIA and the International Transport Forum (ITF), facilitates a network for cities willing to improve urban road safety;
The Formula-E Championship, an innovative all-electric championship run in city centers, provides local municipalities with a mechanism to foster innovative technologies and alternative energy solutions for mobility.
The stand was assembled with the help of the Automóvil Club del Ecuador, the FIA Member Club. The Club also showcases local initiatives on sustainable mobility in Ecuadorian cities.