This page contains archived information and may not display perfectly
HILL CLIMB - A Nations Cup Coveted by 20 countries!
On 14 October in Gubbio (ITA), the FIA Hill Climb Masters will not only reward the top four fastest drivers in their respective categories, but will also honour the most consistent and regular team among the 20 national teams entered.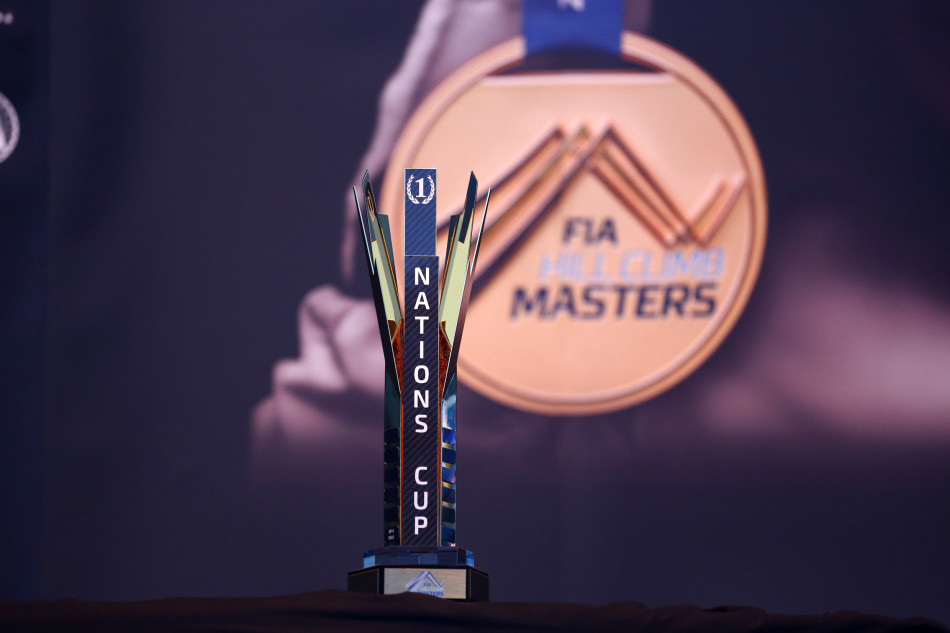 For this third edition of the FIA Hill Climb Masters, the number of national delegations has increased to 20, compared to 12 in 2014 and 14 in 2016. The popularity of this competition is clear! With 20 teams, each with four drivers, there are no less than 80 drivers – meaning close to half of all the participants –representing their country and flying their national flag.
For the Nations Cup, each team will comprise four drivers selected by their ASN and a captain. These drivers will take part in the individual competition together. However, if they are to propel their national team to glory, they are going to have to put in a much more focussed performance. In fact, the classification of the Nations Cup will be established on the basis of regularity criteria, and not on pure performance. This will also serve as a way to give a chance to a country that might not necessarily be racing the fastest cars, perhaps because its national technical regulations are less permissive than in other countries.
The classification calculation index will be based on the difference between the times of two races by each of the nominated drivers – and the winning team will be the one that achieves the smallest aggregated time difference between its three best drivers.
Before battling it out on the course, the teams will take part in a parade on Saturday night, through the streets of Gubbio. There they will be individually introduced to the public, at the foot of the Palazzo dei Consoli, in the Piazza Grande which dominates this beautiful medieval city. For the drivers and teams present, this is sure to be a moving experience, a moment of pride and recognition.
Both Italy and Slovakia have been victorious in the Nations Cup. Six countries have entered a team for the first time this year: Spain, Portugal, Malta, Kosovo, Croatia and Slovenia.
The following national teams are entered:
BELGIUM  (Captain: BODART Patrick):
VANDERVINNE Henri, STARCK Sébastien, CAZZOLI Bruno, BLOCKX Leonard
BULGARIA  (Captain: NIKOLCHEVA Violeta):
STOEV Stefan, ZLATKOV Nikolay, TELIYSKI Yuliyan, IORDANOV Kosyou
CROATIA  (Captain: PARO Sanjin):
PEREKOVIĆ Domagoj, MUHVIĆ Tomislav, JURANIĆ Bojan, BRKLJAČIĆ Matija
CZECH REPUBLIC  (Captain: KOUBEK Jiri):
TRNKA Petr, VONDRÁK Martin, VITVER Vladimír, VOJÁČEK Lukáš
FRANCE  (Captain: TESSIER Samuel):
PETIT Sébastien, MEILLON David, WERVER Nicolas, POINSIGNON Yannick
GERMANY  (Captain: SCHACKMANN Christoph):
ELLER Hans-Peter, EBENHÖH Armin, PISANO Egidio, SCHULTE Manfred
GREECE  (Captain: XANTHAKOS Marios) :
ILIOPOULOS Panagiotis, KEHAGIAS George, LIORIS Panagiotis, SOLDATOS Panagiotis
IRELAND  (Captain: WHITE Billy):
O'CONNELL Paul, GARDINER Tommy, FAY Dara, O'SHEA Mick
ITALY  (Captain: DALMERI Fiorenzo):
FAGGIOLI Simone, MERLI Christian, SCOLA Domenico, CUBEDA Domenico
KOSOVO  (Captain: REXHEPI Ismet):
CANOLLI Bardhyl, BUNJAKU Besfort, KALENDERI Liridon, DEMOLLI Gazmend
LUXEMBOURG  (Captain: HARTZ Norbert):
DEMUTH Guy, DONKELS Daniel, MARCHIONE Canio, VALENTINY Charles
MALTA  (Captain: TONNA Jonathan):
DUNFORD James, CAMILLERI Keith, GALEA Noel, BUGEJA Didier
POLAND  (Captain: SÜSS Mariusz):
STEC Mariusz, PIEKOS Szymon, HANDL Jacek, BIELA Konrad
PORTUGAL (Captain: GUIMARAES Nuno):
TEIXEIRA Joaquim, CORREIA Manuel, CORREIA José, SARAIVA Pedro
ROMANIA  (Captain: STOEAN Marius):
SAVU Marius Liviu, BOTEZ Vasile Sorin, GHIGEA Catalin-Cedric, RUSU Ramona Paula
SLOVAKIA  (Captain: STROBL Teodor):
ONDREJ Tomás, MILON Ján, JUREŇA Peter, AMBRÚZ Anna
SLOVENIA  (Captain: POBERZNIK Ferdo):
BUBNIČ Milan, CUDEN Matevž, PREK Aleš, MARC Peter
SPAIN  (Captain: ANDRES PEREZ Pablo):
IRAOLA Joseba, VILLA Javier, FLORES Garikoitz, PERELLO Enrique
SWITZERLAND  (Captain: FALK Patrick):
STEINER Marcel, BOUDUBAN Fabien, SCHNELLMANN Roger, NEFF Frédéric
GREAT BRITAIN  (Captain: WILSON Tim):
WILLIS Trevor, HAIMES Paul, NEATE Gavin, BRANT Richard
For more information on the FIA Hill Climb Masters, click here.
The entire event will be broadcast live on Sunday, 14 October on the FIA's YouTube channel  (https://www.youtube.com/FIAOfficialVideo .