This page contains archived information and may not display perfectly
HILL CLIMB MASTERS: GOLD FOR MERLI, HALL, SCHNELLMANN, PERUGGINI AND LUXEMBOURG
This year's FIA Hill Climb Masters was a fantastic success! The third edition, played out at Gubbio in Italy, was a hit with participants and spectators alike.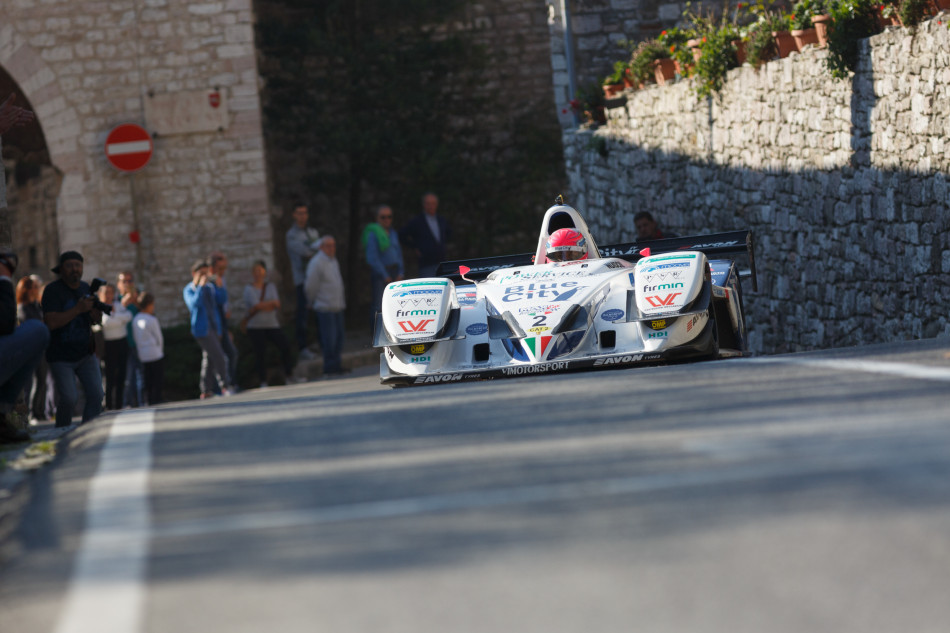 The race was a great celebration of this particular motor sport thanks to the participation of drivers from 21 different countries all determined to make the most of the festive and sporting event at the foot of this extremely beautiful and welcoming mediaeval town. There was of course the race itself, but as well as the race times, the drivers and their teams will take away with them memories of the shared emotions during Saturday night's procession of the participating nations in the middle of this historic town, but also during the prize-giving ceremony after the race.
Category 2: Merli edges his fiercely-fought battle with Faggioli
The podium positions and medals were reversed in relation to 2016. After carrying off silver two years ago, Christian Merli got his hands on gold this time around after a race in which he chalked up the best time in each of his three runs, beating his own personal record with each successive climb. Although well aware that something special would be needed to defeat the new European champion, Simone Faggioli began the race badly when a slight knock threw his car off balance during his first climb. He crossed the line on his third run only to be beaten by a mere 57 hundredths of a second. In a Category 2 race dominated by the Italian contingent, two-times French Champion Sébastien Petit won the bronze medal, as he had done two years earlier. With an engine 1000 cc smaller than those of the winning trio, Domenico Scola missed out on a place on the podium by only 7/10 of a second.
Despite having little chance of a medal, the "Silhouettes" of Category 2 were nevertheless firm crowd favourites. Unfortunately, the much-awaited duel between the Mercedes driven by Reto Meisel of Switzerland and the BMW 320 of German driver Jörg Weidinger, both of which were powered by a Judd V8, came to a premature end when the ex-Plasa BMW was forced to abandon the race following a transmission problem during the first run, thus handing victory to the Mercedes. The day's exploit in the E2-SH Group was pulled off by Italian driver Manuel Dondi, who displayed impressive ease and efficiency in his highly customised Fiat X1/9.
Category 4: British domination
Category 4, open only to single-seaters and sports cars meeting their national regulations, turned into a demonstration by the British drivers, who nevertheless took some time to fully come to terms with a course extremely unfamiliar to them and much longer than the ones seen in their own races. Between the first test run on Saturday and the third climb in the race, several drivers managed to clip eight seconds or more off their times. After clinching silver in 2014, Will Hall won a gold medal this time round following a tightly-run race with his fellow British drivers Scott Moran, Trevor Willis and Alexander Summers, with only 7/10 of a second separating first from last! Frenchman David Meillon, the highest-placed non-British driver, finished seventh.
Category 3: Mitsubishi triumphs
Swiss German driver Roger Schnellmann (whose name means "speedster" in English!) not only has a name cut out for car racing, but he also has a formidable Mitsubishi Lancer, characterised by a rear spoiler and other extravagant aerodynamic appendages. Schnellman kept his cards close to his chest during Saturday's trials, giving no sign of either his car's potential or his own intentions. The Poles Michal Ratajczyk and Szymon Lukaszczyk topped the group in terms of test times but they were beaten on the day into second and third places. Among the favourite cars with the spectators, Frenchman Nicolas Werver's Porsche 997 GT2 and Bulgarian Nikolay Zlatkov's Audi Quattro Sport finished fourth and fifth.
Category 1: Peruggini repeats his victory of 2016
The Italian Lucio Peruggini picked up his second gold medal in his Ferrari 458 GT3, although with less ease than in 2016, since the first two legs were won by Marco Iacoangeli at the helm of his BMW Z4 GT. The Italian drivers and their GTs monopolised the podium in this category, with third place going to Luca Gaetani in his Ferrari.
Victory for Luxembourg in the Nations Cup
As well as the individual competitions, the FIA Hill Claim Masters also included a Nations Cup race, with no fewer than 20 national teams entering the event in Gubbio.
To give every team an even chance, the fastest individual finish was not the key criterion, but rather the average time for the highest-placed three of the four drivers in each national team. At the end of the day, the Grand Duchy of Luxembourg carried off the gold medal thanks to Guy Demuth, Daniel Donkels, Canio Marchione and Charles Valentiny behind the wheel, with great coaching by team captain, Norbert Hartz.
Two other special prizes were awarded during this year's Masters event: the prize for Best Young Driver went to 22-year-old British contestant Matthew Ryder, while Nicola Menzies was the fastest woman driver.
Results
Category 1
1. Lucio Peruggini (ITA), Ferrari 458 GT3 – 1'32''97
2. Marco Iacoangeli (ITA), BMW Z4 GT – 1'33''99
3. Luca Gaetani (ITA), Ferrari 458 Italia GT3 – 1'34''88
Category 2
1. Christian Merli (ITA), Osella FA30-Zytek – 1'17''85
2. Simone Faggioli (ITA), Norma M20FC-Zytek – 1'18''57
3. Sébastien Petit (FRA), Norma M20FC-Mugen – 1'19''90
Category 3
1. Roger Schnellmann (CHE), Mitsubishi Lancer Evo VIII – 1'33''12
2. Michal Ratajczyk (POL), Mitsubishi Lancer Evo IX – 1'33''94
3. Szymon Lukaszczyk (POL), Mitsubishi Lancer Evo V – 1'34''64
Category 4
1. Will Hall (GBR), Force WH XTEC-AER – 1'23''27
2. Scott Moran (GBR), Gould GR61X-NME – 1'23''47
3. Trevor Willis (GBR), OMS 28-RPE – 1'23''78
Nations Cup
1. Luxembourg (Demuth, Donkels, Marchione, Valentiny) - time difference : 0''49
2. Italy (Merli, Cubeda, Scola, Faggioli) - 0''65
3. Slovenia (Cuden, Prek, Marc, Bubnic) – 0''90
4. France (Petit, Meillon, Y. Poinsignon, Werver) – 0''95
5. United Kingdom (Willis, Neate, Haimes, Brant) – 1''15
6. Slovakia (Cambalik, Milon, Ondrej, Jurena) – 1''23
7. Czech Republic (Vitver, Trnka, Vondrak, Vojacek) – 1''32
8. Switzerland (Steiner, Neff, Schnellmann, Bouduban) – 1''58
9. Croatia (Perekovic, Brkljacic, Juranic, Muhvic) – 1''68
10. Kosovo (Canolli, Bunjaku, Demolli, Kalenderi) – 1''71
11. Greece (Kehagias, Soldatos, Iliopoulos, Lioris) – 1''78
12. Bulgaria (Stoev, Zlatkov, Iordanov, Teliyski – 1''93
13. Portugal (Saraiva, M. Correia, J. Correia, Teixeira) – 1''98
14. Malta (Galea, Bugeja, Camilleri, Dunford) – 2''21
15. Ireland (Fay, O'Connell, Gardiner, O'Shea) – 2''61
16. Romania (Botez, Savu, Ghigea, Rusu) – 2''84
17. Spain (Iraola, Villa, Perello, Flores) – 2''88
18. Germany (Eller, Ebenhöh, Pisano, Schulte) – 3''04
19. Poland (Biela, Piekos, Handl, Stec) – 3''49
NC. Belgium (Stark, Cazzoli, Vandervinne, Blockx)
For more information on the FIA Hill Climb Masters, click here.
Facebook page : www.facebook.com/FIAHCM