Gayoso Vázquez Claims First Heat of 2022 FIA Cross Car Academy Season
The 2022 FIA Cross Car Academy season burst into life at the Matschenberg Offroad Arena near Dresden, Germany today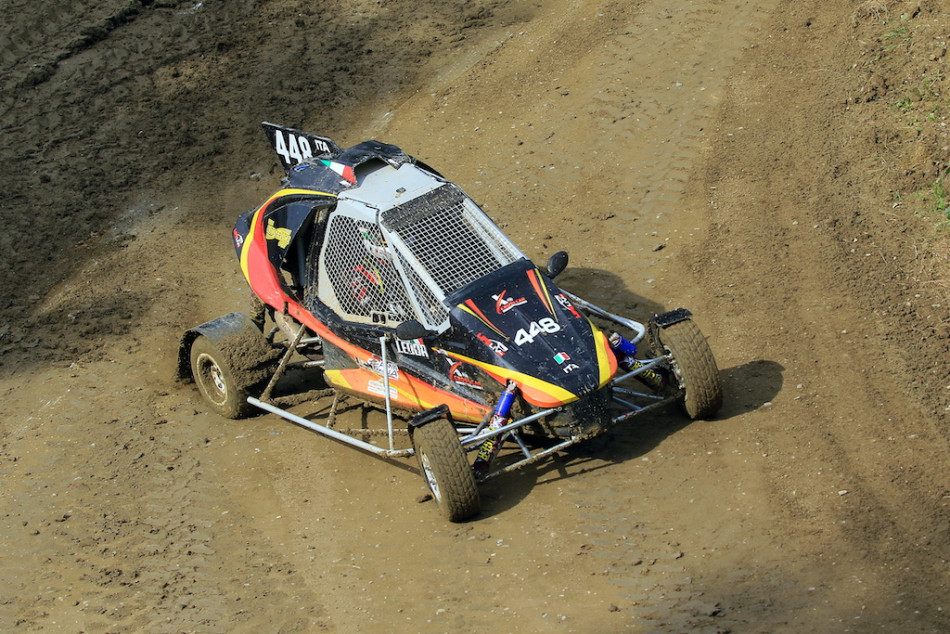 Practice and qualifying sessions gave the  nine drivers aged between 13 and 16 years who had entered for this event an opportunity to familiarise themselves with this enormously challenging 820m circuit. From the startline, Matschenberg climbs 30 metres up into the forest before plunging down to a challenging hairpin to complete the lap.
Italy's Valentino Ledda set the pace in the morning warm-up and was never lower than third at the end of every track session. In the two timed practice sessions, however, he was outpaced by Spanard Miguel Gayoso Vázquez and Belgian teenager Romauld Demelenne respectively, earning Gayoso Vázquez pole position for the first heat of the weekend with Ledda and German youngster Samuel Drews alongside him.
Gayoso Vázquez then took off into a lead that he was never to surrender, despite Ledda's best efforts in second place. Drews fell back into the clutches of the chasing pack to finish an eventual fifth, behind third placed Czech driver Stanislav Brousek and Demelenne in fourth.
Italian Matteo Bernini completed the classified finishers after both Belgian Emilien Allart and Norwegian Eirik Steinsholt failed to record one lap, while female competitor Tara Laconico from Cyprus completed three laps.
A delighted Gayoso Vázquez received warm congratulations from the runners-up for a hugely accomplished drive. The winner said:
"It was a very good race for me. The circuit was a bit wet but we had a good pace and we managed to win the race. They are very important points for tomorrow and I am very happy with the result."
The action concludes with two more heats on Sunday 26th June
FIA Cross Car Academy 2022, Matschenberg (DEU)
Heat 1 Results
1            Miguel Gayoso Vázquez (ESP)              LifeLive TN5     5 laps   3m 36.166s
2            Valentino Ledda (ITA) LifeLive TN5     5 laps   +3.002s
3            Stanislav Brousek (CZE)           LifeLive TN5     5 laps  +4.144s
4            Romauld Demelenne (BEL)     LifeLive TN5     5 laps  +9.575s
5            Damuel Drews (DEU)  LiveLive TN5    5 laps   +9.846s
6            Matteo Bernini (Ita)    LifeLive TN5     5 laps   +13.483s
DNF      Tara Laconico (CYP)    LifeLive TN5     3 laps
DNF      Eirik Steinsholt (NOR) LifeLive TN5     0 laps
DNF      Emilien Allart (FRA)     LifeLive TN5     0 laps
The 2022 FIA Cross Car Academy will be held alongside the senior FIA European Auto Cross Championship on five occasions this year, with a calendar spanning northern and southern Europe.
Round               Location                                        Country                          Date    
1                          Matschenberg                            Germany                        June 24-26
2                          Toldijk                                           Netherlands                  July 30-31
3                          Prerov                                            Czech Rep.                     August 20-21
4                          Maggiora                                      Italy                                  September 24-25
5                          Mollerussa                                   Spain                               October 8-9
The FIA's homepage on the Cross Car Academy with full information about the series and its commitment to grassroots motorsport can be found here (link: https://www.fia.com/news/fia-cross-car-academy-trophy-year-2)
The story of Gil Membrado's 2021 season can be viewed here (link: https://www.youtube.com/watch?v=yh62Bi-bSDE)
Full information on participating in the FIA Cross Car Academy can be found here: (link: https://www.xcacademytrophy.com/)