Gallo holds off Hizal to win World Finals as inaugural Olympic Virtual Series Motor Sport event is hailed "resounding success"
Valerio Gallo (Williams_Bracer) emerges on top at the end of thrilling three-stage World Finals contested on the Gran Turismo Sport game.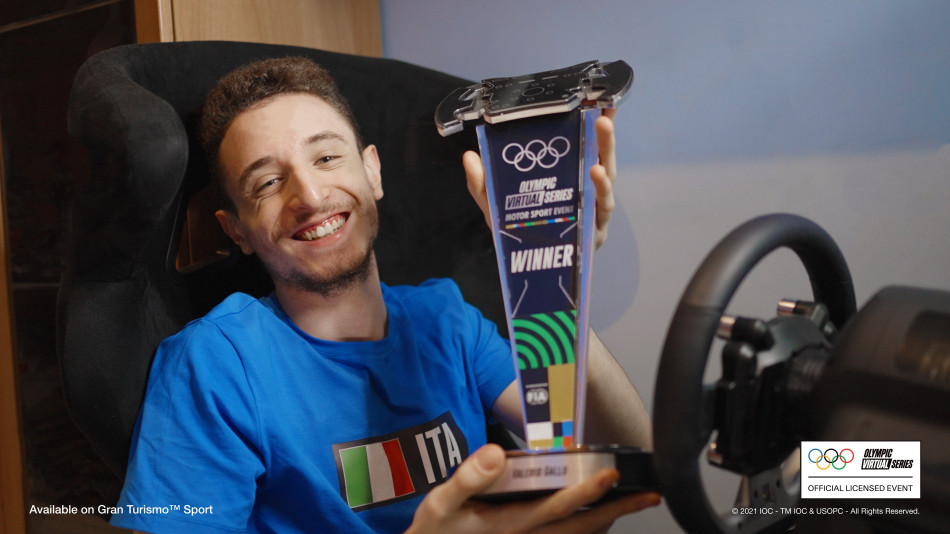 Valerio Gallo won the Olympic Virtual Series - Motor Sport Event yesterday (23 June), as the groundbreaking inaugural esports contest was hailed 'a resounding success'.
The brainchild of the International Olympic Committee (IOC), the landmark Olympic Virtual Series was the first-ever Olympic-licensed event for esports and video game enthusiasts. Its aim was to inspire and mobilise virtual sport, esports and gaming aficionados all around the world, while promoting physical activity and the importance of sport amongst young generations.
The Motor Sport Event was organised by the FIA in collaboration with the IOC, and the Global Online Qualification phase whittled the candidates down to just 16, drawn from the EMEA, Asia, North America, Central & South America and Oceania regions.
Yesterday's World Finals appropriately took place on Olympic Day – the date on which Pierre de Coubertin founded the IOC back in 1894 – and saw the finalists go wheel-to-wheel in three races on the Gran Turismo Sport game, characterised by gripping duels throughout the order. Underscoring the high calibre of competition, the entire field was blanketed by less than seven tenths-of-a-second on occasion.
Following a nail-biting battle that went right down to the very last corner of the very last lap, it was Gallo that ultimately prevailed, although the Italian – who topped the times in the Global Online Qualification stage – sat just fifth in the intermediate classification entering the Grand Final, the 'Dragon Trail - Seaside' tackled behind the wheel of the Toyota GR Supra Racing Concept (Gr.3).
Saving his best until last, however, Gallo – who competes under the moniker Williams_Bracer – qualified on pole position and went on to survive a last-ditch overtaking attempt by Mikail Hizal to clinch the crown.
Second place in the Grand Final secured Hizal the same spot outright. He grabbed pole position for both of the first two showdowns – the 'Tokyo Expressway - East Outer Loop' in a Toyota 86 Gr.4. and the 'Sardegna - Road Track - B' in the Toyota GR Yaris – and whilst he slipped back to fifth and fourth respectively at the chequered flag, his charging Grand Final drive cemented the runner-up spoils.
After winning races one and two, Baptiste Beauvois looked to be the favourite heading into the Grand Final, but opening lap contact sent the Frenchman into the gravel and restricted him to third overall.
FIA President, Jean Todt, said: "First, I must thank again [IOC President] Thomas Bach for selecting the FIA as one of the five international sport Federations to engage in the inaugural Olympic Virtual Series. This historic collaboration between our two organisations has been a success. Congratulations to all our finalists, and particularly to the winner, Valerio Gallo, from Italy, for his performance. Digital motor sport is an essential element of the wider motor sport ecosystem because it is offering safe, low-cost opportunities for young people and the FIA is fully committed to continuing its promotion."