Flying Finn Lamminsivu lands FIA Rally Star #RallyAtHome Challenge 5
Fresh from success at Finland's Tampere Digital Challenge, Ilari Lamminsivu has secured his place at the FIA Rally Star Continental Finals with victory in #RallyAtHome Challenge 5.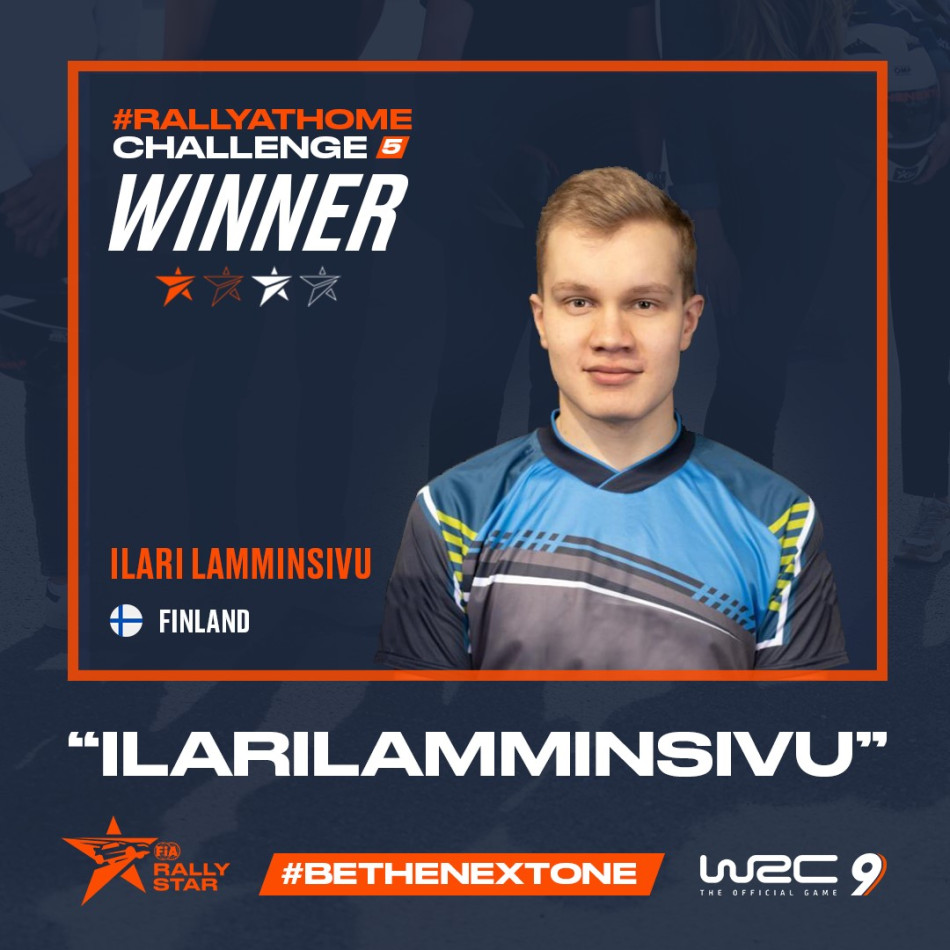 The 23-year-old Finn posted fastest time across a wet, 8.20-kilometre gravel stage run in occasional morning rain to beat Spanish gamer Xavier Ros (IMLUKER) by 0.578s. Estonian Siim Aasmae (SIMPSON 220) was third.
Born in Mänttä, Lamminsivu's education recently moved him to the epicentre of Finnish rallying. He now lives and studies in Jyväskylä, the home of Rally Finland. While motor sport has been a lifelong interest for the 23-year-old, it was the FIA Rally Star programme which rekindled a love of virtual racing which had recently dwindled.
Lamminsivu explained: "While I was studying, I took a bank loan to buy the simulator kit to compete in iRacing rallycross in 2019. I finished runner-up in the Finnish Virtual Rallycross in 2020. I also did the Virtual World Championship in the same season; I won one round and finished eighth in the end of season standings.
But after that, I sold my simulator – I didn't see anything as interesting or highly competitive to drive."
"Then, at the start of this season, I got some more information about FIA Rally Star. It's such a good idea, a really nice one. It gives the chance for somebody who doesn't have a nice amount of money – or even the tools to fix up the cheapest car – to make a proper career as a driver. This is a fantastic way to show your potential.When I knew about this, I bought some more sim equipment and started pushing to get to the European Continental Final."
Lamminsivu is no stranger to car-based competition, but he's used to the cars being more real-time than virtual. Even if they are eight times smaller than the cars on the road.
"Aged 14 I started to like radio-controlled cars," he said. "Three years later I bought my first radio-controlled car for racing. I won the Finnish Championship for 1:8 electric off-road class in 2018."
Having achieved the first part of his dream, Lamminsivu will now get his head down in his studies – he sees rallying as his future.
"I got into motor sport because of my Dad," he said. "It's mostly rallying, with some interest in Formula 1. But really, I never stop dreaming of rallying. I started with FIA Rally Star because it's my dream to become a driver.
"Now I made it to the Continental Final, I'm really looking forward to driving the Cross Cars – I hope there will be a chance for me to try one before the event itself. But, even if I don't get a place [in the training year], I will start rallying after I graduate from university and get some work."
 #RallyAtHome is the online challenge element of the FIA's Rally Star. Organised and co-ordinated by the FIA and WRC 9, there's a new #RallyAtHome starting every two weeks. While the competitors will always drive an M-Sport-built Rally Star-liveried Fiesta Rally3 on Pirelli tyres, the stage and the weather conditions they will drive in will be decided by the FIA and WRC 9 and kept secret until the challenge opens.
Open to all 17 to 26-year-olds #RallyAtHome Challenge requires competitors to create a free account on fiarallystar.com then purchase FIA Rally Star WRC 9 DLC for €9.99. The choice of how to play the game at home (computer or console) is up to the individual gamer.
FIA Rally Star is providing a series of tutorials to help less experienced sim racers, with Swedish driver Klara Anderson offering guidance for the Challenges.
#RallyAtHome Challenge 6 starts at 00:00 on May 8.