This page contains archived information and may not display perfectly
The first winner of the modern FIA F3 World Cup
Antonio Felix da Costa is the first winner of FIA Formula 3's highest honour in the modern era – the FIA F3 World Cup – at the Macau Grand Prix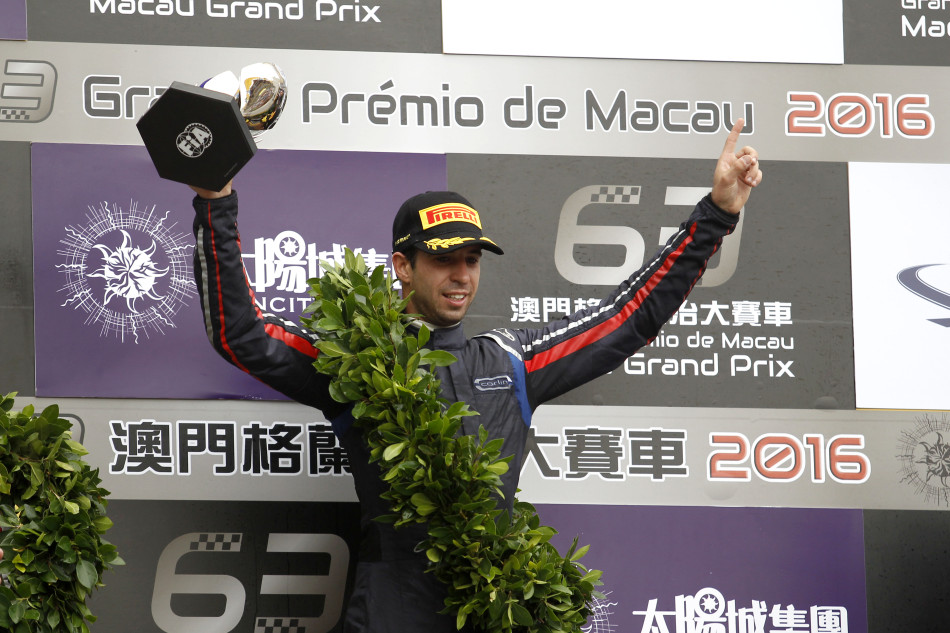 With tears in his eyes and the Portuguese anthem in his ears, Antonio Felix da Costa yesterday lifted the first FIA F3 World Cup of the modern era high above his head.
Felix da Costa caps his 2016 racing season with motor sport history, taking the victory for Portugal, for Carlin and winning the FIA F3 World Cup for engine manufacturers for Volkswagen.
His fourth visit to the iconic Guia street circuit, the Felix da Costa is the third driver to claim two wins at the Macau Grand Prix, along with GT driver Edoardo 'Mr Macau' Mortara, and Felix Rosenqvist who finished second to Felix da Costa this year.
Felix da Costa's drive at the Macau Grand Prix was a matter of passion.
"It was a special day for me," he said. "My car had zero sponsors. Trevor [Carlin] called me up and said we are going to try and find a sponsor to pay your salary. I said 'Trevor, it doesn't matter. You called me up. Let's do it'. BMW allowed me to come. I didn't care about the money this weekend. It's all about coming here. To enjoy this car and this track."
Starting from pole, a consistent top-end performance saw the 25 year old top both Saturday's qualification race and Friday's qualifying session amidst multiple incidents. 
To the cheers of a crowd thrilled with a stunning 15 lap performance, Felix da Costa's Macau Grand Prix's experience was on show throughout. Duelling with Sergio Sette Camara and Felix Rosenqvist for the lead, Felix da Costa visualized the race as it happened.
"I didn't have any pressure on myself until today I woke up with a different feeling. I have to do it. I was putting so much pressure on myself… I'm so happy that I came away with that and the race win."
 "I imagined every scenario in my mind last night before going to bed, and they all happened. Losing the lead, getting back the lead, restarting from P2, restarting from the lead. It looks like I had a good plan."
The DTM and FIA Formula E driver said that his victory in F3 had proven his point, with 2016 to be his final appearance at the Macau Grand Prix in an open wheel category.
"I will never come back to Macao in an F3 car."
"The experience helped me here, but this race is for them [rookie drivers]. Most of these drivers are going to end up in Formula 1, and we have to let them win this race. I can't interfere. I am happy that I came, happy that I won it. I have proved my point, and now I am going to come back with the old boys and race in the GTs."