FIA's 2017 Champions of motor sport crowned at Palace of Versailles
The winners of this year's FIA Championships have been crowned in a glittering 2017 FIA Prize Giving ceremony at the Palace of Versailles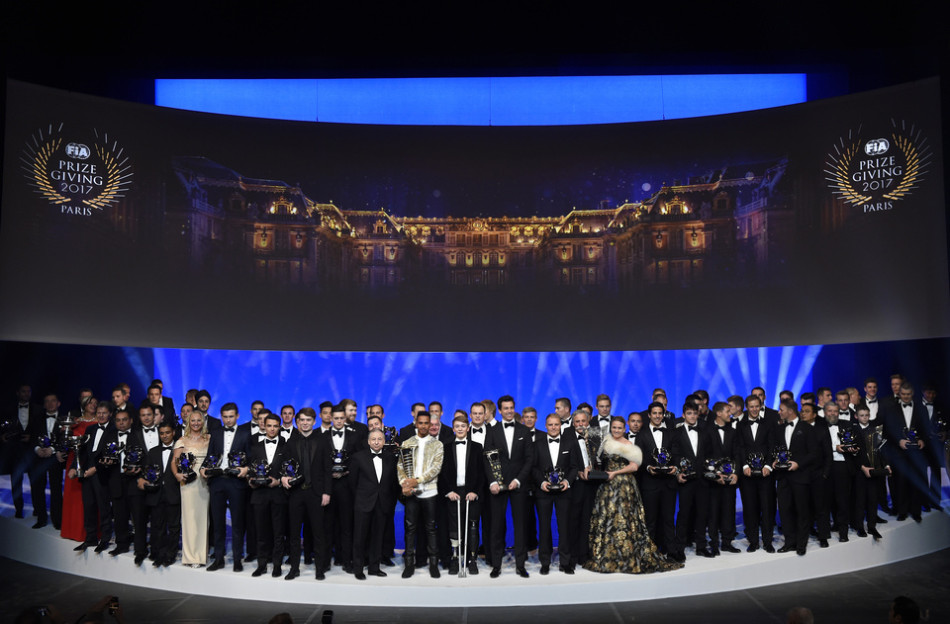 Highlight of the annual gala show was the presentation of the FIA Formula One World Drivers' Championship Trophy to Lewis Hamilton.
The Mercedes driver lifted the World Championship trophy for the fourth time in his career, a remarkable feat that puts him level with French Formula One legend Alain Prost and his great rival for this year's title, German driver Sebastian Vettel of Ferrari.
The Briton took nine victories during 2017, scored points in every grand prix of the season and along the way established a new benchmark of 72 career pole positions, beating Michael Schumacher's previous record of 68. However, despite the record-breaking season, he said that he could not see himself eclipsing the German great's seven championship titles.
"It's taken me 10 years to achieve four," said Hamilton. "I currently don't have that desire to match [Schumacher's] seven, but matching Fangio [who scored five titles] would be quite cool. Given that I'm going to be here for at least another couple of years, that's my goal. To try and at least get that. We [he and Mercedes] definitely have more championships to win together."
In rallying, Sébastien Ogier's fifth consecutive FIA World Rally Championship title puts the Frenchman into sole second place in the list of multiple title winners, ahead of legendary flying Finns Juha Kankkunen and Tommi Makinen.
Ogier's 2017 championship victory is perhaps his sweetest to date, coming after the departure of the all-conquering Volkswagen factory team with which he had achieved his previous four titles, and being achieved with privateer outfit M-Sport.
Ogier said: "It's amazing and we are very proud that we managed it again this year, because I think everyone is aware of the challenge we had to face with the retirement of our old team, and we had to find a new solution at the last minute. I think it's been a very difficult season for us: very exciting, and very open, with a lot of different winners in WRC, but it's nice to come out on top once again and to be here today to grab the trophy for a fifth time."
In the FIA World Endurance Championship, Germany's Timo Bernhard and New Zealand duo Earl Bamberand Brendon Hartley took the Drivers' Championship title, helping Porsche to sign-off on a four-season stint in the Championship with a third successive manufacturers' title.
A mid-season hot streak of four wins gave the trio a solid platform, and second-place finishes at the final two events were enough to seal a maiden title for Bamber and second championship crowns for Bernhard and Hartley, who also took the crown with Porsche in 2015.
"From the word go it was a tense battle this season," said Hartley. "The first round at Silverstone was won or lost by about six seconds and when you're second that's quite a brutal result, so we knew it would be tough. But winning the 24 Hours of Le Mans helped our cause a lot, so yes, it was an intense battle but fortunately we were up to the job."
There were also new global trophies up for grabs in the FIA WEC, with the LMGTE Pro category being elevated to World Championship status in 2017. And it was Ferrari that emerged as the team champions, with the Italian squad's pairing of James Calado and Alessandro Pier Guidi emerged victorious.
In the FIA World Touring Car Championship, Sweden's Thed Björk made history, not just in winning his first FIA world title but also in becoming WTCC's final champion in its current form, with the series bowing out from today, to be replaced by a new series, the WTCR – FIA World Touring Car Cup in 2018. Over the course of a rollercoaster campaign, Volvo Polestar driver Björk scored two wins and seven podium finishes to beat Honda's Norbert Michelisz in a titanic battle that went down to the wire at the final event in Qatar.
Sweden's 2017 haul of world drivers' titles was doubled by Johan Kristofferson who took a maiden FIA World Rallycross Championship title ahead of compatriot Mattias Ekström.
Ekström opened his title defence with a trio of victories but after scoring his first win of the season in Belgium, Kristofferson rattled off a five-event run of victories to establish that allied to a final-round win in South Africa carried him to the title.
The FIA's future-focused, all-electric 2016/17 Formula E Championship was won by Lucas Di Grassi who took the title at the end of a nail-biting, down-to-the-wire fight with defending champion Sébastien Buemi. The Swiss racer took six wins to Di Grassi's two, but the Brazilian was a model of consistency, scoring five further podiums and three pole positions to edge the battle as Buemi suffered a series of second half mishaps and a brace of missed races due to other racing commitments.
A number of special FIA awards were handed out on the night. For a remarkable third year in a row Max Verstappen won the FIA Personality of the Year while the FIA Action of the Year Awards went to WRC driverEsapekka Lappi for his spectacular 33m, 120kph flight over the Fafe jump at Rally de Portugal. Formula 2 Champion Charles Leclerc, recently announced as 2018 Formula 1 driver with the Alfa Romeo Sauber F1 Team, won the Rookie of the Year Award.
The FIA President's Award was this year expanded not only to incorporate those that have displayed courage, determination and sportsmanship but to also include those that have contributed greatly to the broader FIA community. The first of two awards in the category was presented to Jean-Charles Decaux, Co-Chief Executive Officer of the JCDecaux Group.
In 2017, in partnership with the outdoor advertising giant, the FIA embarked upon an ambitious campaign named #3500LIVES that brings key road safety messages to a global audience using the JCDecaux's advertising spaces around the world. To date the campaign has generated an estimated 1.5 billion views in 900 cities in more than 75 countries.
The second FIA President's Award was presented to Billy Monger, the young British driver who in April 2017, at the age of just 17, suffered a horrific accident while competing in Formula 4. The crash resulted in Billy losing both legs, but his response was truly inspirational. Displaying immense courage and positivity he vowed to return to motor racing and just 11 weeks after sustaining life-changing injuries he was back behind the wheel of a specially adapted endurance car.
The stars of the future were also honoured in Paris, with champions from across the FIA single-seater pyramid being presented with their trophies. In Formula 3, Briton Lando Norris , took an emphatic title win in the FIA Formula 3 European Championship, taking nine wins from 30 races across 10 event weekends. In Formula 4, the winners from 12 championships (Australia, Britain, China, Germany, Italy, Japan, Latin America, North East Europe, the UAE, Spain, the US and South East Asia) were awarded their trophies.
CIK-FIA World Karting Champions Dexter Patterson, Paolo de Conto and Danny Keirle were also awarded their trophies, marking an important milestone in what will likely become fascinating careers in motor sport.

To download images of the FIA Prize Giving, please go to: https://www.flickr.com/photos/fia-official/
Les Champions FIA 2017 du Sport Automobile couronnés au Château de Versailles
Les vainqueurs des Championnats FIA de l'année ont été couronnés lors de la somptueuse Cérémonie de Remise des Prix de la FIA organisée au Château de Versailles à Paris.
La remise du trophée de Champion du Monde des Pilotes de Formule Un de la FIA à Lewis Hamilton a constitué le clou de cette soirée de gala annuelle.
Le pilote Mercedes a brandi le trophée de Champion du Monde pour la quatrième fois de sa carrière, un exploit qui le place à égalité avec la légende de la Formule Un, le Français Alain Prost, et avec son grand rival pour le titre 2018, l'Allemand Sebastian Vettel sur Ferrari.
Le Britannique a remporté neuf victoires en 2017 ; il a marqué des points à chaque Grand Prix de la saison et établi un nouveau record avec 72 pole positions à son actif depuis ses débuts en Formule Un, le précédent record étant détenu par Michael Schumacher avec 68 pole positions. Malgré une saison époustouflante, il a néanmoins affirmé qu'il n'imaginait pas pouvoir un jour éclipser le pilote allemand et ses sept titres de Champion du Monde.
« Il m'a fallu dix ans pour décrocher quatre titres » a-t-il déclaré. « À ce stade, je n'ai aucunement l'ambition d'égaler le record de Schumacher ; en revanche, égaler celui de Fangio [quintuple Champion du Monde] ne me déplairait pas. Sachant qu'il me reste encore quelques années à courir, c'est l'objectif que je me suis fixé. J'entends bien l'atteindre, voire le dépasser car il ne fait aucun doute que d'autres victoires en Championnat nous attendent [lui-même et l'équipe Mercedes]. »
En rallye, la cinquième victoire consécutive du Français Sébastien Ogier au Championnat du Monde des Rallyes de la FIA a fait de lui le deuxième pilote le plus titré en WRC devant les légendaires « Finlandais volants » Juha Kankkunen et Tommi Makinen.
Décroché au sein de l'équipe privée M-Sport après le retrait de l'omnipotente équipe d'usine Volkswagen avec laquelle le pilote français avait remporté ses quatre titres précédents, ce titre de Champion du Monde 2017 est sans doute le plus savoureux de toute sa carrière.
Il a déclaré : « C'est incroyable, et nous sommes très fiers d'avoir à nouveau triomphé cette année. Je crois que chacun est conscient du défi que nous avons eu à relever suite au départ de notre ancienne équipe. Nous avons dû trouver une solution à la toute dernière minute. Nous avons connu une saison particulièrement éprouvante, palpitante, indécise, avec toute une série de vainqueurs différents en WRC mais c'est vraiment agréable de décrocher à nouveau la première place au classement et de nous emparer du trophée pour la cinquième fois. »
En Championnat du Monde d'Endurance de la FIA, l'Allemand Timo Bernhard et le duo néo-zélandais Earl Bamber et Brendon Hartley ont remporté le titre de Champion du Monde des Pilotes, permettant ainsi à Porsche de conclure quatre saisons en endurance sur un troisième titre consécutif de Champion du Monde des Constructeurs.
Après quatre victoires brillamment remportées à la mi-saison, le trio affichait une solide avance au classement. Il lui a ensuite suffi de se hisser sur la deuxième marche du podium lors des deux dernières épreuves pour qu'Earl Bamber s'empare de sa toute première couronne et pour que Timo Bernhard et Brendon Hartley soient à nouveau sacrés Champions du Monde après une précédente victoire sur Porsche en 2015.
« Dès le signal du départ, le ton de la saison fut donné », a déclaré Brendon Hartley. « La première manche à Silverstone s'est jouée à six secondes près, et terminer deuxième dans ces conditions est particulièrement difficile à accepter. Nous avons su alors que nous allions devoir livrer une lutte acharnée. Par la suite, notre victoire aux 24 Heures du Mans nous a énormément encouragés. La bataille aura été rude, effectivement, mais par chance, nous avons été à la hauteur. »
En 2017, d'autres trophées étaient en jeu au Championnat du Monde d'Endurance, la catégorie LMGTE Pro ayant été élevée au statut de Championnat du Monde. L'équipe Ferrari s'est imposée à l'issue d'une nouvelle chevauchée victorieuse du duo James Calado et Alessandro Pier Guidi.
En Championnat du Monde des Voitures de Tourisme de la FIA (WTCC), le Suédois Thed Björk est entré dans l'histoire, remportant à la fois son premier titre mondial et devenant le dernier pilote à être couronné au Championnat dans sa forme actuelle. À compter d'aujourd'hui, la série tire en effet sa révérence. Dès 2018, elle sera remplacée par une nouvelle série baptisée Coupe du Monde des Voitures de Tourisme de la FIA (WTCR). Au fil d'une saison haletante, le pilote Volvo Polestar a décroché pas moins de deux victoires et sept podiums, et il aura fallu attendre l'ultime épreuve, au Qatar, pour connaître le dénouement du championnat, le Suédois triomphant du pilote Honda Norbert Michelisz au terme d'un combat titanesque.
En 2017, la Suède a doublé son palmarès avec la première victoire en Championnat du Monde de Rallycross de la FIA du pilote Johan Kristofferson, juste devant son compatriote Mattias Ekström.
Si Mattias Ekström a âprement défendu son titre en raflant d'emblée trois victoires, Johan Kristofferson n'a pas tardé à riposter. À la suite de sa première victoire de la saison en Belgique, il a été sacré Champion du Monde après avoir enchaîné coup sur coup cinq premières places, avant de terminer en beauté sur la première marche du podium lors de la dernière manche organisée en Afrique du Sud.
Tourné vers l'avenir, le Championnat tout électrique 2016-2017 de Formule E de la FIA a été remporté par Lucas Di Grassi à l'issue d'un duel haletant et très serré avec le champion en titre Sébastien Buemi. Si le pilote suisse a remporté six épreuves contre deux pour le pilote brésilien, Lucas Di Grassi s'est distingué par sa régularité, décrochant cinq autres podiums et trois pole positions avant de l'emporter de justesse sur son rival, Sébastien Buemi ayant connu quelques mésaventures et ayant dû renoncer à plusieurs courses en raison d'engagements parallèles en deuxième partie de saison.
Plusieurs Prix Spéciaux de la FIA ont également été décernés au cours de la soirée. Fait remarquable, Max Verstappen a ainsi reçu le titre de Personnalité de l'année de la FIA pour la troisième année consécutive tandis que le Prix de l'action de l'année revenait au pilote de WRC Esapekka Lappi pour son bond spectaculaire de 33 m, à la vitesse de 120 km/h, au-dessus de la bosse de Fafe, lors du Rallye du Portugal. Le pilote Charles Leclerc, champion de Formule 2 récemment nommé pilote officiel de Formule Un de l'équipe Alfa Romeo Sauber pour la saison 2018, a quant à lui remporté le titre de Rookie de l'année.
Cette année, le Prix du Président de la FIA a été revu de manière à récompenser non seulement des personnes ayant fait preuve de courage, de détermination et d'esprit sportif mais également des individus ayant énormément apporté à l'ensemble de la communauté de la FIA. Le premier de ces deux Prix a été remis à Jean-Charles Decaux, Codirecteur général du Groupe JCDecaux.
En 2017, en partenariat avec ce géant de la publicité extérieure, la FIA a lancé une vaste campagne de sensibilisation intitulée #3500LIVES destinée à diffuser au plus grand nombre des messages sur la sécurité routière en s'appuyant sur les espaces publicitaires détenus par JCDecaux partout dans le monde. À ce jour, la campagne a atteint près de 1,5 milliard de personnes dans 900 villes de plus de 75 pays.
Le second Prix du Président de la FIA a été décerné à Billy Monger, le jeune pilote britannique qui, âgé de 17 ans à peine, a été victime d'un terrible accident en avril 2017 alors qu'il disputait une épreuve de Formule 4. Amputé des deux jambes, le jeune homme a fait face d'une manière qui soulève l'admiration. Faisant preuve d'un immense courage et d'un optimisme sans faille, il s'est juré de renouer avec la course automobile et 11 semaines à peine après avoir subi des blessures qui ont changé le cours de sa vie, il a repris le volant à bord d'une voiture d'endurance spécialement aménagée.
Les étoiles montantes du sport automobile ont également été à l'honneur lors de cette cérémonie, toute une série de champions issus des catégories monoplaces de la FIA se voyant remettre des trophées. En Formule 3, le Britannique Lando Norris a remporté haut la main le titre de Champion d'Europe de Formule 3 de la FIA après avoir décroché neuf premières places sur 30 courses réparties sur dix week-ends. En Formule 4, les vainqueurs des 12 championnats (Allemagne, Amérique latine, Asie du Sud-Est, Australie, Chine, Émirats arabes unis, Espagne, États-Unis d'Amérique, Europe du Nord-Est, Grande-Bretagne, Italie et Japon) ont également été récompensés.
Des trophées ont également été décernés aux vainqueurs du Championnat du Monde de Karting CIK-FIA, les pilotes Dexter Patterson, Paolo de Conto et Danny Keirl, une étape importante dans un parcours en sport automobile qui s'annonce pour chacun d'entre eux très prometteur.


Pour télécharger des images de la Cérémonie de Remise des Prix de la FIA, veuillez consulter le site : https://www.flickr.com/photos/fia-official/