FIA SMART CITIES LEADERS E-TALK CAPS OFF SEASON 4 OF THE INITIATIVE
Held on 18 November on the Smart City Live 2020 online platform, the FIA Smart Cities Leaders eTalk gathered FIA Smart Cities partners, including Formula E, ABB and Julius Baer, and the RACC Foundation to discuss how the power of innovation can be leveraged to promote efficient and reliable smart cities solutions for a post-pandemic world.
Formula E CEO Jamie Reigle welcomed the eTalk participants highlighting the initial purpose of the ABB FIA Formula E Championship, "Formula E was founded with the core purpose of addressing climate change through the power of motor sport. We have our racing, the motor sport product and our reason, the purpose that drives us every day. That purpose is about combatting climate change and particularly drawing attention to the challenges climate change presents to cities. And this is really important as we think about smart cities of the future as liveable environments." 
He then introduced the four topics of the panel discussion: Electrification, Sustainability, Innovationand Digitalisation, and explained how each of these topics was relevant to Formula E. He concluded by insisting on the key role of cities as "hubs of innovation, progress and creativity. (…) Cities are important drivers of society and it's really important to do everything we can to draw attention to that potential. We need commitment from the government, the private sector, NGOs… to raise awareness around climate change and reinforce the importance of urban living."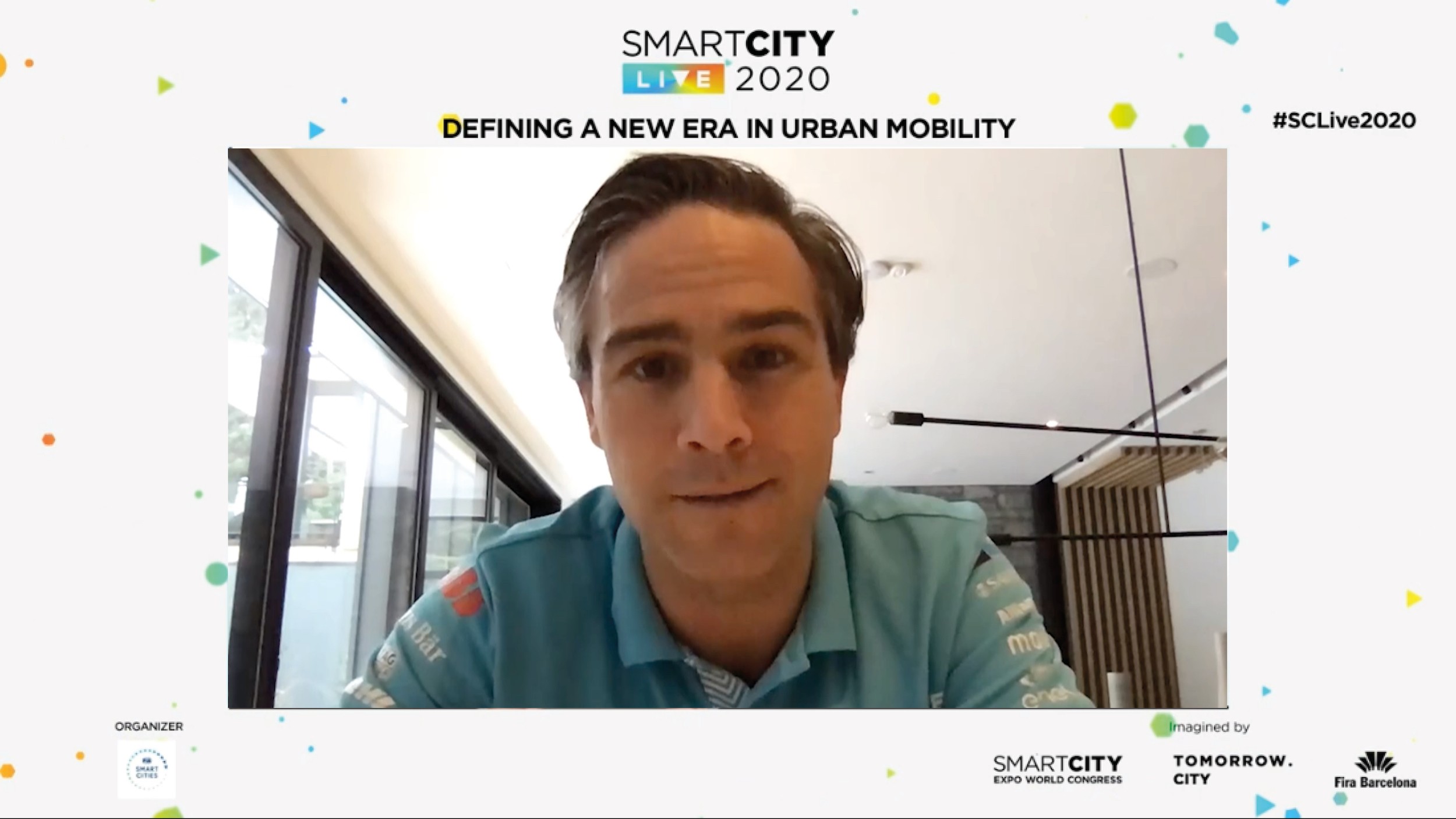 The centrality of cities as a pivotal actor in safe and sustainable mobility was re-iterated by RACC Foundation Director Lluis Puerto who insisted on the need for public-private partnerships and cooperation in order to achieve better urban mobility, today and for tomorrow. "Cities and the private sector need to cooperate more strongly than ever to realise the objective of sustainability in several sectors: shared mobility, Mobility as a Service (MaaS) and Electrification," he highlighted.
Puerto explained that in the area of shared mobility, the difficulty for cities was to regulate the presence of private operators. The development of these new offerings sometimes led to complicated situations in which many providers of services ended up fighting for the market, trying to seize the opportunity of increasing demand and pursuing different objectives than the ones cities are trying to achieve. Lately, Puerto underlined that stronger cooperation has developed with cities conceding licences for a specific number of operators. This has given them the leverage to align objectives, monitor the performance of providers with KPIs related to safety, parking or lifecycle emissions, and thus ensure better management and improved user satisfaction. 
In this vein, Puerto highlighted the importance of MaaS, an area in which the RACC has been active with the launch of their 'City Trips' app: "We built an aggregator. It is present in America, it is present in Europe, it is present in more than 20 cities. It's bringing together all the shared mobility and public transport offerings into one single application", he said. The RACC's objective is to further develop this application for it to become a platform for information, bookings and payments in order to make life easier for citizens and end users.
Puerto also insisted on the challenges raised by COVID-19 and the changing landscape of urban mobility. "The Smart Cities agenda — Decarbonisation, digitalisation, creating more liveable spaces, …­ — is totally marking our path for the future. We have to reinvent ourselves if we want to be relevant in future cities. It was clear for us already ten years ago. We see now that COVID is accelerating things and we need to run fast." Puerto then explained that the RACC has developed new services to adapt to this changing reality, with offerings dedicated to cyclists – who are often also members of the RACC Club — such as Bicipedia, a twin project put into place with the FIA's Dutch Club ANWB, bringing together all the electric bicycles offerings and products. He also emphasised the role Clubs can play in the field of micromobility, and in particular, the rapid development of E-scooters. According to him, Clubs can help tackle the lack of standardisation to improve safety and quality for consumers and address the need for insurance. To conclude on the future of Mobility Clubs, Puerto said, "What we are doing is not giving up the car because there is a case for the car, if it's electrified, if it's connected, if it's autonomous, and we want to be there as well. But we have to broaden the scope of our services and that's what we have done." 
Another important trend defining today's mobility transition is the electric revolution. Member of the Executive Board and Head Region Americas at Julius Baer, Beatriz Sanchez insisted on the increasing market penetration of electric cars: "The transition to electric cars is really in full swing and we have seen tremendous momentum this year. As a matter of fact in Europe 15% of all car sales this year have been electric. This is really exceeding all our expectations. (…) So clearly the transition is taking place and we are seeing results."
She highlighted the change in consumers' perceptions related to electric cars and the role played by Formula E in contributing to the acceleration of their uptake by consumers: "I believe that, more importantly, consumers are willing to buy these cars now. We are seeing that Formula E has really been able to create a very interesting dialogue about this and what the Formula E Championship has done is a phenomenal job in delivering the message of fun and thrills. That is very important because that allows customers to really connect and identify. And so for the first time, and this has been happening now for a little bit, we connect electric cars with being cool and we connect people who are in the E-mobility area with being progressive. So it's this combination of coolness and progressiveness that really is a great catalyser to change consumer behaviour. And I believe that is even more important than government subsidies which really over time do not change consumer behaviour."
However, Sanchez reminded the audience that public authorities also have a role to play in changing mobility to make it more sustainable, especially in cities. "It has to happen in the day-to-day infrastructure of our lives", she said. In developed cities, she explained that new services and electric and automated cars can help tackle air and noise pollution as well as loss of time due to congestion and lack of parking space because they offer solutions for people commuting from the suburbs. "Cities can play a very important role and politicians need to change their mindset a bit and they need to embrace the concept of cars as not being bad but the concept of electric cars and automated and self-driving cars as really being one of the solutions to the challenges that they face today," she stated. In the developing world, and more especially in Latin America which is facing the challenge of rapid urbanisation, she highlighted the lack of resources and adapted systems and infrastructure and welcomed the fact that city authorities are being more and more active to address these issues. 
Sanchez emphasised the importance of driving the sustainability revolution: "Sustainability is today the defining spirit and mood in everything that we do," she said, explaining that the bank is supporting start-ups that are driving change and promoting impact investment by making sure every investment has both an impact and returns. 
Achieving more sustainable mobility in cities and responding to the changes that are taking place in the energy landscape will require the transformation of the entire stakeholder ecosystem, according toABB R&D and Marketing Manager for Smart Cities and Solutions Marija Zima-Bockarjova. "We are in the midst of the energy revolution and electricity is growing at two times the rate of any other form of energy. The International Energy Agency estimates that the share of electricity in the energy mix will rise from 23% in 2018 to more than 30% in 2040 so decarbonisation, digitalisation, urbanisation, they are changing the ways businesses and individuals are generating, consuming, sharing and purchasing energy. It crosses the whole chain of stakeholders in the energy sector. In the coming years, many countries will be forced to transform their systems and their energy landscape as they move to produce more sustainable energy to reduce dependency on coal, on fossil fuel-based generation, while managing at the same time the emergence of renewables, and their integration into the network," she said.
Zima explained how ABB is offering digital technologies and solutions that are making infrastructure development more efficient in the transformation of the energy landscape, in order to improve the quality of the service and satisfaction of the end user. She also highlighted the opportunities digitalisation is offering to drive the transition to smarter cities and create engagement. "Awareness and information about how we can improve our consumption patterns, our behaviours, about how we can increase our engagement in the understanding of the role of the human in the environment: I think this is also a very significant part. There is tremendous potential that we can effectively tap into thanks to these digital technologies," she concluded. 
The FIA Smart Cities Leaders eTalk capped off Season 4 of the initiative, which was held digitally for 2020. More information on next season will be available in 2021 on fiasmartcities.com. 
In the meantime, we invite you to subscribe to our podcast series FIA Smart Cities Voices for more insights on the future of urban mobility.