FIA SMART CITIES eFORUM — EUROPE: BETTER DATA FOR BETTER MOBILITY
Held on 22 July, the FIA Smart Cities eForum – Europe gathered urban mobility experts from all sectors to discuss how to leverage transport-related data and unleash the potential of connectivity in European cities.
FIA President Jean Todt welcomed the eForum participants highlighting the importance of collaboration between the public and private sectors to help shape the future of urban mobility: "We are facing very interesting times. It is time to reflect on how companies, federations and international organisations can work together with local governments to build on this unique momentum and use mobility data for resilient, safe, inclusive and sustainable transportation systems."
This welcome address was followed by an opening panel with FIA Deputy President for Automobile Mobility and Tourism Thierry Willemarck and Royal Automobile Club (RAC) Foundation Director Steve Gooding.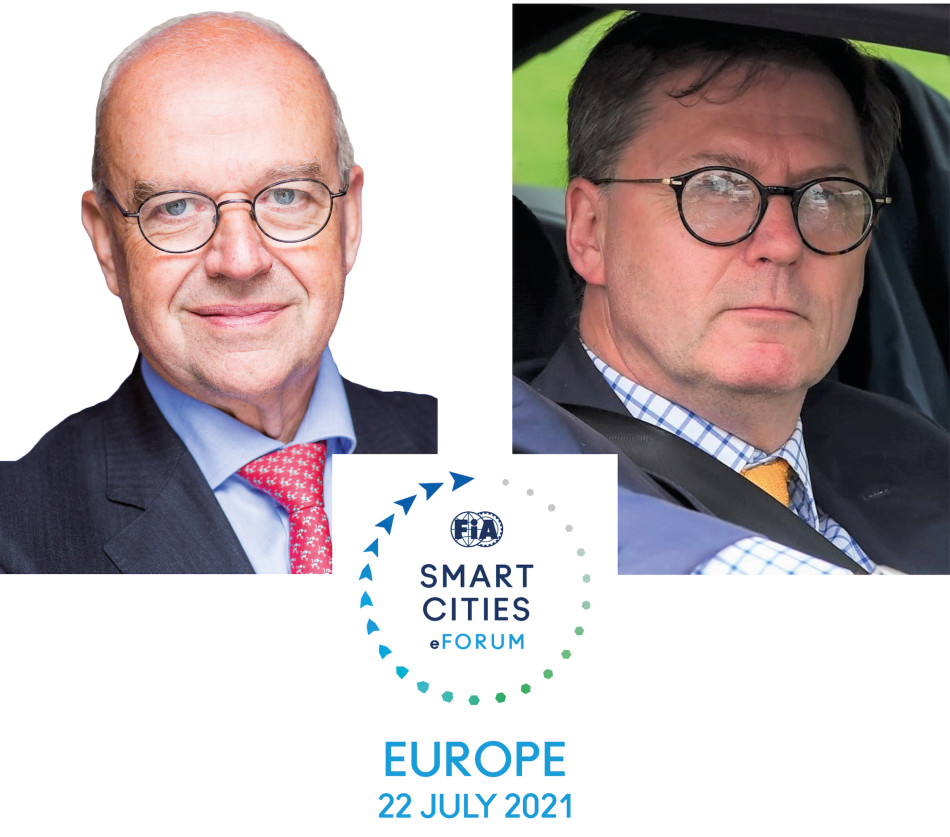 Willemarck first underlined how important data sharing is to improve mobility systems and encourage consumers to optimise their travel habits. He further explained how data can be used as a good analytical tool to design multimodal platforms and mobilise necessary investment from the private sector.
Gooding started by giving his definition of a smart city: "A city that generates, harvests, analyses and makes full use of this ever-increasing array of data that's been generated by systems and of course, by the vehicles themselves." He insisted on the need for this data to be put to use and to be shared publicly. For Gooding, the COVID-19 crisis has put the spotlight on the importance of data sharing and now, FIA Member Clubs have to think about the extent to which policies will be driven more and more by data in the coming months. He also mentioned the "Data Driven" event that the RAC Foundation hosts every year to bring together people working in the field of transport data and build a community of interest.
The two panelists then came back on the opportunities that the data revolution might bring. Willemarck touched upon the chance for authorities to put pressure on public transport companies to open up the access to data and cooperate with other players in the field, taking the example of London. Gooding highlighted a big shift from the old system: "We have the opportunity to harvest a great deal of data from vehicles or from the people within vehicles, using data captured by their smartphones. So we can start to think of all vehicles moving as being generators of information and that's going to give us far richer information as transport operators about traffic at different times of day, but also about where this traffic is coming from, where it is going to, what the real opportunities are to make it flow more smoothly, what the risks are if changes need to be made to the layout of roads", said Gooding.
Finally, Willemarck and Gooding explained what they saw as the big threat around rapid digitalisation. "The big threat, I believe, is that we see more and more cities banning cars out of the cities. (…) If you think that replacing ICEs (Internal Combustion Engine) by just electrical cars is the solution for tomorrow to reduce CO2 emissions, it is a big mistake because you cannot replace the mobility demand on the cars side with just EVs. You will need other powertrains and other energy generations. One of them is hydrogen but it is very difficult to use in a car (…). The use of hydrogen can also be recombined with CO2 to reproduce fuels that can be used in the existing infrastructure and in the existing internal combustion engine. This is something that is absolutely not considered for the time being at least in Europe, and that is a real concern for us, representing road users and mainly motorists driving cars" said Willemarck. For Gooding, the main risk lies in restrictions on access to vehicle data. He highlighted the proprietorial attitude of auto manufacturers and the risk that the data will be kept behind closed doors.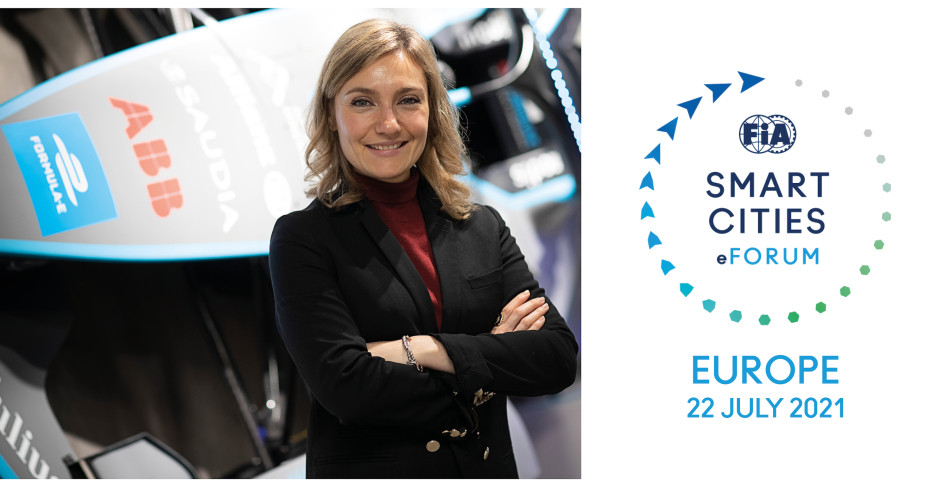 The eForum then gave the floor to Formula E Sustainability Director Julia Pallé who underscored that "Formula E is much more than a championship, it is a platform to accelerate sustainable mobility in cities." Pallé highlighted the fact that 90% of the global population breathes polluted air and that transport accounts for 30% of global emissions. For her, electric vehicles are part of the solution to help improve air quality in cities and support the transition towards cleaner transportation. "We are not only a platform that races 100% electric cars, we are a platform to accelerate electrification on our streets. And it's no surprise that we chose to race electric cars in the heart of cities. We race on temporary tracks that we are building just for the purpose of the race and the purpose of showing to people that these same streets that they are driving on a daily basis are used to race electric cars. And we are also using the platform to showcase sustainability leadership and the innovation within our championship. As already said, we became the first sport in the world to achieve net-zero carbon." Pallé finally shed light upon Formula E's wish to break the barriers to EV adoption, be it the technological barrier (Formula E being a laboratory for manufacturers), the perception barrier, or the development and implementation of the right infrastructure.
The keynote session focused on 'Unleashing the Data Potential' with insights from Stephen C. Beatty, Global Chairman (Non-Exec), Infrastructure and Chairman, Global Cities Center of Excellence and Colin Earp, Global Chair for InfraTech, both working for KPMG.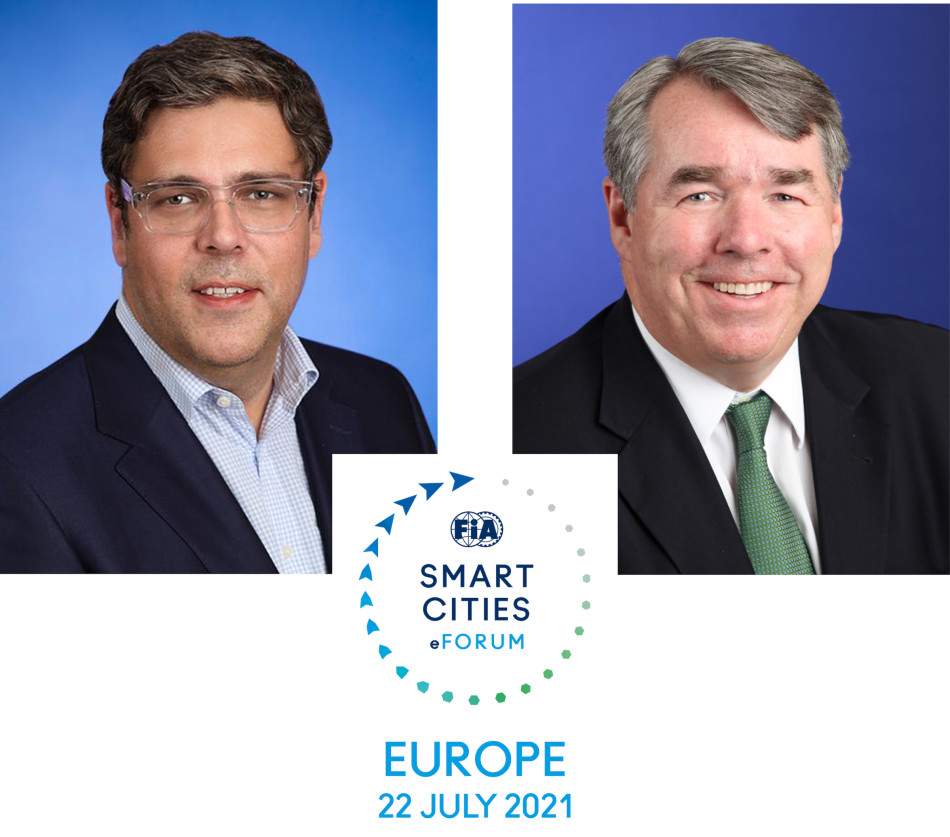 Beatty first highlighted the changes caused by COVID-19: "COVID has not brought many changes, what it has done is that it has accelerated and triggered many of the changes that were already present in the environment. Since the industrial revolution, we have adopted a mass production 'bring the people to the service' approach to the delivery of public service and of infrastructure. What I think we are beginning to see is something that I call 'mass customisation' where every individual can have a customised experience. (…) As we move down this path to this citizen-centric approach to the delivery of urban services and the provision of infrastructure, technology is going to really drive it."
"COVID has fundamentally shifted the nature of how we live, how we work, how we play and as we observe urban life, I think we have to look at it from that perspective. It's now the citizens rather than the assets that are at the centre", he continued.
Earp then touched upon people's perception with respect to data privacy and security. He insisted on the need to align the requirements of the public and private sectors and mentioned the consequences that the data revolution could have on public decisions: "The fact that cars are now 'computers on wheels' constantly creating data, that's actually changing the whole analytical cycle, not just the data itself but how we put together huge amount of different data sets to be able to come up with some of the decisions around what cities are doing and how they are behaving." For Earp, we have shifted from a very long decision-making process to an almost immediate process based on AI. Earp also highlighted the cultural shift that is needed: "Technology is not our problem now, (…), it is enabling our societies, our culture and our legislation to catch up and adjust accordingly and that is a critical element of where smart and data and the decision-making process are going to come together."
Stephen finished by saying that "technology enables change rather than technology is the change".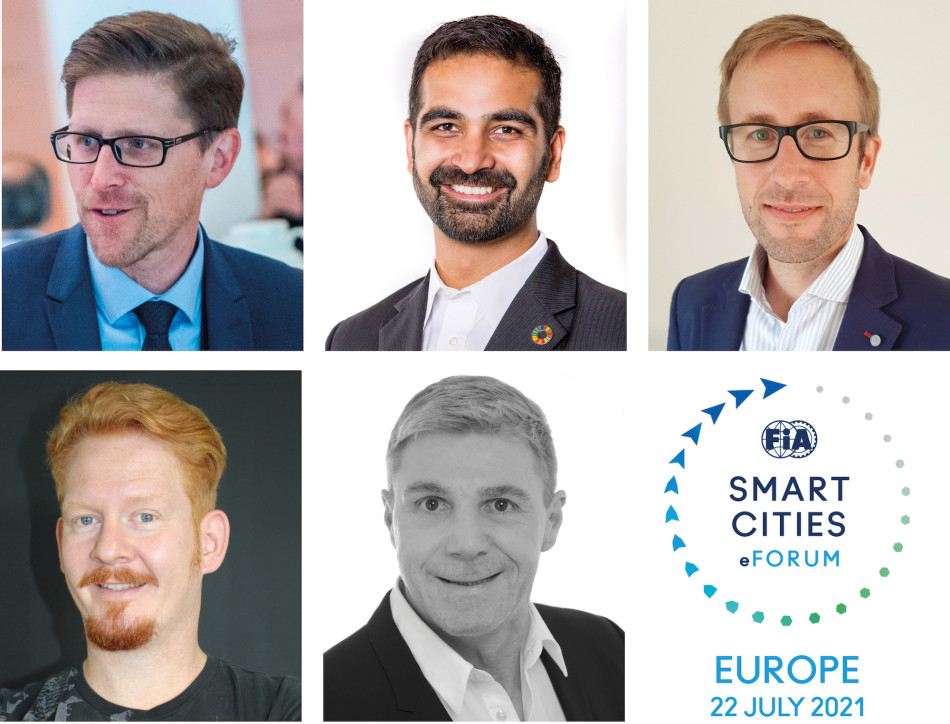 Reflections about the role data and technology will play in shaping the mobility of tomorrow and the need to build trust to make sure citizens get access to the benefits they can deliver were also at the centre of the panel discussion on 'How can Public Authorities Steer the Use of Mobility Data to Enhance Urban Transportation?'. Moderated by AFRY Management Consulting Head of Future Cities and Mobility Steffen Schaefer, the panel gathered Advisor, Innovation and Foresight, International Transport Forum (ITF) Philippe Crist, World Business Council for Sustainable Development Manager, Mobility, Aman Chitkara, RACC Marketing Director Miquel Roca and FREENOW Vice President for Data Tim Wiegels.
When talking about achieving transport connectivity and seamless integration today, two dimensions must be taken into consideration: physical connectivity and data connectivity. To ensure the latest is effective and efficient, Philippe Crist talked about the need to build a framework for data collecting and sharing. "We know that data can provide all these benefits but we don't have that data architecture in place and we are at the point in the process where it's difficult to think how much of that seamless interconnectivity can be brought about without having that common data architecture put into place," he said.
Crist continued by pointing out the need to build confidence around the use of data. "The trust architecture is also something that we have to develop. And the way to do that is to talk about the risks in a very clear and understandable fashion and highlight where these risks are important and where they are not," he declared.
Building that trust can be facilitated by explaining which data are collected, which data are used and if the data used is sensitive from a privacy point of view. It also requires a system that is adapted and can deal differently with these various types of data. "Not all data is personal. The data that is not personal does not bear the same type of risks from a privacy perspective and can be handled in ways that by nature are going to allow people to trust that their information is not going to be revealed. (…) Within personal data not all the data that is personal is necessary to carry out policy functions and there too, limiting the amount of data that is collected to what is necessary to carry out the policy outcomes is one way of limiting the risk for damaging privacy releases."
Crist concluded by underlining that "the blueprint for the data infrastructure is still lacking", and that, together with ITF member countries, they have been focusing on defining what this architecture should look like. According to them, it should rely on three leads:
Data sharing – that relates to where actors in a data marketplace exchange information to allow services to be created and delivered;
Data reporting – that refers to the reporting from this type of actors to public authorities by giving them the strictly necessary information to enable them to monitor these marketplaces and understand if and where interventions are necessary;
Digital law – that is a form of data transfer where rules and regulations are made machine-readable and pushed out to market actors.
Aman Chitkara agreed on the need to develop a policy framework for data sharing. "There is a need for data sharing and policy making for data sharing, and through policy making you can essentially create a data sharing ecosystem that is competitive (…) and more equal," he said.
He also commented on the work he carried out with 60 experts across 43 organisations in collaboration with the SuM4All consortium as well as the International Road Federation to release a comprehensive guide for policy making for data sharing when it comes to sustainable mobility. The report "talks about how governments and policymakers can intervene on various stages of collection and merging of data to thinking about standards, to thinking about governance accountability systems, thinking about infrastructure and then finally about the use and analysis of data," he said.
According to him, the report, that gives 33 policy suggestions based on 10 global case studies, shed light on three realities. The first one is that there is very little consensus on the values and the goals of data sharing, on what we are trying to implement using data sharing and on what additional impact it is going to have. The second one is the lack of capacity and is actually a consequence of the first one — as stakeholders don't understand what data sharing will deliver, they are not willing to invest in capacity to deal with this data. The third one is the fact that it's a very small portion of the data that can actually be used for value creation for different entities.
The panel discussion also gave the floor to other experts in smart mobility. Miquel Roca highlighted the role FIA Mobility Clubs have in collecting and analysing data and making sure that mobility users get all the benefits of the data analysis. Talking about his Club he said, "As RACC we see our role as one that can help make better decisions in urban planning and also for the mobility business ecosystem."
He explained why, for several years now, the Club has been very active in the data sharing field: "We live in a context with a lot of uncertainty and message overload and we see that data is the beginning to finding some of the solutions. We like to think around four concepts. We go from data to knowledge, from knowledge to insights and from insights to impact."
Roca presented the many projects his Club led in that field. In 2009, RACC created 'infotransit', an app and a website that provide very accurate information in real time on the traffic status of more than 160 km of roads in Spain. The Club also collaborated with the Catalan and the Spanish governments and participated at the European level in initiatives aiming at using data to improve safety of people travelling. As the RACC is asserting its identity as a Mobility Services Club, it chose to focus on two axes for the development of new services: connectivity and data.
"We have developed a shared mobility dashboard that is a tool that monitors the demand and supply for shared mobility services and generates mobility insights that can then be used by our partners to make better decisions. This dashboard is a web-based solution that simplifies the gathering of urban mobility information and helps public stakeholders and private companies make these data-driven decisions for mobility services and infrastructure," he said.
Roca also talked about the City Trips app developed by RACC and that is now active in more than 20 cities and gathering shared mobility options for more than 35 shared mobility services.
City Trips is a platform offering customers a single-entry point for all the mobility needs, transport options and related added value services. RACC is now working to scale up City Trips for other FIA Clubs to join in.
Tim Wiegels also talked about the role played by data in building new mobility services and presented the success story of FREENOW that has become one of the leading multi-service mobility platforms in Europe.
"We are a marketplace and we are matching the supply and the demand. So what we are trying to do is get the right amount of drivers in the app and try to match that with the customers that are interested," explained Wiegels about FREENOW's ride hailing offer. To ensure efficiency of its services, analysis of the relevant data and perfect knowledge of each market, the company has offices in every city in which it is operating.
To further expand and better address shared mobility demand including in non-densely populated areas, FREENOW chose to become a multi-mobility platform. Wiegels emphasised the fact that this evolution has given FREENOW access to even far more data than before but also created more challenges. "We are now not only connected to our own data but we are also connected to a whole lot of different services," he said. "Every partner has its own API, every partner has its own way of connecting to data, which with the scooter providers and car sharing providers is okay as most of them use similar standards. We are all at the 'grown-up' stage, we all started to develop in the same way, so it's all very similar. It can become very much more difficult when it comes to public transport."
The last part of the eForum gave the floor to Transition-One, winner of the European edition of the FIA Smart Cities Global Start-up Contest Season 5. Transition-One designs a generic unit of retrofit to convert ICE vehicles into electric ones in four hours.
The FIA Smart Cities eForum – Europe was the second conference of Season 5. The last Forum, focusing on the Asia-Pacific region, will take place in November.