FIA president Todt asks for unity to cut Jamaica's road crashes
President of the FIA Jean Todt has urged road safety stakeholders in Jamaica to start implement strategies to cut down on the amount of fatalities and injuries that occur on their roads annually.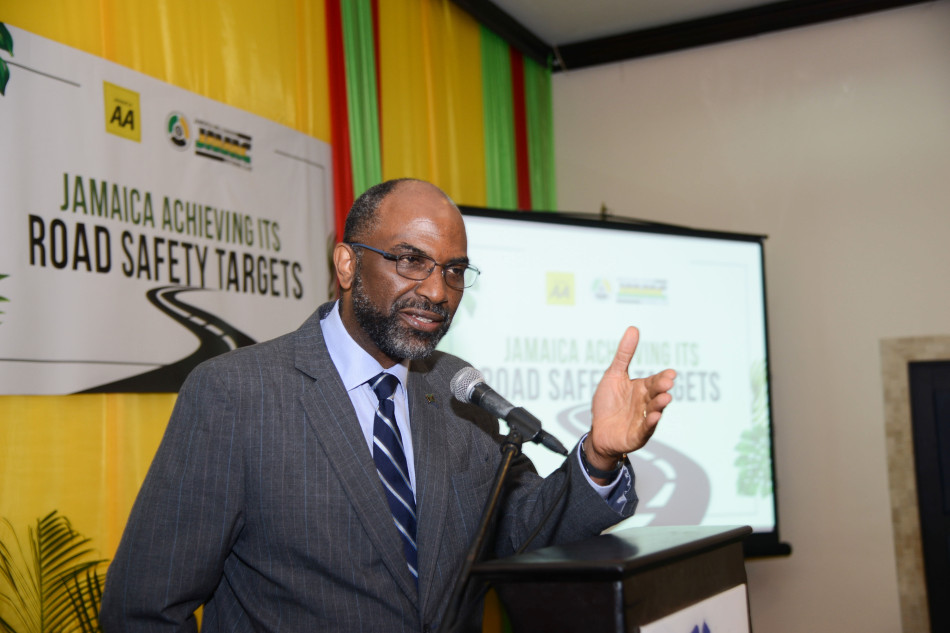 Mr. Todt, who yesterday addressed the stakeholders at a luncheon in Kingston, the capital of Jamaica, said that in discussions with a number of the island's main road safety interest groups and individuals during his two-day visit, all are aware of what it will take to get a reduction in the number of crashes.
In using his capacity also as UN Secretary General's Special Envoy for Road Safety, Mr. Todt said that it will take public education, law enforcement, proper road infrastructure and post-crash care to bring down the island's fatalities and injuries on the road.
He said, "it is something that we have been debating since I arrived here and have the opportunity of discussing with the current prime minister, the former prime minister, different ministers, police and UN Agency, and everybody does agree that the situation is not sustainable.
"We are addressing HIV AIDS, malaria, tuberculosis. We know it is being addressed. We don't know yet what to do. On the road, we know what to do but it has not been addressed. So it is our responsibility to address it," Mr. Todt added.
He had some praise for Jamaica, where he had visited three years ago. During this visit he met with Prime Minister Andrew Holness and Opposition Leader, Portia Simpson Miller, whose government was defeated in a general election in February. He also had meetings, with the island's Minister of Transport Mike Henry and Commissioner of Police Dr. Carl Williams.
Mr. Todt said, "it is always very inspiring to be able to assess the motivation to fight road crashes around the world and I have sometimes had the sad opportunity to assess the situation between countries. I think Jamaica is a leading small country in addressing road safety and what I see is very inspiring.
"Jamaica is well known. You are a small country, a Caribbean island, but you are very well known for two main reasons. One because of the beauty of your country and two, because of the fascination of your athletes – and I must say that it is something that is absolutely admirable. A little country with such heroes like Usain Bolt, Yohan Blake and others.
"So you like challenge. You like competition as I do and I spend many decades of my life trying to run a car in front of others or running a team in front of others. And now in this part of my life, my responsibility is to try to encourage people to act in order to decrease the number of victims on the road.
"Now, I need to lead to encourage countries, communities, organisations, FIA affiliates to address properly this situation. If we put the Jamaica team together, simply by making all the different people and responsibilities together, you will achieve the results and we will be very proud of each other, to fight to win," Mr. Todt said.
Senior Superintendent of the Jamaica Police Force, Calvin Allen, Commanding Officer of the Traffic and Highway Division, in a statistic-based presentation, said that the police will be working on a three-pronged approach to reduce the amount of crashes on the island.
Mr. Allen said that this would encompass the three E – Education, Enforcement and Engineering. He explained that all three have already started, with the police doing a number of electronic interviews with some of the leading media houses on the island and they have stepped up their presence on the roads, with a campaign titled Zero Tolerance. He said they are also looking at a number of the designs of the island road to make recommendations for improvement.
Dr. Parris Lyew-Ayee, who head the University of the West Indies's Mona Geoinformatics Institute, said that the school has been mapping the island's accidents within a day with specific interest shown to the hot spots, with billboard designed with special messages built at these places.
A number of initiatives have seen a drop in the island's road fatalities since 2003 when the island recorded 391 deaths. However, the number spiked in 2015 to 382, the most since then. The lowest during that period was 260, which was in 2012. The island has a population of 2.7 million inhabitants.