FIA partners with Olympic Channel
New agreement signed by Jean Todt and Thomas Bach to show motor sport and road safety content on the Olympic Channel global digital platform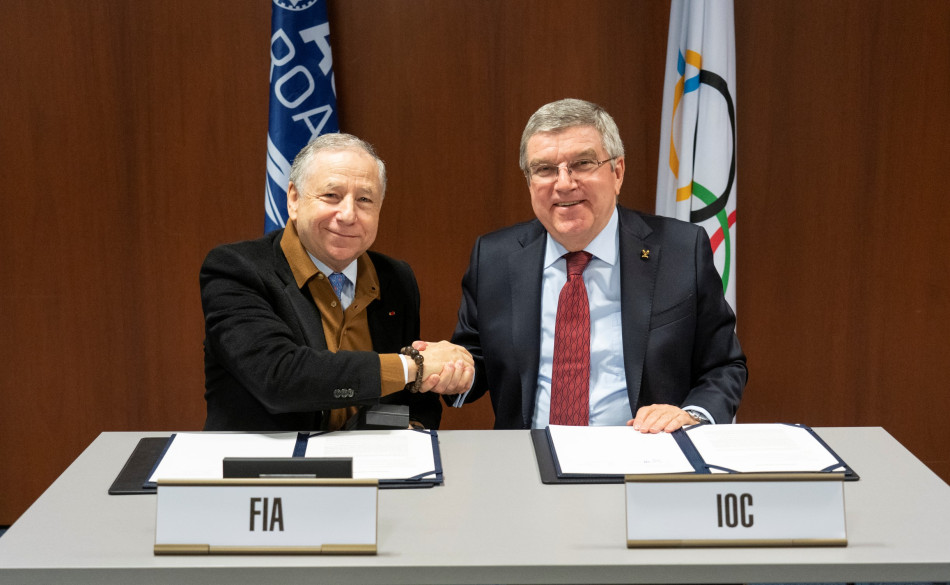 Fédération Internationale de l'Automobile (FIA) President Jean Todt and International Olympic Committee (IOC) President Thomas Bach signed an agreement to collaborate on motor sport and road safety content for the Olympic Channel today, 19 January, in Lausanne, Switzerland. 
The Olympic Channel is an over-the-top (OTT) global media destination where fans can experience the power of sport and the excitement of the Olympic Games all year round, and is available worldwide at olympicchannel.com, its mobile apps and on connected TV devices.
As an IOC-recognised international sporting federation, the FIA strongly shares the Olympic values and seeks to further engage with this global sporting community to forge new partnerships, create new opportunities and reach potential new fans of motor sport.
The agreement expands upon the existing collaboration between the FIA and the IOC, and provides an opportunity for motor sport and road safety content to be distributed on the Olympic Channel, including original content through the activities of the FIA, motor sport athletes and road safety ambassadors from around the world.
FIA President Jean Todt said, "I am pleased that the FIA and IOC are coming another step closer together through this partnership with the Olympic Channel. The platform is a great resource for fans worldwide, and by increasing the diversity of broadcast and on-demand content to include motor sport, we have the potential to reach many new fans. It is also an opportunity for us to work closer together in the area of road safety – with so many Olympic athletes already involved in our #3500LIVES campaign, this will be another way for us to raise awareness of crucial road safety issues."
IOC President Thomas Bach said, "We are excited to continue our partnership with the FIA through the Olympic Channel in our efforts to promote the Olympic values all year round. The Olympic Channel provides a platform for the promotion of all sports and athletes within the Olympic Movement and we look forward to working together in our collective efforts to bring increased exposure of motor sport to viewers and new audiences from around the world."
Image © IOC/Greg Martin