FIA Karting - Three new Polemen in the Italian heat
FIA ​​Karting European Championship - KZ & KZ2  - Free Practice & the Qualifying Practice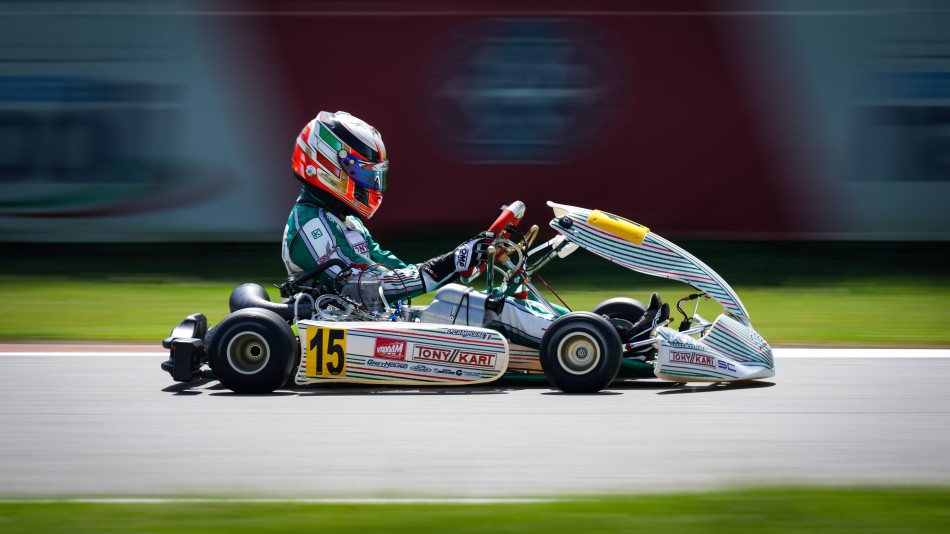 This year the Sarno (ITA) Competition will be marked by extreme heat at more than 35° in the air and 50° on the track. In these conditions which are difficult for everyone, the decisive meeting of the FIA ​​Karting European Championship - KZ & KZ2 has started, as well as the second of the three Competitions of the FIA ​​Karting Academy Trophy. Camplese, Palomba and Ho were the Polemen of these three categories.
Friday, 14th June was devoted to Free Practice, before concluding, from 16:30 onwards, with the Qualifying Practice. Despite the heat wave, the 135 Drivers present were not apprehensive of taking to the overheated track in anticipation of a very close Competition, which is equally decisive in the three categories.
The eight-minute sessions were not fully used, with participants most often deciding to go out on the track 4'30 from the end for the best conditions. In the KZ2 and Academy categories, the performances seemed to progress over the sessions and the fastest time was achieved in the last session each time.
KZ2: Palomba signs an impressive fastest time
Starting at the last moment in the third session, Giuseppe Palomba (ITA) was formidable. Already holder of the pole position from his first pass over the timing line, he improved again on his second lap to 56''418. Giacomo Pollini (ITA) followed him in 2nd position, by more than two tenths of a second. In 3rd place, Senna Van Waltijn (NLD) had largely dominated the second session ahead of Valentino Fritsch (DEU). Leader of the first session, David Vidales Ajenjo (ESP) was in 5th place overall. The leaders of the Championship suffered against their opponents as Emil Skaras (SWE) finished 13th, Simone Cunati (ITA) 27th and Riccardo Longhi (ITA) 21st. In the context of the title, Palomba, 4th in the standings, has done a good job, as has Vidales Ajenjo.
Very close performances in Academy - Ho in pole position
The three fastest laps were in the second group and Christian Ho (SGP) took pole position in 1'01''590 ahead of Jacob Douglas (NZL) three hundredths later and Oleksandr Partyshev (UKR) to a tenth. The top performer in the first session, Robert De Haan (NLD) set his best time in the final seconds. This earned him 4th place overall in front of Bartolomej Piekutowski (POL). The differences remained very small between the various protagonists.
KZ: Camplese sets the fastest time on the wire
The Qualifying Practice session of the FIA ​​Karting European Championship - KZ closed the day. Simo Puhakka (FIN) seemed to have taken a decisive advantage against Anthony Abbasse (FRA) when at the last moment Lorenzo Camplese (ITA) posted a time of 56''279 which gave him pole position. Alessandro Irlando (ITA) followed by 41 thousandths of a second and Puhakka was relegated to 3rd position by 0.113". Abbasse was 4th in front of Pedro Hiltbrand (ESP). Matteo Vigano (ITA), Abbasse's closest rival in the Championship standings, ranked 12th.