FIA Karting - Van Walstijn and Slater the new leaders on Saturday evening in Zuera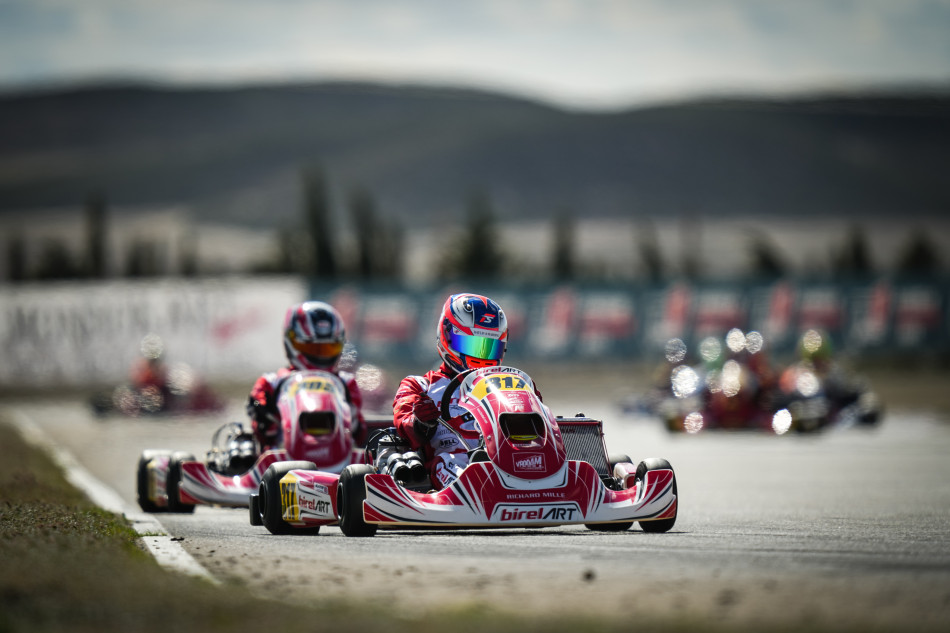 Since Friday afternoon, the Qualifying Heats have followed each other without letting up on the Circuito Internacional de Zuera, which is vibrant with the first round of the FIA Karting European Championship - KZ & KZ2 supported by Mondokart.com. Speed and consistency were the keys to this decisive phase which allowed Senna van Walstijn (NLD) and Freddie Slater (GBR) to take the top positions in KZ and KZ2 respectively.
The weather was favourable in Aragon with a dry track and increasingly clear skies, while temperatures ranged from 14 to 18°. However, the north-westerly wind was strong enough throughout the day on Saturday to be taken into account by the drivers. The 18 Qualifying Heats gave rise to a show full of twists and turns. The first laps were not lacking in intensity and not all the drivers were equally successful. Some race incidents followed the impetuousness of some drivers and drastically reduced their chances. Thanks to the live broadcast on Saturday, the competition could be followed all over the world.
KZ: Van Walstijn takes the lead
Three different drivers, as well as three chassis brands and three engine manufacturers, won the three Qualifying Heats of the FIA Karting European Championship - KZ that is currently taking place in Zuera. Dutchman Senna van Walstijn opened the scoring on Friday afternoon ahead of Italy's Danilo Albanese and Frenchman Jérémy Iglesias. On Saturday, Albanese overtook van Walstijn in the second race with Emilien Denner (FRA) coming back to third. Poleman Tom Leuillet (FRA) proved to be extremely competitive in the third and final heat to take the win after an improvement of three positions. Van Walstijn again secured second place, which put him at the top of the standings ahead of the Super Heats on Sunday morning.
Pedro Hiltbrand's (ESP) retirement in the battle of Heat 2, when he had the top three in his sights, put a stop to his hopes. In 6th position, Riccardo Longhi (ITA) improved by 10 places during the heats, Stan Pex (NLD) took back five places to 7th, Matteo Vigano (ITA) nine to 8th and Lorenzo Travisanutto 13 to enter the top 10. Lorenzo Camplese's (ITA) misadventure in the first race showed that a single incident could have serious consequences as he dropped from second to ninth place in the ranking. The new rule in KZ sets the starting grid for Heats 2 and 3 according to the order of finish of the previous heat. This is why talented drivers such as Francesco Celenta (ITA), David Trefilov (DEU), Paolo Ippolito (ITA) and Adrien Renaudin (FRA), had a difficult task after dropping out of Heat 1. With a more generous points scale, the Super Heat may help to redress the balance for the Final.  
FIA Karting European Championship - KZ Qualifying Heat standings in Zuera
1- Senna Van Walstijn (NLD) - 138 points
2- Tom Leuillet (FRA) - 126 points
3- Danilo Albanese (ITA) - 126 points
4- Jérémy Iglesias (FRA) - 118 points
5- Emilien Denner (FRA) - 113 points
Freddie Slater confirms his place among the best KZ2 drivers
With two victories and three second places, the young British driver Freddie Slater managed a superb synthesis of speed and consistency to take the lead on Saturday evening at the end of the Qualifying Heats of the European KZ2 Championship in Zuera. This is already an achievement for a first season in gearbox karts. However, Cristian Bertuca from Italy put in the best performance of this phase, crossing the finish line in the lead four times. Two penalties for moving on the grid before the start signal dropped him to 8th position. Meanwhile, Romania's Daniel Vasile moved up from 13th to second place with two wins. The Jamaican poleman Alex Powell showed great fighting spirit to take three victories and move up to third place. Two Frenchmen, Jean Nomblot and Matteo Spirgel completed the top five ahead of Tomass Stolcermanis (LVA) and Kean Nakamura-Berta (GBR). Spain's Daniel Macia and Italy's Alessio Piccini were also in the top ten.
FIA Karting European Championship - KZ2 Qualifying Heat standings in Zuera
1- Freddie Slater (GBR) - 232 points
2- Daniel Vasile (ROU) - 229 points
3- Alex Powell (JAM) - 208 points
4- Jean Nomblot (FRA) - 207 points
5- Matteo Spirgel (FRA) - 200 points
Provisional programme for the Zuera event
FIA Karting European Championship - KZ Mondokart.com Race of Spain
FIA Karting European Championship - KZ2 Mondokart.com Race of Spain
Sunday 16th April
09:30 - 10:25: Warm-up (15')
11:20 - 12:10: KZ/KZ2 Super Heats (live broadcast)
14:00 - 15:35: Finals (live broadcast)
The Zuera event can be followed on the official FIA Karting Championship app for mobile devices and on the website www.fiakarting.com.