FIA Karting - Sarno: Italians Albanese and Bertuca lead on Saturday evening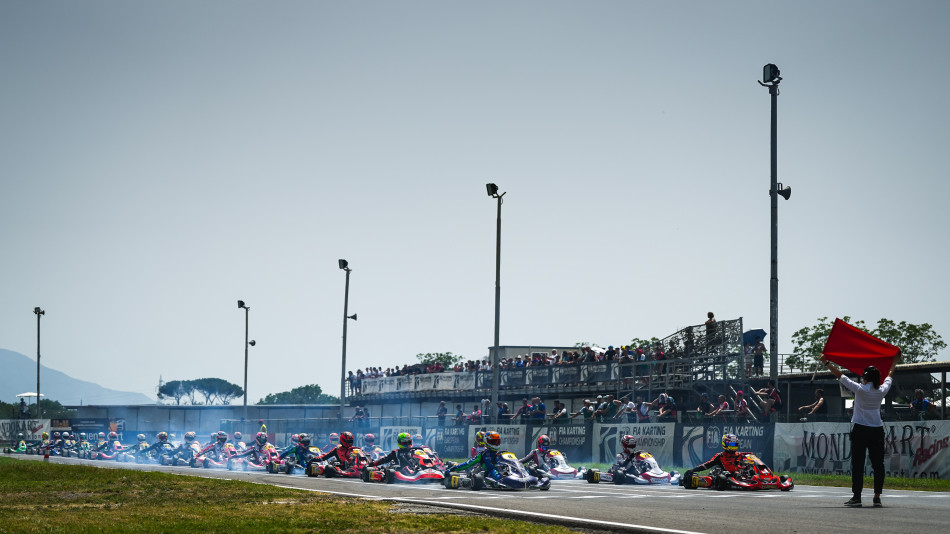 The Italian round of the FIA Karting European Championship - KZ & KZ2 in Sarno, Italy, sponsored by Mondokart.com, took place in very hot conditions that put a great deal of stress on drivers, machines and tyres. The first selection has been made and will be completed on Sunday morning during the Super Heats. On Saturday evening, the Qualifying Heats delivered their verdict with Danilo Albanese (ITA) still leading in KZ and Cristian Bertuca (ITA) the new leader in KZ2.
In temperatures approaching 35°, the LeCont tyres did not have an easy time of it on these powerful and heavy karts. The greatest care was required by the drivers to keep their tyres in the best possible condition. In these demanding conditions for everyone, the intensity of the competition never wavered.
At the end of the day, a silent tribute was paid to the Dutch driver Dilano van't Hoff, known and appreciated in karting, who lost his life last Saturday in a single-seater at Spa-Francorchamps. On Sunday morning, the Super Heats will determine the 36 drivers who will compete for victory and the titles in both categories.
KZ: Albanese in control
Pole-sitter on Friday, Italy's Danilo Albanese confirmed his competitive edge during the Qualifying Heats of the FIA Karting European Championship - KZ by crossing the finish line in 1st position three times. A 5" penalty for moving before the lights went out dropped him back to 2nd place in Heat 1, but he still led the intermediate standings on Saturday evening ahead of Sweden's Viktor Gustafsson, who climbed from 10th place with a win to his name. Italian Francesco Celenta also made good progress, climbing five places to 3rd ahead of Frenchman Jérémy Iglesias and another Italian, Paolo Ippolito (up four places). Lorenzo Travisanutto (ITA) remained in contention in 6th position, while Senna van Walstijn (NLD), in 7th, lost ground due to a puncture at the end of the third heat. Pedro Hiltbrand (ESP) moved up 3 places to 8th, ahead of Arthur Carbonnel (FRA) and Alessandro Irlando (ITA), who moved up nine places. The recovery of some drivers who had not entirely succeeded in Qualifying did not go as planned. Stan Pex (NLD), Riccardo Longhi (ITA) and David Trefilov (DEU) remained 12th, 13th and 14th respectively. Tom Leuillet (FRA) dropped back to 15th after a double penalty in Heat 1, Matteo Vigano (ITA) fell to 19th after retiring in Heat 2 and Emilien Denner (FRA) was 21st after retiring in Heat 1.
FIA Karting European Championship - KZ Qualifying Heats standings at Sarno
1- Danilo Albanese (ITA) - 144 points
2- Viktor Gustafsson (SWE) - 138 points
3- Francesco Celenta (ITA) - 120 points
4- Jérémy Iglesias (FRA) - 108 points
5- Paolo Ippolito (ITA) - 100 points
KZ2: Bertuca ahead of Slater
The second round of the FIA Karting European Championship - KZ2 is proving to be very close. The top two finishers in the intermediate rankings after the Qualifying Heats won four of their five races. Italy's Cristian Bertuca made the difference in 3rd place in his third heat to move up five places to 1st place. Britain's Slater conceded the lead by finishing 5th in his fourth heat. Maksim Orlov moved up to 3rd place after a convincing run of two wins and three 2nd places, almost equalled by Germany's Maxim Rehm and Latvia's Tomass Stolcermanis, who completed the top five on equal points. Paavo Tonteri (FIN) lost some ground in 6th position, but remained very competitive. Genis Civico Espona (ESP) had made up four places to 7th ahead of Artem Severiukhin, while Daniel Vasile (ROU) had made up 12 places to 9th ahead of Tim Gerhards (NLD). Mattéo Spirgel (FRA) moved up 11 places to 14th ahead of team-mate Yevan David (LKA). Alex Powell (JAM) dropped from 8th to 21st due to two retirements.
FIA Karting European Championship Qualifying Heats standings - KZ2 at Sarno
1- Cristian Bertuca (ITA) - 241 points
2- Freddie Slater (GBR) - 236 points
3- Maksim Orlov - 232 points
4- Maxim Rehm (DEU) - 229 points
5- Tomass Stolcermanis (LVA) - 229 points
Provisional programme for the Sarno event
FIA Karting European Championship - KZ Mondokart.com Race of Italy
FIA Karting European Championship - KZ2 Mondokart.com Race of Italy
Sunday 9th July
08:00 - 08:40: Warm-up (10')
09:15 - 10:25: Super Heats
11:45 - 13.55: Finals
The Sarno event can be followed on the official FIA Karting Championship application for mobile terminals and on the www.fiakarting.com website.