The FIA honours the memory of road traffic victims on the 21st World Day of Remembrance
The Fédération Internationale de l'Automobile and its 238 member clubs around the world are supporting the 21st World Day of Remembrance of Road Traffic Victims on 20 November 2016 – an initiative created by the European Federation of Road Traffic Victims (FEVR) and adopted by the United Nations in 2005
The World Day of Remembrance (WDR), which is observed on the third Sunday of November each year, is dedicated to remembering the many millions killed or injured in road crashes every year, as well as their families and loved ones. It is also an opportunity to pay tribute to the dedicated emergency crews, police and medical professionals who deal daily with the traumatic aftermath of road death and injury. WDR also highlights the enormous impact of road crashes globally and the urgent need for concerted action.
The FIA and its member clubs have always prioritised road safety, working in partnership with other mobility stakeholders to mobilise and engage international leaders on the issue.
FIA President Jean Todt, who also serves as the UN Secretary General's Special Envoy for Road Safety, said: "On the occasion of the World Day of Remembrance, I strongly encourage you to take a moment to think about the 1.25 million lives lost on the world's roads every year, the 50 million left seriously injured, and finally, those loved ones who are so tragically affected by road crashes. Every fatality on the road is one too many. There is an urgent need to increase efforts to tackle this global health and development challenge if we are to meet the targets set as part of the UN Sustainable Development Goals".
The FIA World Rally Championship, the FIA World Endurance Championship, the FIA GT World Cup and the FIA F3 World Cup also supported the WDR by organising family pictures with their drivers in Australia, Bahrain and Macau. 
Chek out all the family pictures here
---
La FIA rend hommage aux victimes de la route à l'occasion de la 21ème Journée mondiale du souvenir
La Fédération Internationale de l'Automobile et ses Clubs membres soutiennent la 21ème Journée mondiale du souvenir des victimes de la route le 20 novembre 2016 – une initiative de la Fédération Européenne des Victimes de la Route (FEVR) adoptée par les Nations Unies en 2005.
La Journée mondiale du souvenir, commémorée chaque année le troisième dimanche de novembre, est dédiée aux millions de tués et de blessés sur les routes du monde entier, à leurs familles et à tous ceux qui sont affectés. Elle rend également hommage aux équipes de secours, aux services de police et aux professionnels médicaux qui font face quotidiennement aux traumatismes causés par ces accidents. Instaurée pour répondre au besoin des victimes de voir leur perte et leur douleur entendues et reconnues, cette journée est également l'occasion pour les gouvernements de démontrer l'impact considérable des accidents de la route et l'urgence d'une action concertée.
La FIA et ses Clubs membres ont toujours accordé la priorité à la sécurité, en travaillant en partenariat avec d'autres intervenants de la mobilité pour entraîner l'adhésion des dirigeants internationaux sur la question.
"Chaque décès sur la route est un décès de trop, nous devons donc continuer à faire tout notre possible pour améliorer la sécurité. En cette Journée mondiale du souvenir, je vous engage à avoir une pensée pour les 1,25 million de personnes qui perdent la vie sur les routes du monde entier chaque année, les 50 autres millions qui sont grièvement blessées et enfin, pour leurs proches qui sont si tragiquement affectés par ces accidents. Les gouvernements ont certes un rôle majeur à jouer pour relever le défi de la sécurité routière mais nous pouvons nous aussi contribuer à cet effort en respectant les règles de conduite ainsi que les autres usagers de la route", a déclaré Jean Todt, Président de la FIA et Envoyé Spécial du Secrétaire général de l'ONU pour la Sécurité routière.
Le Championnat du Monde des Rallyes de la FIA, le Championnat du Monde d'Endurance de la FIA, la Coupe du Monde FIA GT et la Coupe du Monde de F3 de la FIA soutiennent également la Journée mondiale du souvenir en organisant des séances photos avec leurs pilotes en Australie, à Bahreïn et à Macao.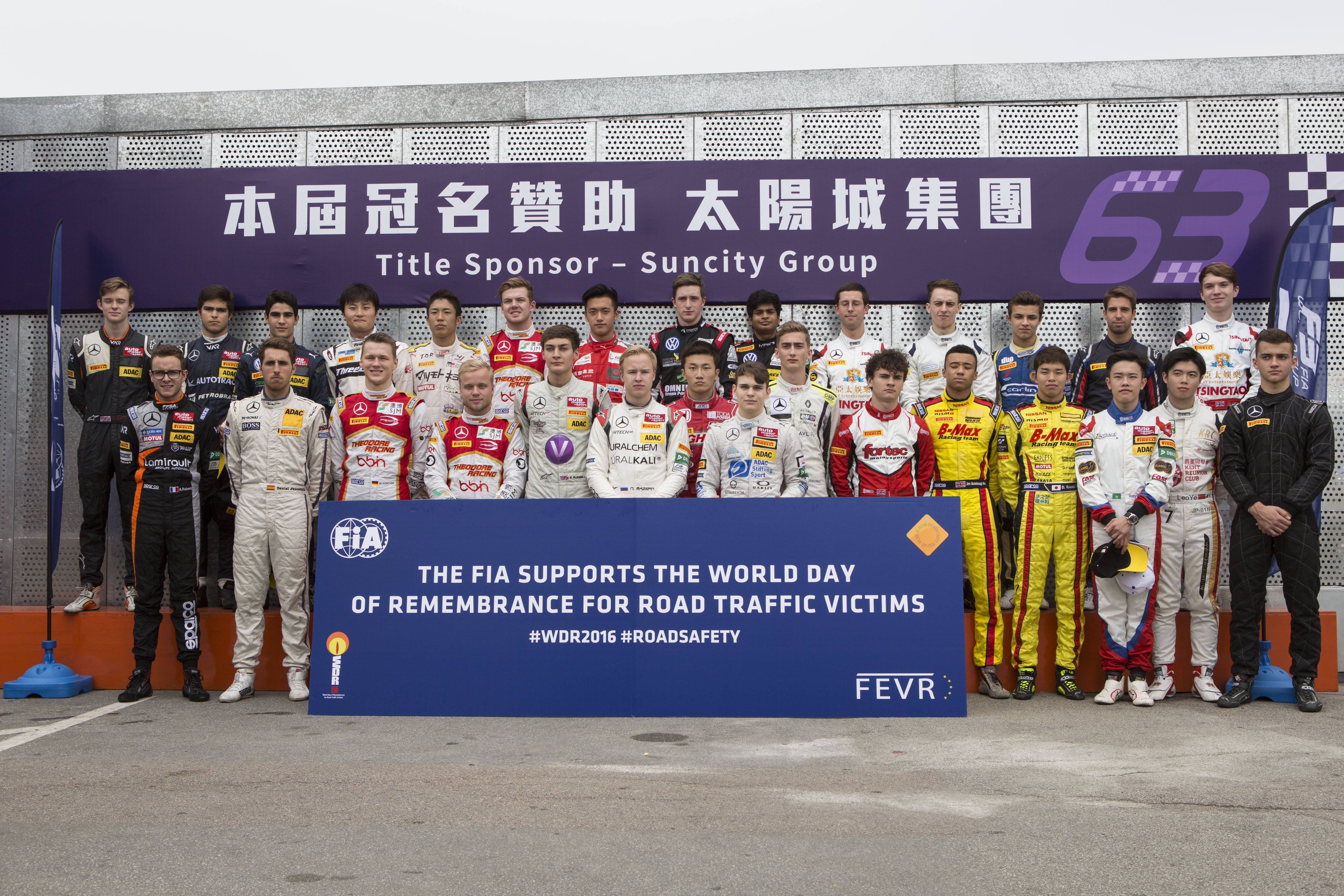 Drivers of the FIA F3 World Cup - 2016 Macau Grand Prix

Drivers of the FIA GT World Cup - 2016 Macau Grand Prix

Drivers of the CIK FIA World Karting Championship - Bahrain

Drivers of the FIA World Rally Championship - 2016 Rally Australia

Drivers of the FIA World Endurance Championship - 2016 6 Hours of Bahrain