This page contains archived information and may not display perfectly
FIA F3 World Cup - The career maker
The Macau Grand Prix is a street fight, a no-holds-barred battle winding through houses and blasting past casinos against the backdrop of the bustling Zhuijang River Estuary.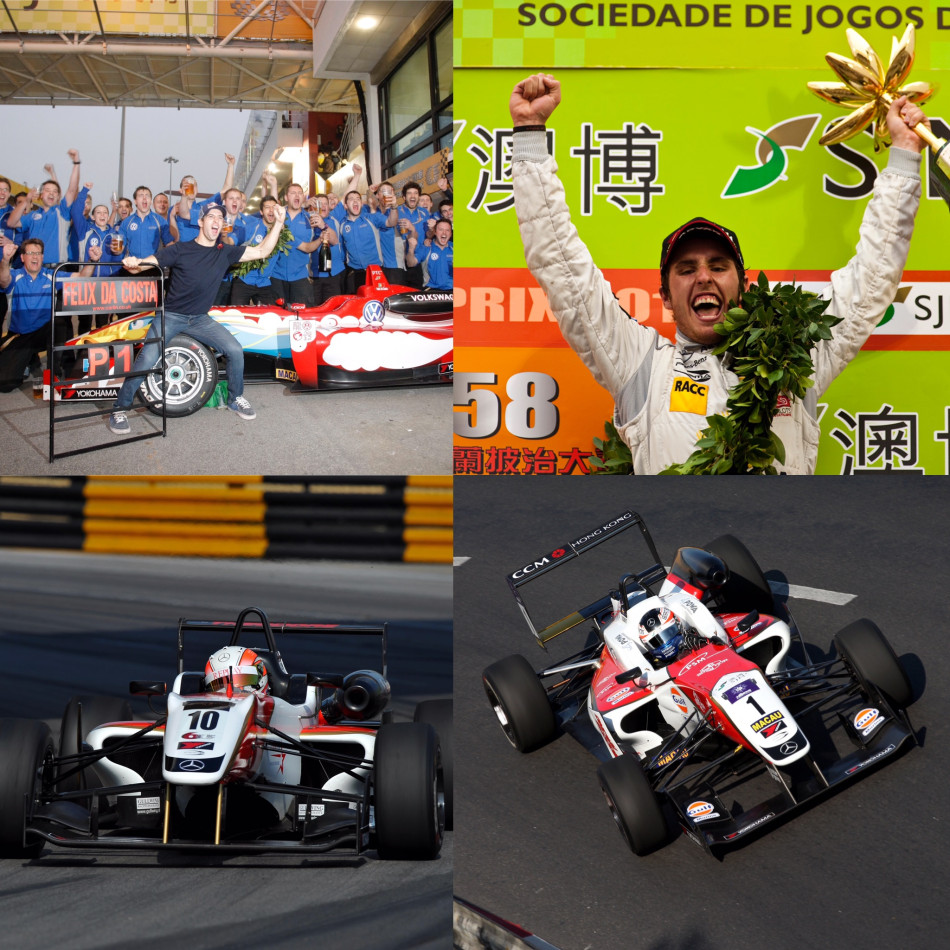 The prize is the ultimate for junior drivers: international motor sport notoriety and a shot at a full-time professional racing career in a marquee category – Formula One, Formula E, Indy Car, WEC, WTCC or DTM.
The winners of the last five years of the Macau Grand Prix have gone on to begin auspicious careers.
In 2011, Daniel Juncadella stood tallest on the Guia circuit podium.
Despite a meeting dominated by current DTM rival Marco Wittman (the German was fastest in practice, claimed pole position and drove the fastest lap of the main race), dark horse Juncadella surged from sixth through a chaotic race marked by multiple safety cars. The infamous Lisboa and Mandarin corners made victims of many. Of 30 starters, only 13 reached the chequered flag.
Racing against the likes of now Formula One drivers Felipe Nasr, Kevin Magnussen and Valtteri Bottas, 20-year-old Juncadella fought his Mercedes-powered Prema Dallara to a mid-race lead. Jumping Wittman at lap 10 and working to the front, he held off a hungry Nasr to take victory under the yellow flag.
Post-race, Juncadella told Autosport his strategy was to avoid risk in the early stages, acutely aware of his good fortune.
"I was thinking to attack a lot at first, but staying out of trouble in tight moments was the key for winning this race. So when the second safety car came and I was second, I knew I had my chance.
"My top speed was really good today and I could overtake Marco. But I had to really concentrate when I overtook him under braking, because I nearly crashed into the wall. I cannot believe how lucky I am to win this race."
Juncadella fortified his Macau victory with 2012 championship wins in the FIA Formula 3 European Championship and prestigious Masters of Formula 3 at Zandvoort. In 2013 he entered DTM with Muecke Motorsport, testing for Sahara Force India in F1 the same year.
A regular in DTM, Blancpain GT series and taking his first podium for Mercedes-Benz DTM at the Hungaroring this September, Juncadella will again return to the Guia circuit to attempt to claim the first FIA F3 World Cup.
In 2012 the Macau Grand Prix gold trophy was awarded to António Felix da Costa. His third attempt at the Eastern street course, he joined a grid that included Carlos Sainz Jr, Pascal Wehrlein and Felipe Nasr.
Claiming pole with a win in Saturday afternoon's qualifying sprint, da Costa was a tour-de-force. The Portuguese-born driver started strong, leading every one of the 15 laps of the Guia circuit. He was followed by Felix Rosenqvist in second and Alex Lynn in third.
After his Macau F3 victory, da Costa sought and obtained a seat in Formula Renault 3.5 series, achieving three race wins and three podiums to claim third in the 2013 series.
Moving to DTM as a BMW works driver, da Costa was taken on as a test and reserve driver for the Red Bull Racing F1 team. The same year da Costa also joined Formula E for its first season, where he currently races for Amlin Andretti and recently competed in the inaugural Formula E race in Hong Kong.
He will also return to Macao next month for the FIA Formula 3 World Cup, again racing with Carlin and seeking to reprise victory.
In 2013, Alex Lynn improved on the third place he earned in 2012. Starting the race on pole, the Briton skirmished with da Costa throughout to grab victory for Theodore Racing on the 30th anniversary of Ayrton Senna's 1983 Macau Grand Prix victory for the same team.
A then 20-year-old Lynn told the South China Morning Post that the win was a dream come true.
"I can't really put it into words. I've dreamed of winning this race ever since I came here for the first time. Since I finished third last year all I've wanted to do is win it, and I can't believe I've done it," he said.
Lynn tested for Lotus F1 in 2014, and is currently a Williams Formula 1 Development driver. He is driving his second season of GP2, winning two races in 2016 so far. The 23-year-old also made his debut in the FIA World Endurance Championship at the 6 Hours of Fuji in mid-October, driving for the Manor team in LMP2.
The winner of the 2015 Macau Grand Prix, 24-year-old Swede Felix Rosenqvist, was also the champion of the 2014 edition, becoming the second driver to win two consecutive Macau Grands Prix in the Formula 3 era (the other is Edoardo Mortara).
Rosenqvist is a decorated F3 driver. He has won Masters of Formula 3 twice, won the FIA F3 European Championship in 2015 with 13 race wins, 13 pole positions and 24 podiums, and has a total of 35 wins in Formula 3 around the world.
In 2016 Rosenqvist has raced in DTM for Mercedes-AMG and contested rounds of the American Indy Lights single-seater series. He has also raced in the Blancpain GT Series Sprint Cup, with a race win in Barcelona and second at the 24 hours of Spa, and most recently made his FIA Formula E Championship debut in Hong Kong, racing for Mahindra.
Rosenqvist said the Macau Grand Prix had meant more to his career than any other race.
"Just saying the words 'Macau' and 'Formula 3' brings a smile to my face, so I'm absolutely thrilled to be racing there once again this year," he said.
"It's the one race in the world that has had the greatest impact on me and my career, and when the prospect of doing it again with Prema came up it was simply too tempting an opportunity. I've stayed in close contact with the team throughout the season and our relationship goes beyond just winning a number of races together.
"I really can't wait to get back out on track in Macau and experiencing that driving sensation again; you can't get it anywhere else."
In 2016, Rosenqvist will drive in his seventh Macau Grand Prix and pursue history: an unprecedented third consecutive victory at Macau, and the inaugural FIA Formula 3 World Cup.