THE FIA AND ITS 246 MEMBER CLUBS HONOUR THE MEMORY OF ROAD TRAFFIC VICTIMS
On 18 November, the FIA community supported the World Day of Remembrance for Road Traffic Victims (WDR) on the theme "Roads Have Stories".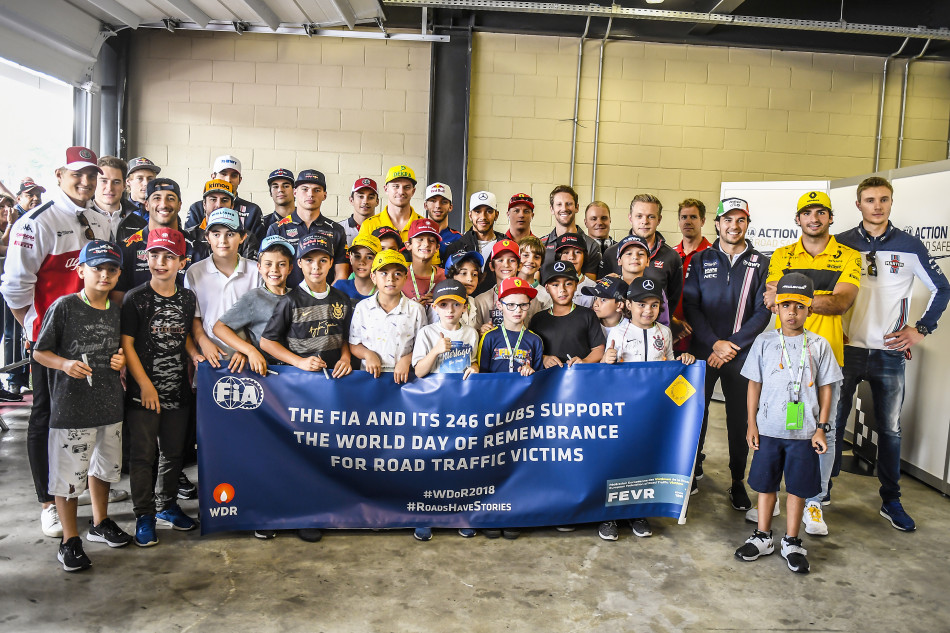 Initiated by road victims in 1993, celebrated by the European Federation of Road Traffic Victims (FEVR) since 1995 and endorsed by the United Nations in 2005, WDR commemorates the many millions killed or injured on the world's roads, as well as the families and friends who are immeasurably affected by the loss of a loved one. The day is a moment to draw attention to the emotional and economic devastation caused by road crashes, and to recognise the suffering of road crash victims as well as the brave work of support and rescue services.
Linked to the second pillar of the Decade of Action for Road Safety 2011-2020, the theme of this year's WDR is "Roads Have Stories". It emphasises that roads are more than just a way to get from point A to point B – they also often have a tragic story to tell which must be remembered.
FIA President Jean Todt, who also serves as the United Nations Secretary-General's Special Envoy for Road Safety, said: "Every year, 1.3 million lives are lost on the world's roads and between 20 and 50 million people are left seriously injured. This is in addition to the countless families and friends who are tragically affected by road crashes. I would like everyone to take a moment today, on the occasion of the World Day of Remembrance for Road Traffic Victims, to think of the victims and their families and to pay tribute to the dedicated emergency crews. I also encourage governments, the private sector and citizens to make road safety a priority."
At the invitation of FEVR, Jean Todt went to Barcelona on 18 November and will go to Malta on 19 November to attend the WDR official commemoration ceremonies.
The FIA and its Member Clubs have always prioritised road safety, regularly working in partnership with other mobility stakeholders to rally and engage international leaders on the issue. WDR is an important opportunity to raise awareness on the road safety challenge and the urgent need for action.
All the FIA championships also supported the World Day of Remembrance by organising family pictures with their drivers in Brazil, Australia, China and Portugal. You can find them here. 
Watch Jean Todt's dedicated video message here:
__________________________________________________________________________________________________
La FIA et ses 246 Clubs Membres rendent hommage aux victimes de la route
Le 18 novembre, la communauté FIA a soutenu la Journée mondiale du souvenir des victimes de la route qui avait cette année pour thème Roads Have Stories (Les routes ont une histoire).
Initiée par les victimes de la route en 1993, célébrée par la Fédération Européenne des Victimes de la Route (FEVR) depuis 1995 et adoptée par les Nations Unies en 2005, la Journée du souvenir est dédiée aux millions de tués et de blessés sur les routes du monde entier, ainsi qu'à leurs familles et leurs proches dévastés par la perte d'un être cher. Elle permet d'attirer l'attention sur les dégâts émotionnels et économiques causés par ces accidents, de reconnaître la souffrance des victimes de même que le courage des services de secours.
Lié au deuxième volet de la Décennie d'action pour la Sécurité routière 2011-2020 axé sur les infrastructures, le thème choisi cette année est Roads Have Stories. Il s'agit de rappeler que les routes ne sont pas seulement un moyen de se rendre d'un point A à un point B – elles ont souvent une histoire tragique à raconter, une histoire qu'il faut garder en mémoire.
Le Président de la FIA Jean Todt, également Envoyé Spécial du Secrétaire général de l'ONU pour la Sécurité routière, a déclaré : "Chaque année, 1,3 million de personnes perdent la vie sur les routes et 20 à 50 autres millions sont grièvement blessées, sans oublier les innombrables familles et amis si tragiquement affectés par ces pertes. J'engage chacun d'entre nous, en cette Journée mondiale du souvenir des victimes de la route, à avoir une pensée pour ces victimes et leurs proches et à rendre hommage au dévouement des équipes d'urgence. J'encourage également les gouvernements, le secteur privé et tous les citoyens à faire de la sécurité routière une priorité."
A l'invitation de la FEVR, Jean Todt s'est rendu à Barcelone le 18 novembre et sera à Malte le 19 novembre pour assister aux cérémonies de commémoration officielles de cette Journée du souvenir.
La FIA et ses Clubs Membres ont toujours accordé la priorité à la sécurité routière, en travaillant en partenariat avec d'autres intervenants de la mobilité pour entraîner l'adhésion des dirigeants internationaux sur la question. La Journée mondiale du souvenir est une nouvelle occasion de sensibiliser les consciences à cette cause et à l'urgence d'une action concertée.
Tous les championnats de la FIA ont également affiché leur soutien à la Journée mondiale du souvenir des victimes de la route en organisant des "photos de famille" avec leurs pilotes au Brésil, en Australie, en Chine et au Portugal.