Faggioli sets a new record
Odds-on favourite to win and five-time European Champion Simone Faggioli did not falter in the face of tough competition during the first European event of the season, held at Saint-Jean du Gard in France.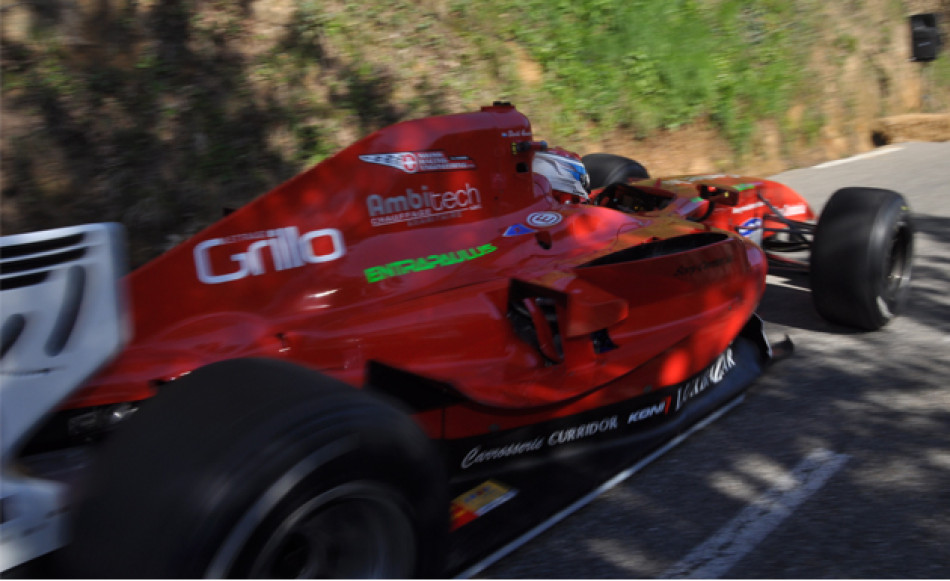 Between Saint-Jean du Gard and the Col Saint-Pierre, Italian Simone Faggioli (Osella FA30 Zytek) quickly made his ambitions known for the 2013 season: in the very first climb, he not only beat his own record for the 5.28 km course through the 'Corniche des Cévennes' road by over a second, but also outraced his closest rival, Frenchman Sébastien Petit (Reynard 95D Mugen F.3000), by almost three seconds. Winning two other climbs, but without bettering his excellent time, Faggioli completely dominated the event. Nevertheless, his competitors fought back and came closer to his performances. Although they were racing outside of the European Championship and concentrating on their French Championship, Sébastien Petit and Nicolas Schatz (Norma M20FC Honda) improved over the course of the day, so much so that they were respectively only 770 and 853 thousandths of a second off the benchmark set by the Italian. The difference between the two championships can also be seen in the method used to establish the final result of the event; the European classification consists in adding up each driver's two best times, while the French one is based on the absolute best time of each competitor.
In the classification specific to the European Championship, Faggioli outstripped David Hauser from Luxembourg, the young driver of a Dallara GP2 whose engine capacity had to be reduced to 3 litres in order to meet the FIA regulations in force for hill-climb. Still at the learning stage with a similar Osella to Faggioli's, the young Swiss driver Joël Volluz achieved a good third place, improving significantly as the day went on, with the gap between him and Faggioli decreasing from 10 to 5 and finally 3 seconds. At the foot of the podium was a trio of single-seaters driven by Eric Berguerand from Switzerland (Lola FA99 Cosworth F.3000) and Frenchmen Alban Thomas (Reynard 01L Mugen Formula Nippon) and Benoît Bouche (Reynard 99 Mugen F.3000).
As for the European "closed" cars, the fastest was Czech Jaromir Maly in a Group A Mitsubishi Lancer Evo 8. The winners of the other groups were Belgian Yannick Bodson (Mitsubishi Lancer Evo 8, Group E2SH), the French-Swiss driver Daniel Kirmann (Ferrari 430 Scuderia, Group GT) and Czech Jiri Los (Mitsubishi Lancer Evo 9, Group N), who finished ahead of his compatriot Dominika Benesova (Mitsubishi Lancer Evo 10, Group N).
The next event of the FIA European Hill-Climb Championship will be the Rechbergrennen, taking place from 27-28 April in Tulwitz, Austria.