This page contains archived information and may not display perfectly
F3 - Nürburgring crucial in fight for FIA F3 title
This weekend (9-11 September) at the 3.629-kilometre long sprint circuit of the Nürburgring, the FIA Formula 3 European Championship young guns will return to racing after a six-week summer break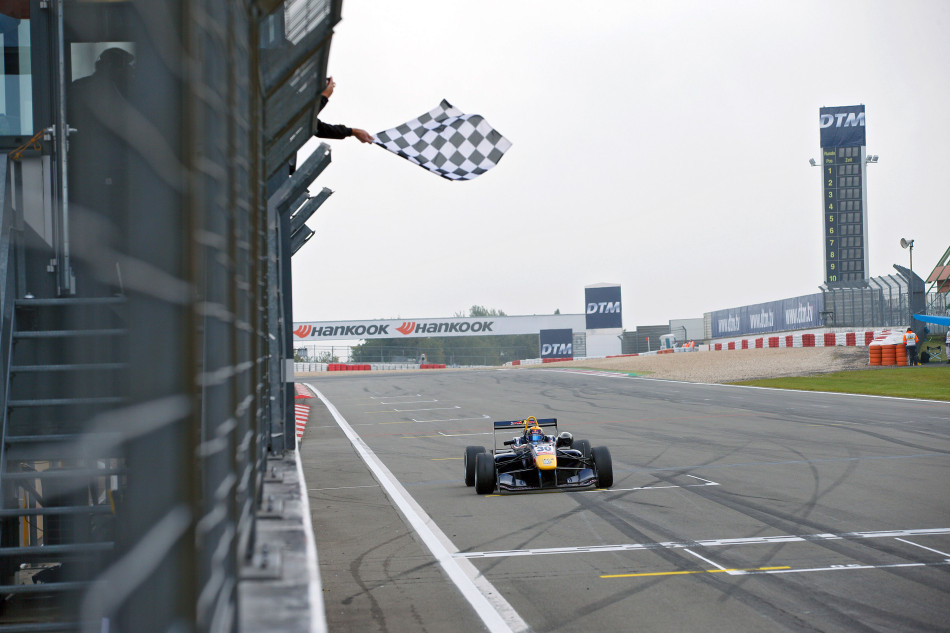 Event: 08 Nürburgring
Date: 09th to 11th September, 2016
Venue: Nürburgring sprint circuit / Germany
Track length: 3.629 kilometres
Lap record FIA F3 EC: 1:20.866 minutes (Felix Rosenqvist 2015)
Distance: 33 minutes plus one lap
With the upcoming race meeting, drivers of the FIA Formula 3 European Championship kick off the crucial final third of the season. Lance Stroll (Prema Powerteam) travels to the Eifel as championship leader and wants to take another step on the way to securing the title. But Maximilian Günther (Prema Powerteam) who currently holds second position in the championship and is the best-placed German on the FIA F3 European Championship grid is determined to prevent Stroll from doing so.
17-year old Canadian Stroll scored points on a regular basis so far this season and with 21 races contested he has got a total of 296 points on his tally. Furthermore, he secured seven race wins – more than any of his rivals. But in three of the six races at Zandvoort and Spa-Francorchamps Stroll failed to score, with his main rival, Maximilian Günther, making it to the top 10 in each of the six rounds. And George Russell (HitechGP), currently third in the championship, also added points to his tally in all the aforementioned races held at Zandvoort and Spa-Francorchamps.
But Stroll now has the psychological advantage that he travels with fond memories to the Nürburgring for races 22 to 24. After all, he secured two podiums on last year's Nürburgring weekend. His second place in the third round even was the best FIA Formula 3 European Championship result he had secured up to that point in time. 19-year old Günther, however, wants to make use of his home-circuit advantage to close the gap to his team-mate, on the second FIA Formula 3 European Championship race weekend on German soil.
And Günther isn't the only German talent on the grid. David Beckmann (kfzteile24 Mücke Motorsport) also looks forward to contesting his home races at the Nürburgring. The 16-year old who – due to his young age – could make his FIA F3 European Championship debut only in the third race meeting of the season secured his first F3 podium mid-July at Zandvoort. In the following event, his team-mate Mikkel Jensen followed suit, so Berlin based Team kfzteile24 Mücke Motorsport now has two podiums on its tally. Meanwhile, the second German squad on the FIA Formula 3 European Championship grid, Motopark, already have made the next step. At Spa-Francorchamps the team celebrated its first F3 win of the season, courtesy of rookie Joel Eriksson.
David Beckmann (kfzteile24 Mücke Motorsport): "The Nürburgring is a tradition-rich circuit and that is something I like a lot. Unfortunately, the overtaking possibilities at the short sprint circuit we will race at this weekend are rare. Therefore, the qualifying sessions will be of particular importance. Together with the start, the qualifying position will most likely decide the race. I've set myself the goal to secure at least one podium, this weekend. I think that we have got the potential to achieve this, but I also am aware that doing so won't be easy. In this close, well-balanced field, we will be fighting for every thousandth of a second, in the qualifying sessions. All in all, I'm rather happy with my season so far. I learned a lot and even made it to the podium. We also had to cope with setbacks but they usually teach you more than anything else. Therefore, they also were important and helped me to develop as racing driver and as a person."