F3 - FIA Formula 3 European Championship increases prize money fund to 500,000€
Introduction of prize money in FIA F3 European Championship set to further strengthen the championship while sustaining existing values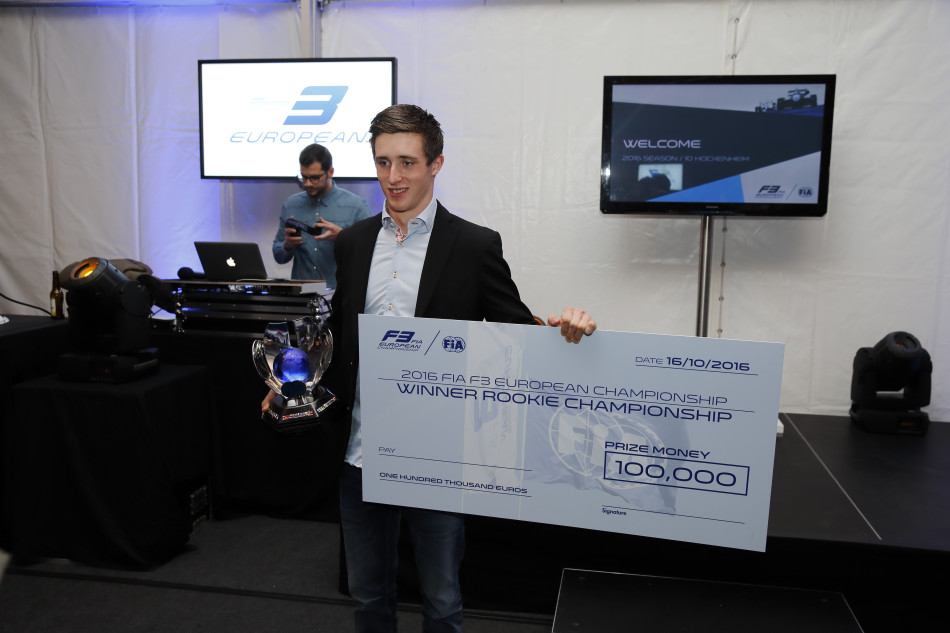 The FIA Formula 3 European Championship has confirmed an expansion of the newly introduced prize money incentive for rookie drivers to include teams and other drivers competing in the FIA Formula 3 European Championship from the 2017 season.
In 2016 the FIA has already awarded the top three rookies in the championship with a substantial monetary prize to be used on a second season in the category. The driver winning the rookie title has received 100,000€ and 50,000€ each went to the drivers finishing second and third in the rookie standings.
The FIA has confirmed that the prize money incentive for rookies will remain in place for the coming season. In addition to the 200,000€ provided to novice drivers, the FIA F3 European Championship has now confirmed that a further 300.000€ prize fund will be at stake for the 2017 team and driver championship. While the championship winning driver will receive 100,000€ when moving to another FIA championship, the remaining 200,000€ will be distributed among the entered teams according to a performance distribution scale.
The introduction of prize money in the FIA F3 European Championship is part of the campaign to strengthen the championship further, but at the same time sustaining the existing values of the series. The FIA has already introduced changes to the Technical Regulations, which reduce the costs of competing in the series and create a common baseline for all teams entering the 2017 season. Further adjustments to the 2017 Sporting Regulations have had the same intention: creating an affordable series and a balanced competition, while at the same time retaining the crucial F3 DNA.
President of the FIA Single-Seater Commission, Stefano Domenicali, commented, "The general economy in single-seater racing makes it necessary for us to continue to work on the value of the championship for drivers and teams. With the newly introduced prize money incentive, which has already been awarded to the rookie drivers last year and will be extend to the teams this year, we want to establish some financial assistance for our competitors. This way teams will be able to broaden their search for drivers and offer seats to young talents who might lack some funding. The amount provided will not only be funded by the FIA, but also by the series sponsors and the promoter of the FIA Formula 3 European Championship, the Formel 3 Vermarktungs GmbH. All parties involved in the series are working together to strengthen the series and to retain an attractive platform for all competitors."
Walter Mertes, CEO of the Formel 3 Vermarktungs GmbH added, "The prize money incentive is another step in the bigger picture of creating an attractive FIA F3 package for 2017 and beyond. Formula 3 has always been the benchmark when it comes to driver development and improvements implemented from the upcoming season will guarantee it remains that way."