F3 - Callum Ilott the quickest on day one at the Red Bull Ring
British driver tops first day of the final FIA Formula 3 European Championship test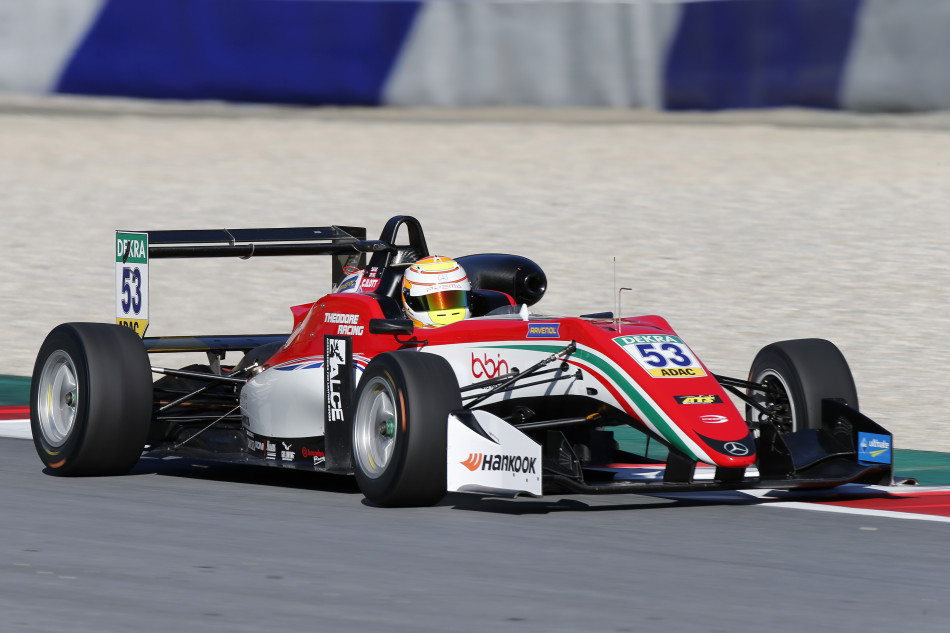 Just three days after the official FIA Formula 3 European Championship test in Hungary the hopeful young guns continued their preparations for the 2017 season at Austria's Red Bull Ring. At the 4.318-kilometre Austrian-GP circuit located in Styria, Callum Ilott (Prema Powerteam) set the quickest lap time by crossing the line in 1m23.304s, followed by his team-mate Maximilian Günther (Prema Powerteam, 1m23.459s) and the fastest rookie, Lando Norris (Carlin, 1m23.526s). Guanyu Zhou (Prema Powerteam, 1m23.579s), Jehan Daruvala (Carlin, 1m23.716s) and the reigning rookie champion, Joel Eriksson (Motopark, 1m23.728s) finished fourth, fifth and sixth respectively. The only Austrian in the field, Ferdinand Habsburg (Carlin, 1m23.763s) came seventh.
Callum Ilott, however, didn't attach major importance to having been the quickest. "It was just a test and you are not awarded any points for having secured the top position on the time sheets. Furthermore I was somewhat lucky on my fastest lap. I found a good slip stream that allowed me to set this time."
Following after Günther and Norris, Guanyu Zhou was the third Prema driver in the top five. The Chinese was happy with his achievements. "We used a fresh set of tyres only in the afternoon and so, we could save another set for tomorrow. Just as it was the case in Hungary we could see that our pace is very good. Now we have to keep on working this way." After a one-year stint at Motopark, Zhou, member of the Ferrari Driver Academy, returned to Prema Powerteam for which he already raced in the Italian Formula 4. "Every team has got a slightly different approach and I like the one of Prema. Furthermore, I feel really comfortable here. It's somehow like coming home."
As second-fastest rookie, Jehan Daruvala secured fifth position on the time sheets, ahead of Joel Eriksson and Ferdinand Habsburg. The Austrian – like Daruvala about to contest his first FIA Formula 3 European Championship season – took a self-critical point of view regarding his performance. "In the morning things didn't run too well. When it's colder I always have difficulties with my physical condition and with finding my driving rhythm. When it's warmer I'm doing way better. Therefore, I was happier with my achievements in the warmer afternoon than with the ones in the morning session. Also, I still have to learn to make better use of used tyres. Meanwhile, I do rather well on a fresh set of tyres. But altogether I'm rather happy and optimistic that I also will be able to successfully work on my weak points. In addition, the fact that the Carlin driver line-up is well-balanced, with every driver having different strengths, certainly also is helpful. And Jake Dennis with all his experiences is a big help for us newcomers too."
Rookie Marino Sato (Motopark, 1m23.767s) was happy about having finished eighth, ahead of Harrison Newey (Van Amersfoort Racing, 1m23.773s) and experienced F3 driver Jake Dennis (Carlin, 1m23.810s). A glance at the time sheets demonstrates that the racing in the FIA Formula 3 European Championship once again will be extremely close this year: the gap between the top 17 added up to less than a second. Ralf Aron (Hitech Grand Prix, 1m24.270s) in 17th position was just 0.966 seconds slower than the quickest, Callum Ilott.