Eyes on the prize for the FIA Rally Star Asia - Pacific Final
More than halfway through the program, the FIA Rally Star heads to India to discover Asia-Pacific's best rally talents from October 10-12.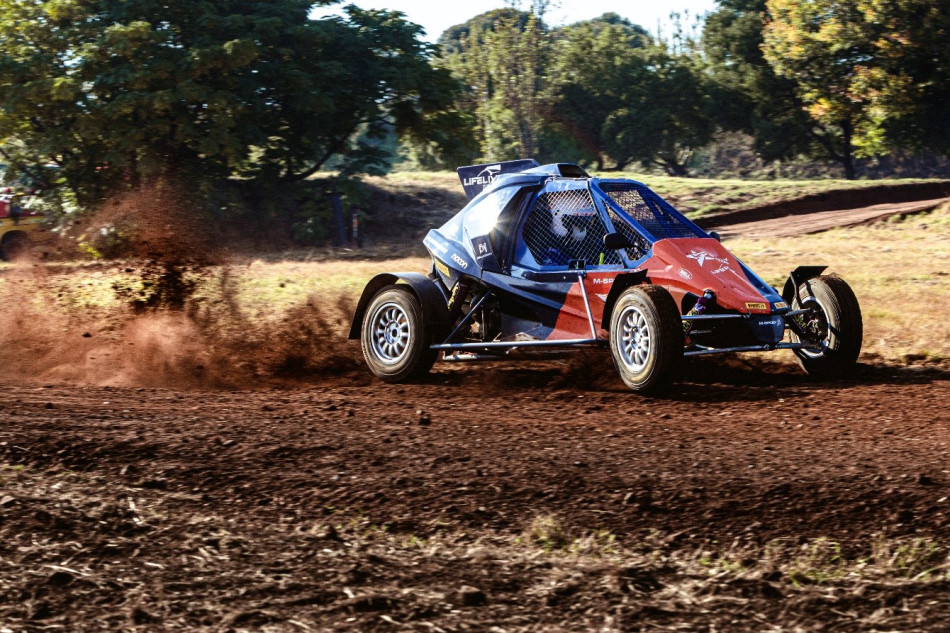 The participants will be looking forward to this unique opportunity to be part of the FIA Rally Star Training Season in 2023 and will do their best to top the competition on track, but also during the physical and reflex tests.

50 young drivers (including seven females) representing nine countries from the Asia-Pacific region made it through the qualifying stages ran by the participating National Sporting Authorities (ASNs). The majority of qualifiers earned their place in the final via Digital Challenges or real-life slalom competitions. Additionally, four competitors have qualified through the online #RallyAtHome Challenge based on the official WRC9 video game, while four others were granted wildcard entries. 

While drivers prepared differently for this competition, it will be interesting to see how they will compete behind a cross-car wheel and with pressure on their shoulders, as there will only be one champion at the end of this exciting FIA Rally Star Asia-Pacific final.
The winner will join the other continental finals champions, including European winner Romet Jürgenson (Estonia), Abdullah Al Tawqi from Oman and the latest winner from South Africa, Max Smart, as they will all be looking forward to their future in rallying. 

South and North America will host continental finals in the upcoming months, with the two winners of these events joining the selection of drivers for the first FIA Rally Star Training Season in 2023. 
The last spot in the FIA Rally Star Training Season will go to the winner of the Women's Final, which is due to take place early next year.

Joint top female performers in Germany during the FIA Rally Star European Final, Maja Hallén Fellenius (Sweden) and Katie Milner (United Kingdom) were the first to qualify for the Women's Final, while Farah Zakaria from Jordan went through the FIA Rally Star MENA Final, staged at the Yas Marina Circuit in Abu Dhabi in March. Kristie Ellis (South African) is the latest female competitor to qualify, having topped the African event held back in May.

WHAT CAN BE WON IN CHENNAI?
Whoever wins the FIA Rally Star Asia-Pacific Final will have the honour of representing the region in the 2023 FIA Rally Star Training Season. As well as six rallies in an M-Sport Ford Fiesta Rally3, the Training Season package includes physical and intellectual assessment, driver coaching and testing. The aim is to equip the successful contestants with the attributes they need as they attempt to secure a drive in the FIA World Rally Championship in the future.

WHAT HAPPENS NEXT?
At the end of 2023, the best four FIA Rally Star Team members are rewarded with a season in the FIA Junior WRC Championship in 2024. For 2025, three drivers go forward into a second Junior WRC season. And if one of the FIA Rally Star Team members wins the title, they secure a WRC2 campaign in a Rally2 car for 2026 with a Rally1 drive their next target.
Apart from any initial registration fee to take part in a national selection event, plus travel costs to and from national selections and the Continental Final, all other costs are covered by the FIA and the FIA Rally Star Partners. The partners are M-Sport, Pirelli, the FIA World Rally Championship, Nacon, Thrustmaster, Playseat, Digital Motorsports, OMP and LifeLive. 
Taking into consideration the Training Season in 2023, plus two years in the Junior WRC, that essentially means three seasons of rallying free of charge for three drivers. Furthermore, all FIA Rally Star Team members will benefit considerably in terms of the experience and skills gained in 2023, plus the opportunity to showcase their ability to media outlets and potential sponsors and partners, rally teams and car manufacturers.

FIA RALLY STAR ASIA-PACIFIC CONTINENTAL FINAL: HOW IT WORKS
The FIA Rally Star Asia-Pacific Final is held over three days of intense competition (October 10-12) at the Madras International Circuit in Chennai, India.

Day one (Monday October 10): The FIA Rally Star Asia-Pacific Final participants are split into eight groups for Stage 1. After they have completed one reconnaissance run over the stage, which will be approximately 900 metres in length, they will get two timed training runs in the Pirelli-equipped TN5 Cross Car from FIA World Rally Championship driver Thierry Neuville's LifeLive organisation. 

Day two (Tuesday October 11): The top three in each group after Stage 1 progress to Stage 2. Following one reconnaissance run, the 24 drivers, in groups of four and sharing two identical TN5 Cross Cars, will tackle a course approximately 1900 metres long. The starting order will then be reversed for a second round of runs with the times of both the first and second runs being added together to determine the classification of each Group. The fastest two drivers from each Group will qualify for Stage 3. The two fastest drivers relative to the average of the two fastest in their Group will also qualify for Stage 3. In the event of no women qualifying for Stage 3, the Jury will decide the driver who will qualify for the all-female Final early next year by taking into account their Stage 2 performances. The Jury may also consider other criteria or results of various assessments when making their decision. 

Digital Challenge offers additional chance of progression
A modified version of Nacon's WRC 9 game will be used for the Digital Challenge, which provides an alternative method for reaching Stage 3 for drivers eliminated after Stage 2.

Day three (Wednesday October 12): A layout measuring approximately 3300 metres will provide the challenge for Stage 3. The Jury will decide the number of runs the 12 competitors will have to complete and will take into account these and earlier stage performances and how they perform during an interview. The results of a physical assessment taking place during Stage 3 and made up of a running session and a reflex test will also be considered in deciding the FIA Rally Star Asia-Pacific Final winner. The decision of the Jury is final and cannot be appealed.

DECIDING THE WINNER IS A CAREFULLY CONSIDERED PROCESS
The winners will be announced at 17:00 local time on Wednesday, October 12 after all drivers have been interviewed by the Jury. The FIA Rally Star Asia-Pacific Final is closed to spectators.

THE FIA RALLY STAR ASIA-PACIFIC FINAL JURY
A four-person Jury will preside over the FIA Rally Star Asia-Pacific Final consisting of:

Andrew Wheatley (Chairman): Current FIA Rally Director, Wheatley joined the governing body of World Motor Sport in 2019, initially as WRC Category Manager.

Pernilla Solberg (Jury Member): A national class winning rally driver, Solberg is the wife of 2003 FIA WRC champion Petter Solberg and mother of WRC driver Oliver Solberg.

Maciej Woda (Jury Member): Woda heads up M-Sport Poland, the company behind the Ford Fiesta Rally3 and Rally4 cars. He also oversees the successful running of the FIA Junior WRC.

Guy Botterill (Jury Member & Driver Advisor): A multiple class title winner in the South African Rally Championship.

WHO'S TAKING PART?
The 50 FIA Rally Asia Pacific Final participants include four #RallyAtHome Challenge winners (from a total of 241 entrants), 28 who secured their place through a Digital Challenge during a national selection event, 14 who were successful in Slalom Challenge events held by ASNs in nine countries and attracted 279 contenders, while four who have been selected as wildcards. In total, there will be 43 male and seven female finalists. 

The following countries will be represented in the FIA Rally Star Asia-Pacific Final:
- Australia
- China
- Hong Kong S.A.R., China 
- India
- Indonesia
- Malaysia 
- New Zealand
- Singapore
- Sri Lanka

WHAT THEY SAID
Jérôme Roussel, FIA Rally Star Project Leader: "We are seeking to discover new talents during this Continental Final in India. The FIA Rally Star is an amazing event for young and passionate drivers, as one of the main purposes of this project is to give them the opportunity to take their initial steps in to the world of motor sport, and maybe continue this route in the future. While our search for the next World Rally Championship rally star continues, we would also like to thank our ASNs who have worked tirelessly during these previous months prior to the event and also the Madras International Circuit for hosting the event." 

Akbar Ebrahim, Federation of Motor Sports Clubs of India President: "It is certainly an honor for India to be chosen as a country to host the FIA Rally Star Asia - Pacific Final. The FIA Rally Star program is an excellent initiative from the FIA and it does give huge opportunities for talented rally drivers from across the globe. The FMSCI is thankful to the Madras International Circuit to take up this assignment to conduct the event and am sure that with their experience and expertise in conducting racing and rally championships, the event will be a resounding success."

Andrew Fraser, Motorsport Australia President: "Motorsport Australia is proud of our own next generation of rally stars who will be representing our country on the international stage, ready to take their next step in their promising rally careers. We're looking forward to following the progress of the nine Australian drivers at the Asia Pacific Final, and I know all of them will be eager to impress while competing under the Australian flag. Good luck to all competitors in the FIA Rally Star program - a terrific initiative from the FIA that has also been a feature at our own Motorsport Australia Rally Championship events this year."

In the spotlight: Nikeetaa Takkale, 22, India 
How did it feel when you knew you qualified for the FIA Rally Star Asia-Pacific Final?
"When I knew that I was selected for the FIA Rally Star Asia-Pacific Final, it was big excitement for sure. I couldn't have imagined a second, because slalom was something new to me. I only heard about the discipline, but I never tried it before, so it was a challenge that I had to go through. I had my mind set up for this, I had to accept the challenge and prove to myself that I can do it."
How proud are you to be representing your country?
"It has always been a dream for me to represent my country, so this is a dream come true and I am the proudest female to represent my country, India."

In the spotlight: Muhammad Iqbal Ahmad Suji, 22, Malaysia
How did you hear about the FIA Rally Star Asia – Pacific Final event?
"I heard about the FIA Rally Star Asia – Pacific Final event through the WRC 9 game, as the news of this event was shared on its own social media platforms."
What would winning the Final mean to you? 
"Winning the FIA Rally Star Asia – Pacific Final would mean that I am capable of transitioning from simulation racing to real-life racing. I hope that the recruitment of e-sport drivers in the world of motor sport will increase in the future."

In the spotlight: Mathew Smith, 27, New Zealand:
Who are your motor sport heroes?
"There are so many motorsport heroes I could list but the first one that comes to mind is Hayden Paddon. Obviously for his amazing rally results but also for the way he goes about preparation, how he handles himself outside the car, and how he has handled setbacks in his career and continued to push to be at the top of motorsport both competing and now running his NZ team and developing what could be the future of rally with his electric car. There are also many more like Scott McGlaughlin, Shane Van Gisbergun, Scott Dixon, George Russel, and the list goes on. So many great individuals to admire in motorsport."
What do you hope to achieve in the FIA Rally Star Asia - Pacific Final?
"I hope to learn, improve my driving, and also have fun. I will be giving it my all to win but I am realistic that everyone else will so winning isn't everything. This is a huge opportunity hosted by experts, so I'll be hoping to soak in all the information and tease out some advice for improving my driving."

INTRODUCING THE PIRELLI-EQUIPPED TN5 CROSS CAR
The TN5 Cross Car from Thierry Neuville's LifeLive organisation is used by all drivers tackling the timed stages. The Cross Car (XC) category is off-road motorsport's equivalent to karting. XCs are accessible and affordable single-seaters using a tubular spaceframe chassis powered by a motorcycle engine and provide young drivers with the opportunity to build their skills on gravel before they are old enough to hold a driving licence. Pirelli will fit all TN5 XCs with a tyre designed for use on historic-specification cars to meet the unique requirements of the cars, while ensuring rally-level grip and performance.