This page contains archived information and may not display perfectly
Experience counts in trouble free Macao first practice
Brazilian Sergio Sette Camara ( Motopark with VEB Dallara VW) has put his three years of experience at Macau into play to claim fastest time in the first practice session for Sunday's FIA F3 World Cup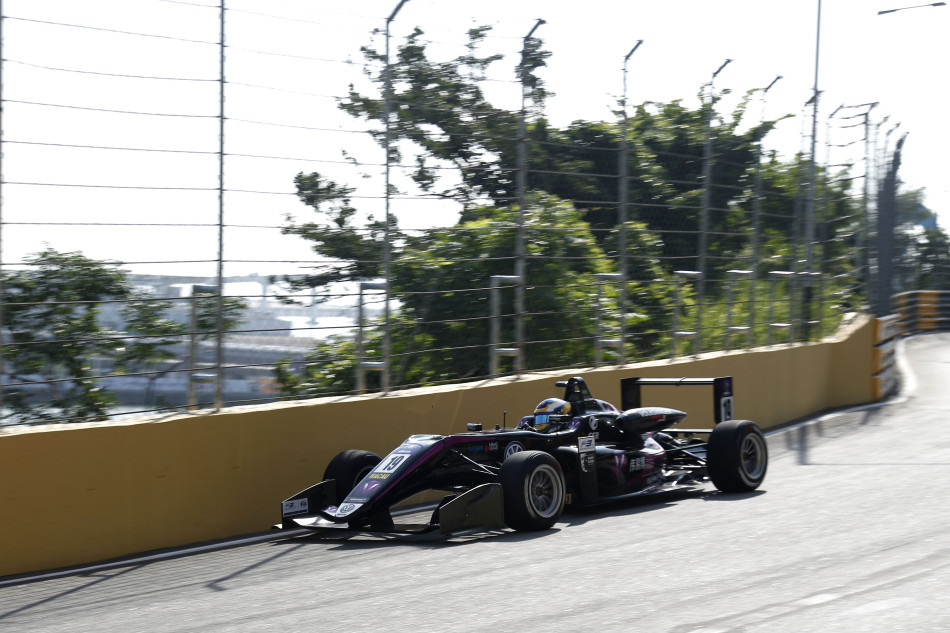 Camara was one of three team mates to claim the first three places in a remarkably accident free session.
Camara set a fastest time of 2min 14.80secs, ahead of team mates Joel Eriksson, 2min14.916secs and Daniel Ticktum,2min14.955secs.
The trio were the only ones to break the 2min15sec barrier.
On a road circuit that had not yet rubbered-in, all were well above last year's first session fastest time of 2min13.099.
The 40-minute session was interrupted only in the last minute by the crash of Japanese driver Ryuji Kumita (B-Max Racing Dallara VW).
Kumita, the oldest driver in the race, was uninjured and the car was easily recovered.
The Motopark team was prominent in the session from the start.
Eriksson laid down the first sub 2min20second marker and remained at the top of the leader board until six minutes to the chequered flag when Sette Camara took over.
Pedro Piquet (VAR Dallara Mercedes) was fourth fastest on 2min 15.085secs, ahead of a close bunched Ferdinand Habsurbg (Carlin), Guanyu Zhou ( SJM Theodre Racing by Prema) and Callum Ilott ( SJM Theodore Racing by Prema) , all within 0.08secs of each other.
FIA European F3 champion Lando Norris (Carlin Dallara VW), 2min 15.434secs was eighth fastest, and the last in the 2min 15sec bracket.
Norris survived a small overshoot at Lisboa corner when he was lining up for a fast lap towards the end of the session.
Mick Schumacher ( SJM Theodore Racing by Prema Dallara Mercedes) was the first Macau Rookie in the field , ninth outright on 2min 16.190secs.
Sette Camara , twenty second in his first Macau appearance in 2015 was third in last year's inaugural FIA F3 World Cup.
Drivers face the first of two qualifying sessions later on Day One.