ETRC: Lacko and Kiss victorious in Hungary on Saturday
Adam Lacko and Norbet Kiss each took a win during the first day of action of the 2020 FIA European Truck Racing Championship round at the Hungaroring. Championship battle intensifies as there are only two points between the points leader Lacko and second-placed Kiss.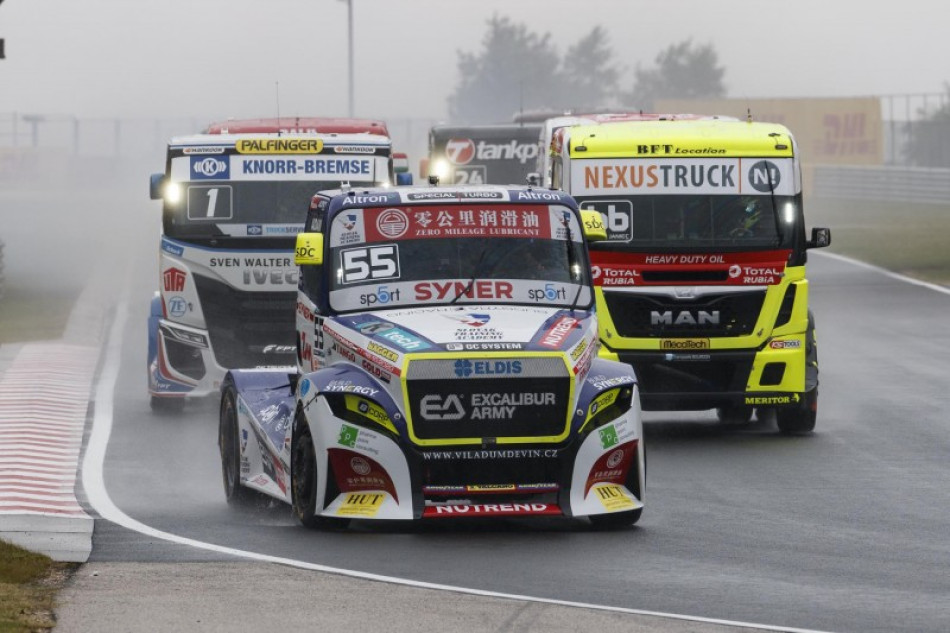 Lacko disappears into the distance
Czech Racer Adam Lacko left his competition in the rain, driving to a commanding victory in the first of Saturday's race. 
The race started under yellow flags as the track was still damp.
Once the racing got underway, the 2017 title-winner quickly opened up a gap at the front whilst the four drivers behind him stayed close to each other. The Buggyra driver quickly disappeared into the distance, with every lap increasing his gap over second-placed Anthony Janiec.
He eventually crossed the finish line with a rarely seen 24-second advantage over the second-best driver. Janiec, second on the road, got a penalty for track limits increments, which resulted in him dropping down to seventh in the results.
Local hero Norbert Kiss, who started from fifth on the grid, impressed with a strong drive on his home venue. He first lined up an attack on Antonio Albacete and finally overtook the Spaniard on lap 9 to move into fourth.
The Hungarian was the hunting down reigning double champion, Jochen Hahn. He made quick work of the German and passed him on the penultimate lap to take second with the German rounding out the podium.
Kiss emerges on top in an eventful encounter
An eventful second encounter with plenty of wheel to wheel action saw Hungary's Norbert Kiss taking a home victory, his first since 2017.
Steffi Halm starting from pole position for the semi-reversed grid race. At the mid-point of the race, Kiss dealt with Halm and remained in control ever since.
Lacko managed to pass a hard-fighting Albacete, also overtaking his team-mate Téo Calvet for second and securing two podium slots Buggyra.
Lacko currently leads the standings with 64 points to his name, with Kiss, two points down on the leader, in second. Hahn, who so far accumulated 51 points, is third overall.
The FIA ETRC action will continue at the Hungaroring on Sunday, with qualifying and further two races.