This page contains archived information and may not display perfectly
FIA IDC: rookie James Deane clinches world's top drifting crown in Riga
Irish ace James Deane beat local 16-year-old sensation Nikolass Bertans to clinch his maiden FIA Intercontinental Drifting Cup in Sunday's final held at the Bikernieki track in Riga. Ukraine's Max Miller rounded out the podium.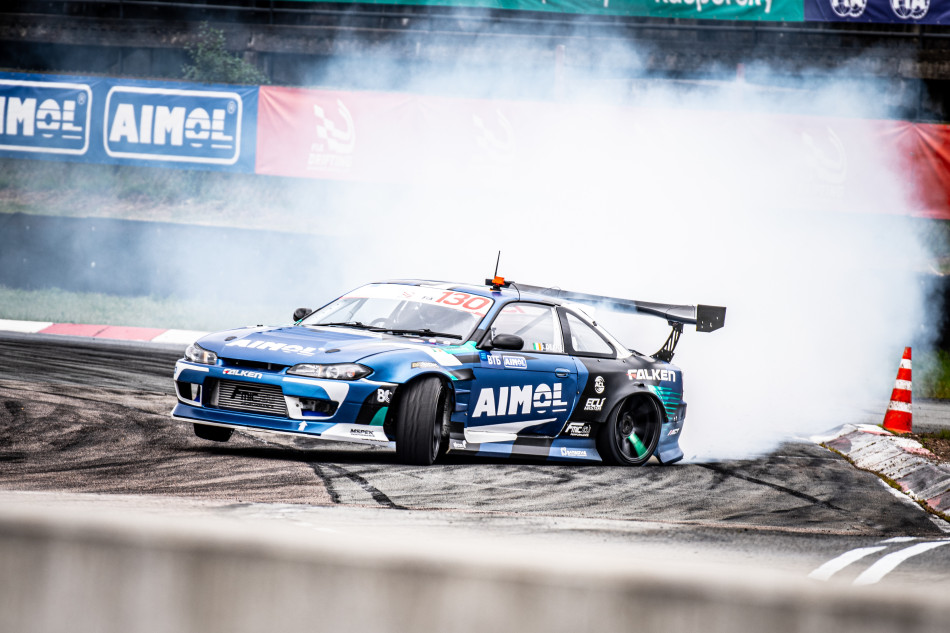 Following a downpour on Saturday, the second day of the 2021 FIA IDC greeted the Top 16 competitors with a dry track, allowing for several close tandem run battles.
Irishman Deane, despite making his FIA IDC debut, once again proved that Riga is his happy hunting ground, having won at the venue sveral times, including his last year's DriftMasters triumph.
The multiple Formula Drift and DriftMasters champion started off his journey to the glory by a bye-run and then went against the likes Marco Zakouril, Alex Golovnya and Kristaps Bluss before facing teenager Bertans in the final.
The youngest driver in the history of the FIA IDC was nursing several technical issues in his BMW E36 being forced to take a five-minute break for necessary repairs at one stage.
The young Latvian also started with a bye-run, then getting the better of Ivo Cirulis, Benediktas Čirba and Miller on his way to go against Dean.
Ukrainian Miller rounded out the podium following Bluss' mistake in the semi-finals. The Latvian had contact with the wall, which resulted in a broken rear suspension on his Eurofighter-based BMW, putting him out of contention ahead of the battle for third.
Despite damaging his BMW 4 Series in the morning's practice session, Miller managed to put on a great show, starting with a bye-run, then going against Evgenii Losev in a Toyota Mark 2 and eventually forcing him into a mistake.
In the subsequent round, the Ukrainian went against the winner of the qualifying session Damir Idiatulin. The Russian crashed his Toyota Altezza and did not manage to have it repaired in time, retiring, and letting Miller through to the semi-finals.
The session was not short of surprises, with two-time FIA IDC winner Georgy Chivchyan not making it beyond the top Top 16, having been beaten by Bluss.
The 2021 edition of the FIA IDC was the first one with a separate Teams classification. Local outfit VIADA Latvija emerged on top, with AIMOL Racing coming in second and Liqui Moly Team rounding out the top three.

POST-EVENT PRESS CONFERENCE QUOTES
James Deane, 1st place
"I knew from the start that it wouldn't be an easy weekend for us. I know this track quite well, so I know how easy it is to make a mistake here. Because of the weather it was a really tough weekend for everyone.
Those BMWs are really fast at the start, so I knew that I had to be smart. Even before the finals I knew it would be difficult to fight against this amazing kid, Nikolass Bertans. He's unbelievable and his future is really really bright.
I was just really happy to drive with him, he's a good guy, no games, no messing, flat out and he was awesome. Unlucky that he had technical issues, but he have a bright future ahead."
Nikolass Bertans, 2nd place
"In the finals I warmed up my tires, it felt great, I was ready, we initiated, I was trying to be as close as possible and then the car just didn't go.
The problem was that one bolt unbolted and it got stuck under the pedal, so I couldn't press it. I would like to thank the organisers, they pulled it off. For me, it was the first big experience and the results are also great. If we have a chance, we'd definitely come here again."
Max Miller, 3rd place
"I am really happy to be here, it was a great experience for everybody – my team, for my sponsors – and I'm really proud to be here and proud to represent my country, because I believe it will give a boost for the popularity of drifting in Ukraine.
It's a shame that I didn't have a battle for third place because of Kristaps Bluss' mechanical problems."
Dmitry Dobrovolsky, CEO of RDS, the promoter if FIA IDC:
"It's always very difficult to speak about the event right after because you feel completely exhausted. But what I can say is that it was a big challenge for RDS [as the promoter of the event], but the main thing is that we did it, and did it successfully.
Our three-year contract with FIA it's just a beggining. I hope that after this event we came much closer to understanding every single process. I am happy that all motor sport people are starting to love drifting.
My mission is to pull drifting to the top and put it the hearts of the people. Next year I hope we will be able to go further, and the preparations start now. I can't say too many details yet, but I hope we will announce a place quite soon."