ETCR: Tambay comes out on top in Budapest
CUPRA EKS Adrien Tambay enjoyed a superb second round of the 2022 FIA ETCR eTouring Car World Cup for Race HU at the Hungaroring moving to the top of the Drivers' Classification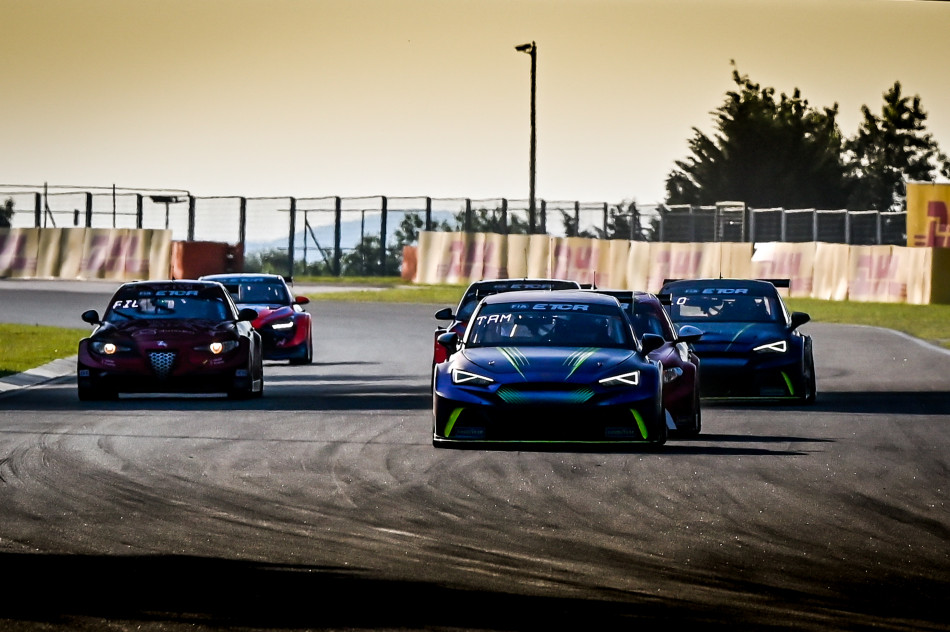 The heat was on in Budapest today for the FIA ETCR DHL Super Finals, with temperatures soaring and eTouring cars racing in equal measure. Tambay sped towards the coveted King of the Weekend title following a brilliant weekend in which he won the Pool FURIOUS DHL Super Final.
Pool FAST was first to race in the DHL Super Final, and it was a doubly super start from the Romeo Ferraris with both Maxime Martin and Giovanni Venturini storming into the lead from the gate-go. CUPRA EKS' Mattias Ekström fought hard to split the two red cars, which he did using Power Up to pass Venturini on the second of the 5-lap race.
CUPRA EKS team-mate Jordi Gené had a trickier time; the Spaniard suffered from a double puncture after a tussle with Hyundai Motorsport N's Mikel Azcona but was able to finish the race after pitting for new tyres, albeit in last place. Azcona took fourth, while team-mate Kevin Ceccon secured fifth.
Pool FURIOUS took to the track in the late afternoon glow for the second and final DHL Super Final, which saw CUPRA EKS Adrien Tambay determined to take the lead from poleman Bruno Spengler (Romeo Ferraris), doing so successfully into Turn 2. Tambay never lost the lead, while the rest of the field delivered an action-packed race.
Fellow CUPRA EKS driver Tom Blomkvist used his Power Up allocation perfectly to climb through the field, passing both Hyundai Motorsport N's Jean Karl Vernay and Spengler on his way to second place. Spengler secured third, ahead of Hyundai Motorsport N's Norbert Michelsiz with team-mate Vernay finishing sixth after suffering a huge spin whilst battling with Romeo Ferraris' Luca Filippi who took fifth place.
With Tambay now at the top of the Drivers' Classification on 182, Ekström moves into second place, just two points down from the lead, with Azcona third on 139 points.
FIA ETCR eTouring Car World Cup action resumes this coming weekend with Race SP at Circuito del Jamara-RACE in Spain on June 17-19.
Driver Points after Round 2
Tambay 182
Ekström 180
Azcona 139
Spengler 138
Blomqvist 138
Martin 134
Vernay 86
Venturini 85
Michelisz 76
Ceccon 72
Gené 60
Filippi 50