Environmental Impact: 2023 FIA Region II Roundtable looks at Clubs' actions to build a more sustainable future in Asia-Pacific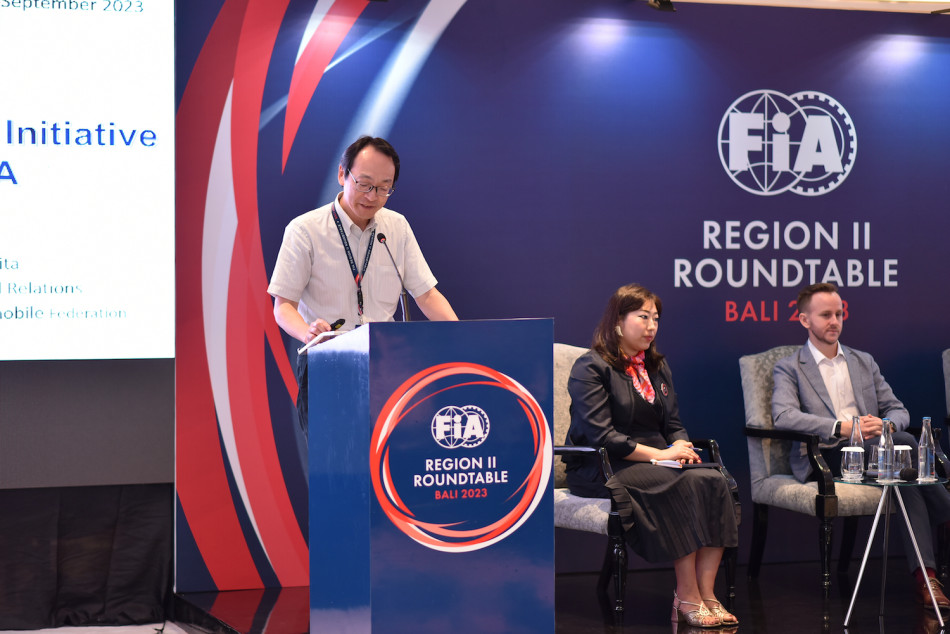 Sustainability was also an important topic on the agenda of the 2023 FIA Region II Roundtable as building a greener mobility future is a major challenge that its Members have to address. 
Moderated by FIA Sustainable Mobility Manager Asuka Ito, the session invited Australian Automobile Association (AAA) Managing Director Michael Bradley, Royal Automobile Club of Western Australia (RAC) General Manager External Relations and Communications Will Golsby, RAC Group CEO Rob Slocombe, Japan Automobile Federation (JAF) Manager of International Relations Taka Sugito, and AIP Foundation Development Manager Alex Ward on stage to share their initiatives and achievements. 
Taka Sugito presented JAF's Green Slow Mobility initiative that it is developing with Yamaha. In this project, JAF is using green slow mobility that relies on small scale mobility service using road-legal electric vehicles with a maximum speed of less than 20km/h to address the challenges of maintaining the mobility of senior people and offering transport options for tourism. Green slow mobility can revitalise local community and offer an efficient mobility option while contributing to decarbonisation of transport.
After giving an overview on sustainable mobility in Vietnam, Alex Ward introduced the Ride Safe – Bike Safety project of the AIP Foundation supported by the FIA Sustainable Mobility Programme funded by the FIA Foundation that promotes safe green mobility for students. The project aims to identify high-risk areas in Vietnam through GPS tracking from student participants who will put the tracker on their bikes, provide government partners with detailed analysis and reporting of student road use, and empower government partners to make evidence-based biking interventions in un-identified areas.
Reducing the environmental impact of mobility and the necessity of maintaining a good air quality are intertwined challenges. Rob Slocombe highlighted RAC's commitment to being part of the solution through the development of its Air Health Monitor. Relying on the most comprehensive network of air quality sensors in Australia, the RAC Air Health Monitor measures particulate Matter (PM2.5 and PM10) and Nitrogen Dioxide (NO2).  These Localised measurements feed into a model and real-time map which include inputs from 140+ Clarity sensors, real-time traffic data, industrial activity, and more. Providing air quality information to mobility users is a good way to incentivise them to choose cleaner means of transport and the launch of the monitor was accompanied by a campaign and several activities to promote cycling, electric vehicles or e-scooters. 
Will Golsby looked at how to advocate through innovation with a presentation of the RAC's Intellibus® trial. The trial was Australia's first automated vehicle trial on public roads and gave passengers in South Perth, Busselton and Geraldton a unique chance to test the technology. Thanks to the trial, RAC found that highly automated vehicles have great potential to reduce road trauma by removing human error from the road system, that they can safely operate on open public Western Australian roads at low speeds, and that it will likely still take some time before fully automated vehicles travel on Western Australian roads but that it is worth taking the time to get the technology and regulatory framework right to ensure safety and public confidence. In the meantime, RAC will promote advanced driver assistance systems that are available in newer cars and that substantially reduce the risk of a crash.
The session concluded with Michael Bradley sharing the results of the AAA real world-testing programme. Aiming to help reduce vehicle emissions and running costs, the programme offers an alternative evaluation of the performance of Australian vehicles to enable consumers to make more informed about which new cars have the lowest impact on the environment and the household budget. Supported by a $14 million funding commitment from the Australian Government, the AAA real world-testing programme is a four-year programme that will test 60 car models per year.