This page contains archived information and may not display perfectly
EHCC - Merli brings hillclimb fight to Faggioli
Hill Climb: The 2016 edition of the FIA European Hill Climb Championship has lived up to expectations as promised by its line-up as a season-long fight for glory lies in prospect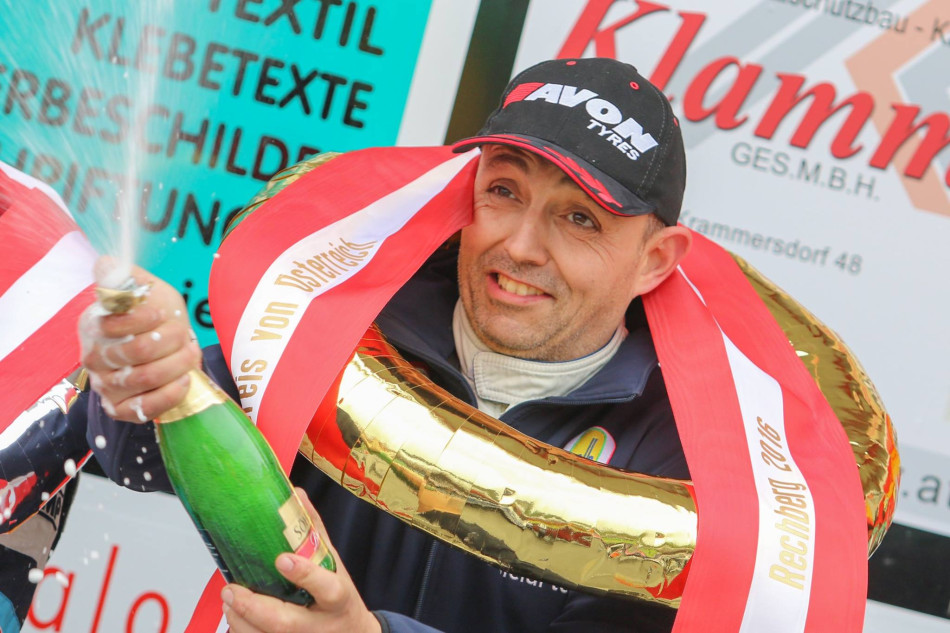 Held in extremely low temperatures — it even snowed at one point last Sunday (24 April) afternoon — the famous Rechbergrennen race gave rise to quite unexpected results. For the first time in several years, the Italian Simone Faggioli failed to come out on top in the final classification. It seems at last he has met a rival capable of giving him a hard time for the entire season, as Christian Merli stepped up to the plate in Austria.      
The eight-time European Champion Faggioli made his intentions clear from the beginning, gaining the best times during Saturday's training, as he had done one week earlier in Saint-Jean-du-Gard in France – an event he went on to win. But the tables turned in Austria. An oil spill on the road took Faggioli by surprise and due to a small impact during his first climb, the bonnet of his Norma M20 FC Evo was damaged enough to throw off the car's aerodynamic balance. His fellow countryman Christian Merli (Osella FA30 RPE) seized his opportunity, achieving the fastest time for the first climb by two seconds. While not a comfortable lead, this gave Merli a good advantage going into the second round.            
Indeed, even though Faggioli gained a new absolute record for the course during the second climb (an outstanding performance given that the chicane at the start of the course was slower than in previous years), he was unable to make up the time lost during the first round. Sensing that victory was close (the results of the two rounds combined) Merli also achieved a flawless climb in round 2, only 52 milliseconds behind Faggioli. As a result, he celebrated an almost historic outright win, although because the two drivers compete in different categories (Merli in the E2/SS and Faggioli in the E2/SC) the two opponents left Austria with the same number of points.
Often at ease on the Austrian course, Czech driver Milos Benès took an excellent third place, fighting off opposition from the young Paride Macario and Joël Volluz, both of whom were driving the same Osella FA30 model as Benès. The contenders for the European title in the E2/SH Group, Fulvio Giuliani (Lancia Delta Evo), Vladimir Vitver (Audi TTR-DTM) and Dan Michl (Lotus Evora V8) had to admit defeat to local driver Hannes Zenz in his boosted Mitsubishi Lancer.
Having already won Category 1 (closed cars) seven days earlier in France, Christian Schweiger was excited to race on his home turf and did not let any of his opponents even get close to him, winning each climb by more than 5 seconds. The competition was a lot tighter in Group N, as Serbian driver Miljkovic won by less than one second against the Italian and Czech drivers Migliuolo and Tomas Vavrinec.    
The Championship will continue in Portugal on 7 and 8 May in Falperra, near Braga.