EHC: STEFANOVSKI AND PULIC RETURN TO THEIR ROOTS
Two former multiple FIA European Hill Climb Champions with five titles between them are about to make their return to the discipline that saw them make a name for themselves and an international reputation a few years ago: the Macedonian Igor Stefanovski and the Croatian Niko Pulic.
Pulic, a three-time European champion with a BMW M3 in 1999, 2000 and 2001, has diversified his motor sport activities over the past two decades, successfully trying his hand at rallying, circuit racing and even truck racing. Double European hampion with a Mitsubishi Lancer in 2014 and 2015, Stefanovski has been racing in TCR for the last few seasons.
Both are planning to compete in the 2022 FIA European Hill Climb Championship and will begin their tour of the continent on April 9-10 at the season's opening round in Saint-Jean-du-Gard, France. While their track record will draw the spotlight on them, both will also stand out with cars that are unusual on mountain roads, namely a Hyundai i30 TCR for Stefanovski and a supercharged Smart forfour for Pulic.
We interviewed these two returnees, who will certainly liven up Category 1 of the 2022 edition of the FIA European Hill Climb Championship.
Q: What are the most important facts that come to mind when talking about your respective titles?
Pulic: "To be honest, the most important thing was before my first title in 1999. I will always remember my first participation in the European Championship: it was in 1996, in Rechberg in Austria, and I took my first victory there, with my Lancia Delta Integrale, against the top driver of the time, Otakar Krámský. Another highlight was the race in Saint-Ursanne in 2000, where I secured my second European title."
Stefanovski: "The most unforgettable moments were the celebrations of my two titles at the Croatian event in Buzet, in front of an incredible crowd, which included many spectators from Macedonia and neighbouring countries. The real rivalry on the courses, coupled with the fair play of my direct and indirect opponents, also stick in my memory."  
Q: What doors did this recognition open for you and where have you been competing since then?
Pulic: "These titles made me very popular in Europe and in Croatia. This motivated me to be an even better driver and I challenged myself further. After my three titles, I competed in many rally, circuit and hill climb events and won several times in each of these disciplines. For six years, I also raced in the FIA European Truck Racing Championship. I had the chance to drive many different cars, including S2000 and R5 cars in rallying, and also a Formula 3000 in Hill Climb."
Stefanovski: "The European Hill Climb Championship is excellent preparation for other disciplines. In my opinion, it is the hardest and most demanding discipline in motor sport: it requires a very high level of concentration and pure speed to achieve good results. I think I have proven this during the last six seasons I have spent in ETCC, TCR Europe, TCR Italy, and TCR Eastern Europe, achieving several podiums and victories in a highly competitive environment."
Q: What motivates this return to your roots [in European Hill Climb], so to speak?
Pulic: "My first motivation is the completion of a project to build my Smart car and to make it a 'Hill Climb Special'. It will bring me great pleasure and pride to show it off to the European public. That project took me several years to complete. I want to show people how great this project is. The second motivation is my 40 years of racing. I will be 60 soon and I want to go back to where I won the most races and titles. The third motivation is that I want to bring the Croatian round of the European Championship to my hometown of Dubrovnik - and to be there at the start."
Stefanovski: "I missed the adrenaline and uncertainty of hill climbing during my six years of touring car racing. It is these feelings that I am looking for this year."
Q: What are your ambitions for 2022?
Stefanovski: "It is not only in season 2022 that I am targeting the top. From the very beginning of my career, I have had high expectations, ambitions and results, and I expect to have good races and a successful season. Although, the Performance Factor is a new thing for me and I don't know the level of performance of the cars and competitors that will be in my Pf Group."
Q: Can you tell us more about the car you will enter?
Pulic: "The car is a Smart forfour. It is a very unusual car for racing and that is why we built it. The car is 100% Croatian and most parts are handmade in Croatia. It has about 800 hp and is 1,000 kg and is in Pf Group 2. It is a very fast, stable car and I think it can do a great job in Hill Climb. We will see very soon what the limits of this car are."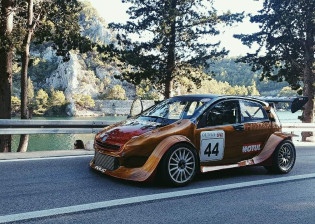 Stefanovski: "It is a TCR car, a Hyundai i30 N TCR, manufactured in 2018 by Hyundai Motorsport Germany, with 350 hp, prepared mainly for touring car racing. However, I hope that it will be super competitive in hill climbs. To be honest, I hope that the cars that are part of the TCR concept, which are very popular and most commonly used on European circuits and outnumber all the other groups out there, will be well placed in the Hill Climb championships within the new Pf system. They are high-performance new cars and they are attractive for the spectators."
Croatian Tomislav Muhvic, another former Champion will make his return to the European Championship this year, although unlike Pulic and Stefanovski, he has not completely left the hill climb scene in the interim. Muhvic, who won the FIA European Hill Climb Championship in 2013 in a Gr. N Mitsubishi Lancer Evo IX, has upgraded his car to an E2-SH (which he entered in the 2018 FIA Hill Climb Masters) and is now one of the favourites in the Pf Group 2 of Category 1.
For more information, click here.