This page contains archived information and may not display perfectly
EHC ROUND 1: RECORD ENTRIES COME IN ALL SHAPES AND SIZES
The FIA European Hill Climb Championship is back in full swing this season after two years disrupted by the pandemic. As in the last few "normal" editions, the Championship will open this weekend in France on the course of the "Corniche des Cévennes" between St Jean du Gard and the Col St Pierre, with a record entry list.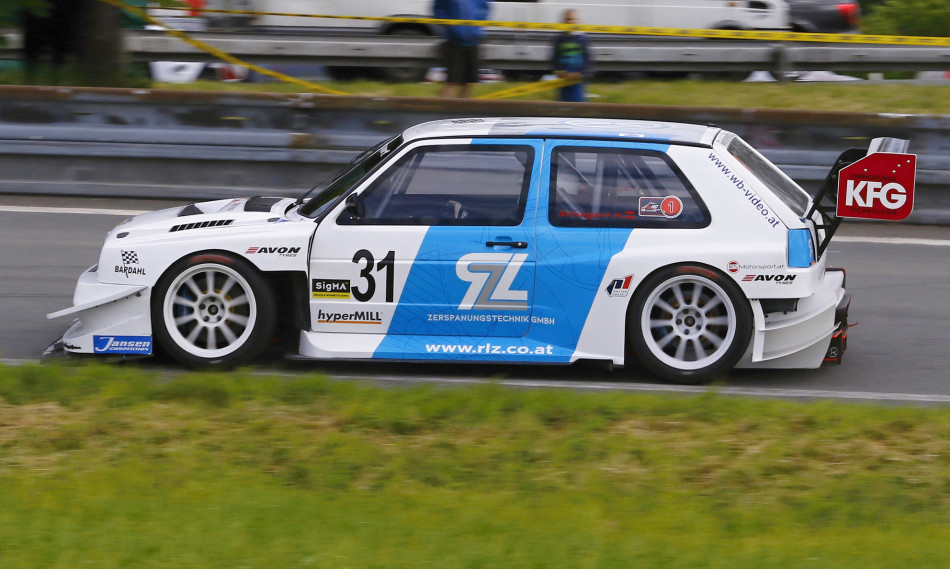 A small town of less than 3,000 inhabitants nestled in the mountainous Cévennes region, Saint Jean du Gard has been accustomed for the past 50 years (this will be the 48th edition of the race) to seeing all sorts of racing cars parade through the streets of the town centre. A peculiarity of the event is that the Paddock is located in the heart of Saint Jean, but the race course is 4 kilometres away, which requires convoys under police escort and gives rise to improbable sight of prototypes and single-seaters travelling on a major public road.
Since the race became part of the FIA Championship, never before has it recorded so many entries in its European section. There are 48 entries from 12 different countries. The event also counts for the French Championships for modern cars and historic cars, so that the list of entrants includes no less than 226 competitors – another record.
Outgoing European champion and with three European titles to his name, the Italian Christian Merli starts the season as a favourite. He will continue to run his faithful Osella FA30 Zytek. The announced absence of his eternal rival Simone Faggioli strengthens his favouritism.
That said, Hill Climb races remain difficult and sometimes unpredictable. The Czech Petr Trnka, bronze medallist at the last FIA Hill Climb Masters in Category 2, and the Frenchmen Sébastien Petit (Nova NP01 Zytek), winner in St Jean in 2018, and Billy Ritchen (Nova NP01 Judd), winner last weekend of the opening round of the French Championship, will surely be aiming for a place on the podium.
After a few sporadic appearances in the past, Spain's Joseba Iraola (Nova NP01 Honda) and Germany's Alexander Hin (Osella FA30 Zytek) have put the European Championship at the heart of their 2022 programme and can claim a respectable Championship ranking.
Category 2 in St Jean du Gard will shine by the variety of its cars, with single-seaters and prototypes with very different engines and cylinder capacities: motorbike engine for some (Wolf GB08 Thunder Aprilia of Michele Fattorini), turbocharged motorbike engines for others (Silver Car CS Suzuki of Raul Ferre, BRC BR53 Suzuki of Javier Villa). There is the more conventional F3 (Thomas Clausi and Samuel Guth) or Tatuus Master (Marc Pernot and Marcel Sapin) or even Formula Renault (Didier Chaumont), without forgetting the various Norma and Osella, 2 litres and V8 3 litres, of the Czech David Dedek, the Austrian Ferdinand Madrian, Switzerland's Xavier Vermeille and the French drivers Etienne Pernot, Cédric Lansard, Franck Bellières, Pascal Campi or Olivier Berreur.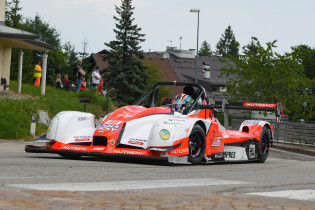 In Category 1, even though he will be discovering the course, Karl Schagerl and his demonic VW Golf Rallye are the scarecrows and the Austrian, who has chosen to focus his 2022 programme on the European Championship, will certainly allow himself to tease some Category 1 cars.
The cars in Groups 2 to 5 of the closed car division, divided according to the Pf classification, will still offer a wide range of vehicles from different horizons, between GTs (Lamborghini Huracan of Ronald Garces, Porsche of Nicolas Werver, Vojtech Bejda or Paul Reutter, Alpine A110 of Anthony Dubois, Ginetta G50 of Jose Alonso Liste), touring cars (Hyundai i30 TCR of Igor Stefanovski, Cupra Leon of Nicolas Granier and Geoffroy Bouhin, Audi A4 STW of Matija Jurisic), rally cars (Fiesta R5 of Sergi Panella) and the inevitable pack of Mitsubishi Lancers, including those of ex-European Champions Antonino Migliuolo (2021) and Tomislav Muhvic (2013) or of the returning Christian Schweiger. Among the entries in Category 1, the Smart Forfour of former three-time European Champion Nico Pulic will not fail to attract the curious.
Two practice heats are scheduled for Saturday, April 9. The two race heats will take place on Sunday, April 10 starting at 9 am.
Rankings, live timing, live streaming and virtual scoreboard are available here. 
-------------------------------------------------
EHC, EPREUVE 1: RECORDS DE PARTICIPATION A TOUT NIVEAU
Le Championnat d'Europe de la Montagne de la FIA reprend ses pleins droits cette année après deux années perturbées par la pandémie. Comme lors des dernières éditions « normales », le Championnat va s'ouvrir, ce week-end, en France sur le parcours de la Corniche des Cévennes entre St Jean du Gard et le Col St-Pierre, avec une liste des engagés sacrément fournie !
Petite commune de moins de 3'000 habitants nichée dans la région montagneuse des Cévennes, Saint Jean du Gard est habituée, depuis 50 ans (ce sera la 48e édition de la course) à voir défiler dans les rues du centre-ville toutes sortes de voitures de course : particularité de l'épreuve, le paddock est logé dans le cœur de Saint-Jean, mais le parcours de course se situe 4 kilomètres plus loin, ce qui nécessite des convois sous escorte policière et donne lieu à des images cocasses et improbables de prototypes et monoplaces se déplaçant sur une grand route publique nationale !
Depuis que l'épreuve a intégré le Championnat FIA, jamais encore elle n'avait enregistré autant d'inscription dans son volet européen. Ils sont 48 à s'être engagés, venant de 12 pays différents. L'épreuve compte aussi pour les Championnats de France des voitures modernes et des voitures historiques, si bien que tous plateaux cumulés, la liste des engagés présente pas moins de 226 concurrents. Un autre record !
Champion d'Europe sortant et avec déjà trois titres européens à son palmarès, l'Italien Christian Merli entame la saison avec l'étiquette de favori. Il continuera d'aligner sa fidèle Osella FA30 à moteur Zytek V8. A priori, l'absence annoncée de son éternel rival Simone Faggioli lui vaut encore davantage les faveurs des pronostics.
Cela dit, les courses de montagne restent difficiles, et parfois imprévisibles. Un accessit, au minimum, sera visé par le Tchèque Petr Trnka, médaillé de bronze aux derniers FIA Hill Climb Masters en Catégorie 2, et par les Français Sébastien Petit (Nova NP01 Zytek), vainqueur à St Jean en 2018, et Billy Ritchen (Nova NP01 Judd), vainqueur le week-end dernier de la manche d'ouverture du Championnat de France.
Après quelques apparitions sporadiques dans le passé, l'Espagnol Joseba Iraola (Nova NP01 Honda) et l'Allemand Alexander Hin (Osella FA30 Zytek) ont inscrit le Championnat d'Europe au cœur de leur programme 2022 et peuvent prétendre à un classement honorable au Championnat.
La Catégorie 2 à St Jean du Gard brillera par la variété de ses voitures, avec des monoplaces et prototypes aux motorisations et cylindrées très diverses : moteur de moto pour les uns (Wolf GB08 Thunder de Michele Fattorini), moteur de moto turbocompressé pour les autres (Silver Car CS de Raul Ferre, BRC BR53 de Javier Villa). On peut y ajouter les plus conventionnelles F3 (Thomas Clausi et Samuel Guth) ou Tatuus Master (Marc Pernot et Marcel Sapin) ou encore Formules Renault (Didier Chaumont), sans oublier les diverses Norma et Osella, 2 litres et V8 3 litres, du Tchèque David Dedek, de l'Autrichien Ferdinand Madrian, du Suisse Xavier Vermeille et des Français Etienne Pernot, Cédric Lansard, Franck Bellières, Pascal Campi ou Olivier Berreur.
En Catégorie 1, même s'il découvrira le parcours, Karl Schagerl et sa diabolique VW Golf Rallye font figure d'épouvantails et l'Autrichien, qui a fait le choix d'axer son programme 2022 sur le Championnat d'Europe, se permettra certainement d'aller taquiner les voitures de Catégorie 1. Les Groupes 2 à 5 de la division des voitures fermées, réparties selon la classification Pf, offriront encore une large palette de voitures d'horizons divers, entre GT (Lamborghini Huracan de Ronald Garces, Porsche de Nicolas Werver, Vojtech Bejda ou Paul Reutter, Alpine A110 d'Anthony Dubois, Ginetta G50 de Jose Alonso Liste), voitures de tourisme (Hyundai i30 TCR d'Igor Stefanovski, Cupra Leon de Nicolas Granier et Geoffroy Bouhin, Audi A4 STW de Matija Jurisic), voitures de rallye (Fiesta R5 de Sergi Panella) et l'inévitable meute des Mitsubishi Lancer, dont celles des ex-Champion d'Europe Antonino Migliuolo (2021) et Tomislav Muhvic (2013) ou du revenant Christian Schweiger. Parmi les engagés de la Catégorie 1, la Smart forfour de l'ex-triple Champion d'Europe Nico Pulic ne manquera pas d'attirer les curieux.
Deux montées d'essais figurent au programme de la journée de ce samedi 9 avril. Les deux montées de course auront lieu ce dimanche 10 avril, dès 9 heures.
Classements, live timing, live streaming et tableau virtuel d'affichage disponible depuis ce lien.