This page contains archived information and may not display perfectly
Debut win for Tidemand at International Rally of Whangarei
International Rally of Whangarei - Round 1, 2015 FIA Asia Pacific Rally Championship.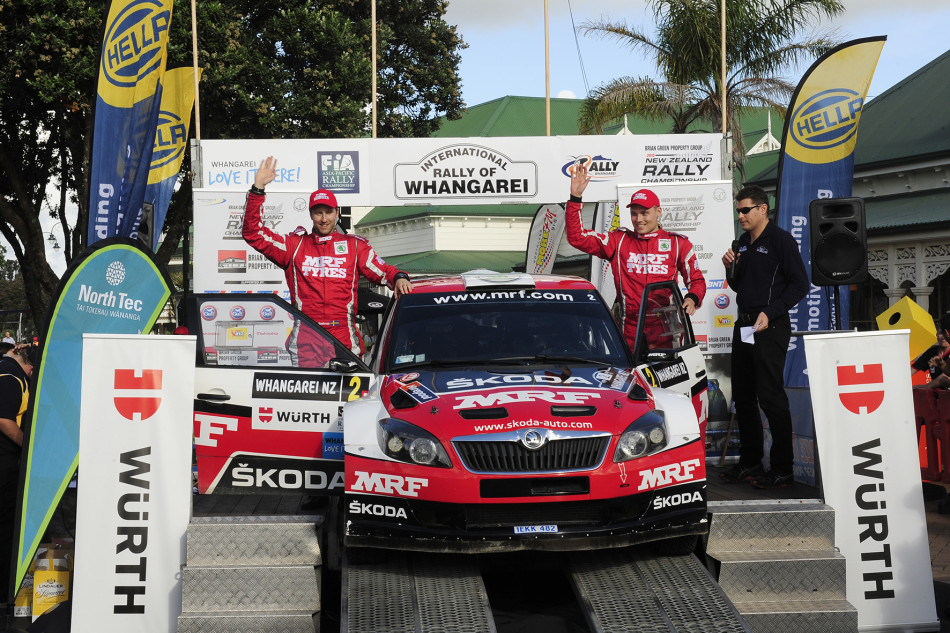 Debuting to the FIA Asia Pacific Rally Championship (APRC) Swede pairing Pontus Tidemand and co-driver Emil Axelsson has won this year's International Rally of Whangarei.
Aboard the MRF Tyres Skoda Fabia S2000 the duo finished 5mins51.8 clear of teammate and defending rally winners Gaurav Gill (India) and Glenn Macneall (Australia). New Zealand pairing Mike Young and Malcolm Read finished third – ejected from second overall in the final kilometres as Gill reeled in their time advantage. The difference was a paltry 1.9 seconds.
The first round for the 2015 season, International Rally of Whangarei started with 48 competitors. The journey covered 282.2km of fast flowing rural roads in the Northland and Whangarei regions, broken in to 16 timed tests. 
Starting Friday night with a ceremonial welcome and two night-time Super Special Stage runs, Tidemand opened an early lead that grew as the weekend wore on. The Swede won all but one of the special stages. "It is fantastic. Right from my co-driver, the car, the tyres – have all done a fantastic job. Everything has worked perfectly for us so am really happy with the result. It was important to get experience with these roads, their surface and pace notes – so the result makes for a perfect weekend," said Tidemand just prior to the ceremonial finish.
Plagued with early handling problems, Gill returned to his winning form in the weekend's final three tests – setting fastest time across the Springfield road stage. It wasn't all disappointment for Young. His first time campaigning an all-wheel-drive car (Cusco Subaru) the 22-year-old was steadfast at finishing. That he posted competitive times was reward for his efforts. "My heart is still beating," said Young at the Whangarei service park. "We are really happy with third, especially after having a small moment in the final stage that could have cost us the whole rally. To only have a difference of 1.9 seconds (between second and third) is pretty good when you compare the cars – we're pretty happy."
Fourth, after earlier tussles with Young was Indonesia's Subhan Aksa and Nicola Arena (Mitsubishi Lancer Evo X). In fifth place: New Caledonia's Jean-Louis Leyraud and Scott Beckwith – in a third Skoda Fabia S2000 specification car. "My goal at this rally was to learn the car, to get the car back and finish the event. It is an exciting car to drive and am very happy with our weekend. Now I can focus on New Caledonia," commented Leyraud. Japanese pairing Mitsuhiro Aoki and Fumika Aoki (Mitsubishi Lancer Evo X) finished sixth while Rina Ito and Paul Santo (Mazda Demio) rejoined to complete the final day.
While the weekend's weather was largely temperate, the greatest constant was change – from bright sun to bouts of heavy rain. Assisting in keeping the road conditions stable it added great variety to what each driver experienced – especially those further down the field. American social media sensation Ken Block and co-driver Alex Gelsomino (Ford Fiesta H.F.H.V.) thrilled his five million Facebook followers by topping the national field of competitors that ran directly behind the internationals. While not eligible for points in the New Zealand series his consistent pace put him well ahead of competitors he previously lined up against: "Today's roads were really incredible – the last stage in particular is exactly why I came here. I have really enjoyed myself - I had some really good battles and am stoked to come back with the win. I came here in 2007 to get better and knew the roads and drivers were quite good. I have come a long way (since then) and I was able to use my knowledge this weekend to drive much much better."
Early leader in the Brian Green Property Group New Zealand Rally Championship (NZRC) is Ben Hunt (Auckland), followed by Matt Summerfield (Rangiora) and Phil Campbell (Tauranga) in third.
Close to securing a podium result evaporated on the penultimate stage for Mt Maunganui's David Holder and Rob Scott when their Mitsubishi Lancer Evo left the road. Mechanical failures halted the progress of Dave Strong, Clint Cunningham, Brian Stokes and Kingsley Jones. Casualties yesterday; Emma Gilmour (Suzuki Swift Maxi) and Andrew Hawkeswood (Mazda 2) both completed the day to salvage some points from the weekend. A suspension failure in the purpose-built car of Alex Kelsey side-lined his superb performance for a second day running.
Of the 31 cars that left sunny Whangarei this morning 21 got to cross the finishers ramp. The international cars are now subject to technical scrutineering. Once released they will be thoroughly cleaned by their crews and packed in to shipping containers ahead of the journey to New Caledonia. The second round of the APRC, it covers 245km of the mid-Pacific island location from 15 to 17 May.
Results: International Rally of Whangarei 2015 (international field – provisional)
Pos

Car
No.

Driver/Co-Driver
Vehicle

Total
Time

Diff.


(=)

1

2

Pontus Tidemand/Emil Axelsson
Skodia Fabia S2000

2:55:29.4

-   
-   


(+1)

2

1

Gaurav Gill/Glenn Macneall
Skodia Fabia S2000

 


+5:51.8


(-1)

3

5

Michael Young/Malcolm Read
Subaru Impreza WRX STi (N4)

 

+5:53.8


(=)

4

3

Subhan Aksa/Nicola Arena 
Mitsubishi Lancer EVO X (ASN)

 

+9:14.2


(=)

5

4

Jean-Louis Leyraud/Scott Beckwith
Skoda Fabia S2000

 

+15:43.5


(=)

6

7

Mitsuhiro Aoki/Fumika Aoki
Mitsubishi Lancer EVO X (N4)

 

+42:48.4
 

8

Rina Ito/Paul Santo
Mazda Demio (RJ)

Withdrew: SS8: Off Road
2015 FIA Asia-Pacific Rally Championship for Drivers (currently provisional)

 

 

New Zealand

Total

 

Driver

Country

Bonus

Points

Points

 

Pontus TIDEMAND

SWE

14

25

39

 

Gaurav GILL

IND

11

18

29

 

Michael YOUNG

NZL

11

15

26

 

Subhan AKSA

IDN

8

12

20

 
International Rally of Whangarei 2015 – event itinerary
Section 2 - Sunday 19 April 2015
Stage, name, distance, start time
Start - Quayside Town Basin 07:25
SS11 Springfield 1 28.51km 08:13
SS12 Waiotira 1 16.56km 08:56
SS13 Otuhi 1 18.15km 09:34
SS14 Springfield 2 28.51km 12:03
SS15 Waiotira 2 16.56km 12:46
SS16 Otuhi 2 18.15km 13:24
Ceremonial Finish, Quayside Town Basin, Whangarei City 15:00
2015 FIA Asia Pacific Rally Championship calendar
Round 1: 17 - 19 April New Zealand (Counts toward: APRC, Pacific Cup, Junior Cup)

Round 2: 15 - 17 May New Caledonia (Counts toward: APRC, Pacific Cup)

Round 3: 19 - 21 June Australia (Counts toward: APRC, Pacific Cup, Junior Cup)

Round 4: 14 - 16 August Malaysia (Counts toward: APRC, Asia Cup, Junior Cup)

Round 5: 18 - 20 September Japan (Counts toward: APRC, Asia Cup, Junior Cup)

Round 6: 30 Oct - 01 November China (Counts toward: APRC, Asia Cup)

Round 7: 11 - 13 December India (Counts toward: Asia Cup)