This page contains archived information and may not display perfectly
APRC - Q&A with Lin Dewei, 2019 Asia-Pacific Rally Champion
The Chinese Taipei driver shared his feelings after his maiden FIA Asia-Pacific Rally Championship victory.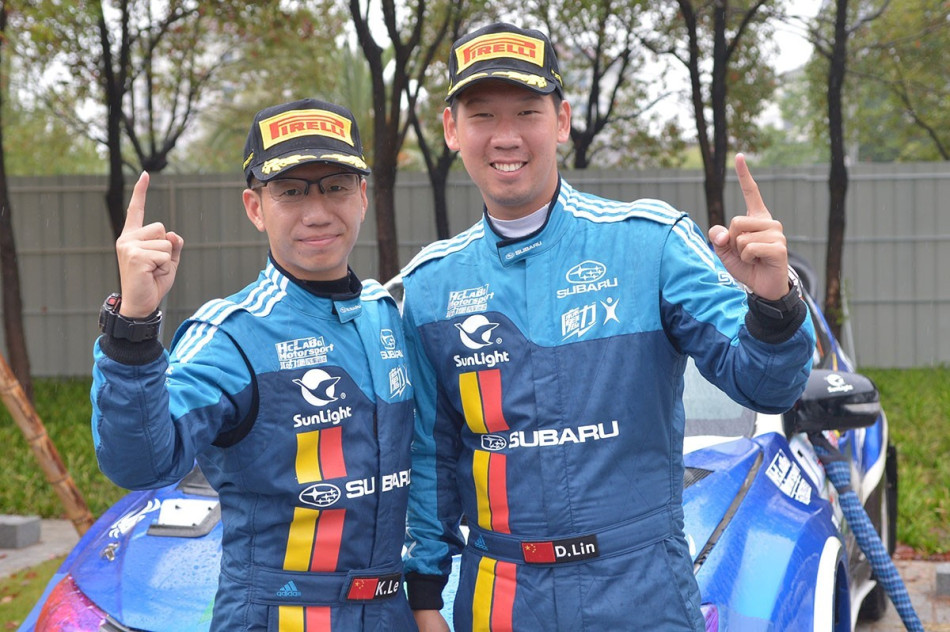 Lin Dewei and his co-driver Le Kepeng claimed the title of 2019 FIA APRC champions on Rally Longuou last weekend (26-27 October), following a clear rally that they led from start to finish, while some of their rivals encountered problems on the gravel roads of inland China.
The all-gravel event series was created in 1988, stretching over a huge area of the globe and two continents, from New Zealand all the way up to Japan. But Dewei and Le Kepeng are the first winners of the championship in its new 2019 format, with two distinct APRC Cups – the Asia Cup and the Pacific Cup – which are organised into smaller territories and are now held as qualifiers for the finale.
Q: Firstly congratulations, is it starting to sink in what you have actually achieved on Rally Longyou?
"Before this rally, I was very nervous. I have fought hard to keep the pace in front of the others, who were very fast. It wasn't our first Rally Longyou so I was 100% ready for this challenge."
Q: Tell us a bit about yourself and when did you start rallying?
"I come from Chinese Taipei, but my team, my teammates and all the others are from China. And my car is built in China as well.
"I started driving in Chinese Taipei when I was about thirteen years old but at that time, I obviously didn't have a licence! I would drive on the private grounds of some farms or in riverbeds. I gained a bit of experience in some local rallies. And then I came to China in 2007: first I got my driving license, and then I started competing in the Chinese Rally Championship (CRC) in 2008."
Q: So you started doing full championship seasons with the Chinese Rally Championship?
"In 2010, I did my first full season in the Škoda Red Bull team China.
"After I joined the Škoda Red Bull team, I won the championship title three years in a row. That was in 2010, 2011 and 2012. I knew I could get more so I went to another team, changed to a different car group and upgraded the rally car to a higher level."
Q: Why the Subaru?
"When I came to China in 2008, I saw that the Subaru Team China seemed to be very professional. The rally car at that time was very good and I really liked the sound of it. It was a two-wheel drive 1.6 liter with no turbo. That's why it was a bit slow but I had fun with it.
"But then I realized that the cars run in  the CRC are fantastic with a lot of potential and I really wanted to try this so I made the change in 2014. I used the CRC group – it's an open group in China – and I entered competition with Subaru, Volkswagen and Mitsubishi."
Q: Outside of China, what other series have you competed in?
"I joined the Taiwan Rally championship and CRC, but didn't have the chance to do many other rallies in China. I really like all kind of motor sports – cross country, endurance, touring car, GT... But I love rally!"
Q: What's next?
"Next I'd like to have new experiences like the FIA World Rally Championship. And it's coming to Japan in 2020 so I really would like to join this round."
Q: What car do you see yourself competing in at that event?
"If we can bring our car to Japan, that would be the best but if not, maybe an R5 car. I'm not sure yet."
Q: And what about for the rest of the year, have you got other events that you are competing in?
"At the moment, I stand second in the CRC championship. I'm just 20 points behind my teammate so I know I can chase him. The final round is taking place next month in China and it will be a big fight!"
Click here for more on the China Rally Longyou and visit the event's photo gallery.
- - - -
Photo credit: Lance Hastie for the FIA APRC