Cross-Country - Al-Attiyah and Baumel fight back to win Qatar Baja
2023 Qatar International Baja, round 2 of the FIA World Cup and Middle East Cups for Cross-Country Bajas)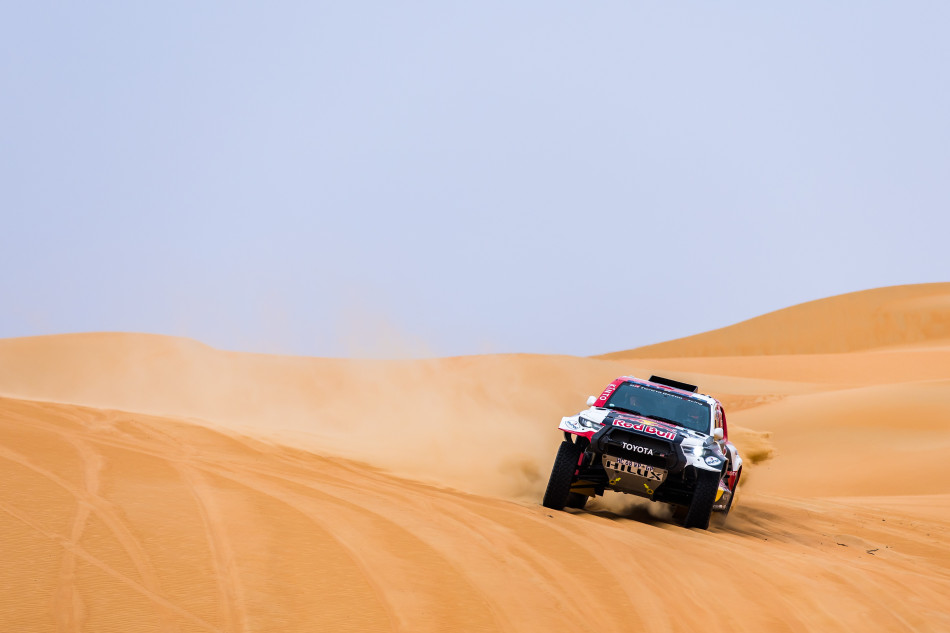 Nasser Saleh Al-Attiyah and his Andorra-based co-driver Mathieu Baumel fought back from a first leg navigational delay to win the Qatar International Baja and extend their lead in the 2023 FIA World Cup for Cross-Country Bajas.
Al-Attiyah has now won each of the five Qatar Bajas that have run since 2004 to accompany his seven victories in nine seasons at the longer Qatar Cross-Country Rally. The success marked Baumel's eighth sitting alongside Al-Attiyah after the crew used a Toyota Hilux supplied by Lithuania's Benediktas Vanagas that was flown in from Portugal especially for Al-Attiyah to use on the event. Their regular car had been badly damaged in Abu Dhabi earlier this month.
Al-Attiyah said: "It was a good Baja. The first day I had a small margin and the second day I pushed a lot. I am very glad to win here again on my home race. I always want to compete in every international event in Qatar and it's great to bounce back with a win after my big crash in Abu Dhabi."  
Krzysztof Holowczyc and Lukasz Kurzeja were sidelined with cooling issues on their Mini John Cooper Works Rally Plus after they had taken the lead on the first desert stage. That opened the door for Overdrive Racing's Denis Krotov and Konstantin Zhiltsov to secure second place in their Toyota Hilux and Guoyu Zhang and his Spanish co-driver Oriol Mena to round off the podium places in a Baic ORC BJ40.
Runner-up Krotov said: "After 35km, I had to stop and change the tyres. After that we lost a little power and didn't have a big speed. One turbo was not working. But the race was good and I enjoyed the stages."
The three-day Qatar event is renowned for its deceptive desert trails and precise navigation and Argentina's Juan Cruz Yacopini and Daniel Oliveras stayed clear of serious trouble to finish fourth in the third of the Toyotas. Yacopini retains second place in the FIA World Cup standings. 
First T3 win for Al-Thefiri's new MCE-5 T3M
Meshari Al-Thefiri began the final day lying second in T3 behind his normal co-driver Nasser Al-Kuwari, who had switched to a driving role, and the Kuwaiti delivered a solid performance to set the fastest time and sneak through to win the FIA T3 category for lightweight prototype machines on his first race with a new MCE-5 T3M. 
Oriol Vidal was looking after the navigation on this occasion. He also finished fifth overall and moved into contention for FIA World Cup T3 honours behind new category leader, Fernando Alvarez, who finished fifth in Qatar.  
Al-Thefiri said: "It's so difficult with the road book to know if you are out of the route. It is not easy. The car was very good. We caught Nasser (Al-Kuwari) about 20km from the start, so I managed my pace then and I knew what my advantage was. I am very happy that this is the first win for the MCE-5."
With Nasser Al-Kuwari and French co-driver François Cazalet dropping precious minutes on the stage with a lack of brakes and three punctures, that paved the way for the Qatari's brother Abdulaziz to snatch second place in T3 on his Baja debut in a QMMF Rally Team Can-Am. He also finished sixth in the general classification. Nasser came home seventh and third in T3. 
Brazilian Otavio Sousa finished fourth and is well placed to challenge for FIA World Cup T4 honours over the European rounds in the summer. Dania Akeel suffered a set-back when her Can-Am sustained a rear hub failure on the final stage and cost the Saudi a potential top four finish. 
Frenchman Jeremie Warnia wins in T4
Jeremie Warnia and Loic Minaudier managed to overhaul Brazil's Cristiano de Sousa Batista and Portuguese co-driver Fausto Moto on the final stage to secure a narrow victory in the FIA T4 category in their Polaris RXR 1000 R. The French crew finished eighth overall and beat their Can-Am rivals by 2min 10sec on the final day to secure a winning margin of just 30.3 seconds.
Seventeen minutes of time penalties for missing route waypoints had pushed Pau Navarro down the T4 rankings after the third stage in his FN Speed Team Can-Am, but the youngster climbed back to third on the final day. Navarro and Warnia are now locked in a tight tussle at the top of the championship standings.
Saudi's Al-Feraihi takes maximum FIA Middle East Cup points
Saudi Arabia's Khalid Al-Feraihi and French co-driver Sébastien Delaunay boosted their FIA Middle East Baja Cup title aspirations with maximum points after finishing 11th overall.
The Nissan Patrol crew finished just over 11 minutes clear of Qatar's Ahmed Al-Kuwari's T4 category-winning Yamaha YXZ 100 R and over a quarter of an hour in front of the third-placed Qatari Adel Abdulla (Can-Am) in the second of the QMMF-backed cars that topped the T3 standings in the FIA Middle East Cup. 
Mohammed Al-Meer (Can-Am) claimed points for fourth place and Portugal's Mario Franco rounded off the top five. 
Hamad Al-Harbi picked up valuable points for finishing sixth in his quest to beat first round winner Yasir Seaidan to the regional Baja title. The Saudi also boosted his T3 title chances with fourth place in the category. Meanwhile, Salem Al-Dhafeeri extended his advantage in T4 after claiming points for second in his section of the FIA Middle East Cup.
There is a near four-month lay-off before the third round of the FIA World Cup for Cross-Country Bajas takes place in Italy on July 6th-9th. The FIA Middle East Cup resumes in Dubai in November. 
2023 Qatar International Baja – final results (Top 16 only):
1. Nasser Saleh Al-Attiyah (QAT)/Mathieu Baumel (AND) Toyota GR DKR Hilux, 4hr 51min 49.7sec*
2. Denis Krotov (KGZ)/Konstantin Zhiltsov (ISR) Toyota Hilux Overdrive, 5hr 08min 11.3sec*
3. Guoyu Zhang (CHN)/Oriol Mena (ESP) Baic ORC BJ40, 5hr 11min 00.6sec*
4. Juan Cruz Yacopini (ARG)/Daniel Oliveras (ESP) Toyota Hilux Overdrive, 5hr 23min 50.9sec*
5. Meshari Al-Thefiri (KWT)/Oriol Vidal (ESP) MCE-5 T3M (T3), 5hr 30min 32.4sec*
6. Abdulaziz Al-Kuwari (QAT)/Alexei Kuzmich (ARE) Can-Am Maverick X3 (T3), 5hr 38min 05.3sec+
7. Nasser Al-Kuwari (QAT)/François Cazalet (FRA) Can-Am Maverick X3 (T3), 5hr 42min 23.3sec+
8. Jeremie Warnia (FRA)/Loic Minaudier (FRA) Polaris RZR 1000 R (T4), 5hr 45min 51.5sec*
9. Cristiano de Sousa Batista (BRA)/Fausto Mota (PRT) Can-Am Maverick XRS Turbo (T4), 5hr 46min 21.8sec*
10. Ronan Chabot (FRA)/Gilles Pillot (FRA) Toyota Hilux Overdrive, 5hr 47min 36.5sec*
11. Khalid Al-Feraihi (SAU)/Sébastien Delaunay (FRA) Nissan Pick-Up, 5hr 56min 24.7sec+
12. Otavio Sousa (BRA)/João Ferreira (PRT) Can-Am Maverick X3 (T3), 5hr 59min 07.7sec*    
13. Fernando Alvarez (ESP)/Xavier Panseri (FRA) Can-Am Maverick X3 (T3), 5hr 59min 39.7sec*    
14. Pau Navarro (ESP)/Gonçalo Reis (PRT) Can-Am Maverick XRS Turbo (T4, 6hr 02min 01.5sec* 
15. Ahmed Al-Kuwari (QAT)/Manuel Luchesse (QAT) Yamaha YXZ 1000 R (T4), 6hr 07min 26.6sec+
16. Adel Abdulla (QAT)/Marc Serra (QAT) Can-Am Maverick X3 (T3), 6hr 11min 45.9sec+
T1 unless stated
*denotes registered for FIA World Cup
+ denotes registered for FIA Middle East Cup