CHILE SET FOR ACTION AS WRC RETURNS TO SOUTH AMERICA
The FIA World Rally Championship returns to South America next week with Rally Chile Bio Bío getting set to host the action for the first time since 2019.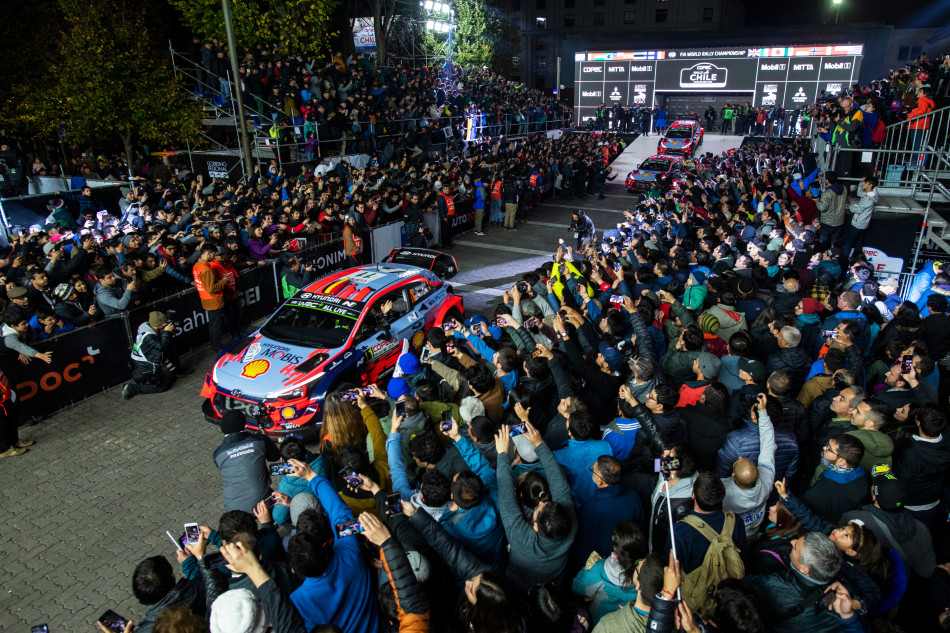 Counting as round 11 of the 13-event WRC season, Rally Chile Bio Bío made its inaugural appearance on the sport's global roster four years ago. But with this year's event, which takes place from September 28-October 1, using almost an all-new route, the rally represents a mission of discovery for the drivers and their teams.
Rally Chile Bio Bío marks the final gravel event of the 2023 championship – and a decisive phase in the various FIA world title battles with the overall Drivers', Co-drivers' and Manufacturers' championships far from settled. All titles in FIA WRC2 and WRC3 have also yet to be decided.
It's also an event the drivers will relish with the smooth, undulating gravel roads used for the special stages cambered and of a high-speed nature. However, with Chile in the early weeks of spring, cold temperatures, particularly early in the morning, will provide an additional challenge.
Although the rally is based in Concepción, a port city on the banks of the Pacific Ocean 500 kilometres south of the Chilean capital Santiago, the event starts in the Los Ángeles, a journey of 130 kilometres to the southeast of Concepción.
Fifty-five crews have entered Rally Chile Bio Bío with all FIA rally car categories represented. They include 10 Rally1 Hybrid cars, 21 Rally2 cars, two Rally3 cars, 18 Rally4 cars and three Rally5 cars, the sport's entry-level category designed to further increase motor sport participation. And of the 21 Rally2 cars, 18 are eligible for the WRC2 category.
All Rally1 cars, which use 100 per cent fossil-free fuel, will run on either the Scorpion KX soft- or hard-compound tyres provided by official supplier Pirelli. The soft compound is designed for cool and damp conditions and is the first choice. In case of warm and dry weather, the hard compound will be available. A maximum of 28 tyres can be used including four for Shakedown.
THE ROUTE IN SHORT
Consisting of 16 fast but technical gravel stages over a competitive distance of 320.98 kilometres, the compact route takes competitors east, south and south-east of Concepción. Following shakedown on a 5.75-kilometre stage on Thursday 28 September, the rally heads to Los Ángeles for the ceremonial start that evening. Friday's itinerary covers 112.86 timed kilometres and features three stages during the morning loop ahead of a service halt in Concepción. The morning stages, of which the 23.32 kilometres of Rio Claro is the longest of the trio, are repeated in the afternoon. Crews embark on a journey south of Concepción for three repeated stages run either side of service in the host city on Saturday. Maria de las Cruces, the third of each loop, is the rally's longest stage at 28.72 kilometres and finishes within sight of the Pacific Ocean. Meanwhile Rio Lia, is the only stage unchanged from the 2019 edition of the rally. Sunday's deciding leg includes two double-use stages with El Poñen, which is 13.86 kilometres in length, forming the bonus points-paying Wolf Power Stage from 13:15 local time.
RALLY CHILE BIOBÍO DATA
Stage distance: 320.98 km
Total distance: 1239.43 km
Number of stages: 16
RALLY1 HYBRID CONTENDERS
*Hyundai Shell Mobis World Rally Team: Having stepped aside for Dani Sordo on EKO Acropolis Rally as part of a carsharing arrangement, Teemu Suninen returns in the third Hyundai i20 N Rally1 and to an event he completed in fifth position in 2019. His fellow Finn, Esapekka Lappi, who was sixth in 2019, and Belgian Thierry Neuville, complete the Hyundai-powered line-up in Chile.
*M-Sport Ford World Rally Team: With Rally1 rookies Alberto Heller, from Chile, and Luxembourg's Grégoire Munster entered in Ford Puma Rally1 Hybrids, the M-Sport Ford World Rally Team presence increases to four cars with Estonia's Ott Tänak and Frenchman Pierre-Louis Loubet also representing the British squad.
*Toyota Gazoo Racing WRT: Provisional Drivers' championship leader and defending world champion Kalle Rovanperä, from Finland, is joined by Briton Elfyn Evans and Japan's Takamoto Katsuta in chasing Manufacturers' championship points for the Japanese make.
SUPPORTING CATEGORIES
*With current FIA WRC2 Championship leader Andreas Mikkelsen not including Rally Chile Bio Bío on his 2023 schedule, the Norwegian's rivals, including Yohan Rossel (PH Sport Citroën C3 Rally2), Gus Greensmith and Sami Pajari (both Toksport WRT Škoda Fabia RS Rally2), have the opportunity to close up in the standings.
*Eight drivers from Chile, plus three from other South American countries, also appear on the WRC2 entry with home-based Jorge Martínez and Emilio Fernández the leading seeds.
*A category victory for Paraguay's Diego Dominguez would put him level on points with Roope Korhonen in FIA WRC3. The Finnish driver has taken four top scores this season – the maximum permitted – but won't be competing in Chile.
WHAT'S NEW IN THE WRC FOR 2023?
*WRC2 Junior becomes WRC2 Challenger as the criteria switches focus on competitor experience rather than age
*WRC2 Masters for drivers 50 or over in Rally2 cars expands to also allow Rally3, Rally4, Rally5 and RGT cars. The name has changed to WRC Masters as a result
*Central European Rally featuring stages in Austria, Czech Republic and Germany joins the WRC schedule for the first time in October
*To further promote sustainability, testing away from nominated test venues for Rally1 manufacturers is cut from 28 to 21 days
*In the interests of reducing the hours that volunteer officials must be in duty, morning service on gravel events is removed from the itinerary
SEASON AHEAD
Follow this link to view the FIA World Rally Championship calendar for 2023:
https://www.fia.com/news/2023-fia-sporting-calendars-approved-world-motor-sport-council-0
MEDIA INFORMATION
Media accreditation
Media accreditation must be collected in person by accredited pass holders from the Accreditation Desk, located in the Media Centre, MDS Hotel Concepción, Calle A 809 Brisa del Sol, Concepción, Biobío. The Accreditation Desk is open as follows:
Tuesday September 26: 14:00-20:00 hrs
Wednesday September 27: 08:30-20:00 hrs
Thursday September 28: 07:30-20:00 hrs
Friday September 29: 07:00-12:00 hrs
Media Centre
The Media Centre is located within the MDS Hotel Concepción, Calle A 809 Brisa del Sol, Concepción, Biobío and open as follows:
Tuesday September 26: 14:00-18:00 hrs
Wednesday September 27: 08:30-20:00 hrs
Thursday September 28: 07:30-20:00 hrs
Friday September 29: 07:00-22:00 hrs
Saturday September 30: 06:30-22:00 hrs
Sunday October 1: 07:00-22:00 hrs
Media activities and opportunities
Wednesday September 27
17:00 hrs: Tabard Media Safety Briefing, Media Centre
Thursday September 28
08:01-09:30 hrs: Shakedown for P1 and invited drivers (Shakedown Biobío, 5.75 km)
09:31-11:00 hrs: Shakedown for all priority drivers (Shakedown Biobío, 5.75 km)
11:01-13:00 hrs: Shakedown for non-priority, P2 and P3 drivers (Shakedown Biobío, 5.75 km)
11:00-12:30 hrs: FIA WRC Media Pen, Service Park, Concepción
17:30 hrs: Autograph signing session (Ceremonial start area, Los Ángeles)
18:10 hrs: FIA WRC Meet the Crews live interview session (Start ramp, Los Ángeles)
Friday September 29
07:30 hrs: Start of section 1
Meet the Crews, Service Park, Concepción (exact time to be advised in due course)
Saturday September 30
06:35 hrs: Start of section 3
Meet the Crews, Service Park, Concepción (exact time to be advised in due course)
Sunday October 1
07:22 hrs: Start of section 5
15:45 hrs: FIA WRC Post-event Press Conference (Media Centre)
Media zones
Media Zones attended by all drivers and selected team representatives will operate as follows:
3A, 6A, 9A, 12A, 14A and 16A
FIA WRC Meet the Crews interview opportunity attendance, Los Ángeles start ramp, Thursday September 28
18:10 – FIA WRC2/WRC3 CHAMPIONSHIPS
Toksport WRT – Marco Bulacia (BOL), Skoda Fabia RS Rally2 (WRC2)
Jorge Martínez (CHL), Skoda Fabia Rally2 (WRC2)
Diego Dominguez (PRY), Ford Fiesta Rally3 (WRC3)
18:20 – FIA WRC PART 1
Hyundai Shell Mobis World Rally Team – Teemu Suninen (FIN), Hyundai i20 N Rally1 Hybrid
M-Sport Ford Wold Rally Team – Grégoire Munster (LUX), Ford Puma Rally1 Hybrid
M-Sport Ford Wold Rally Team – Ott Tänak (EST), Ford Puma Rally1 Hybrid
18:30 – FIA WRC PART 2
Hyundai Shell Mobis World Rally Team – Martin Wydaeghe (BEL), Hyundai i20 N Rally1 Hybrid
M-Sport Ford Wold Rally Team – Alberto Heller (CHL), Ford Puma Rally1 Hybrid
Toyota Gazoo Racing WRT – Kalle Rovanperä (FIN), Toyota GR Yaris Rally1 Hybrid
FIA Post-event Press Conference (Media Centre), 15:45 hrs, Sunday October 1
Top 3 drivers in overall classification plus winning co-driver
Representative of winning manufacturer
Winning WRC2 drivers (WRC2, WRC2 Challenger)
Winning WRC3 driver
Winning WRC Masters driver
RALLY CHILE BIOBÍO MANUFACTURER ENTRIES
Toyota Gazoo Racing WRT                             Kalle Rovanperä (FIN)/Jonne Halttunen (FIN) - #69
           Elfyn Evans (GBR)/Scott Martin (GBR) - #33
           Takamoto Katsuta (JPN)/Aaron Johnston (IRL) - #18
Hyundai Shell Mobis World Rally Team          Thierry Neuville (BEL)/Martijn Wydaeghe (BEL) - #11                                                                
                                                                     Esapekka Lappi (FIN)/Janne Ferm (FIN) - #4
                                                                     Teemu Suninen (FIN)/Mikko Markkula (FIN) - #3
M-Sport Ford World Rally Team                   Ott Tänak (EST)/Martin Järveoja (EST) - #8
                                                                   Pierre-Louis Loubet (FRA)/Nicolas Gilsoul (BEL) - #7
FIA WORLD RALLY CHAMPIONSHIP 2023 CLASSIFICATION
The provisional classifications following round 10 of the 2023 FIA World Rally Championship are available here: https://www.fia.com/events/world-rally-championship/season-2023/standings
RALLY CHILE 2019 RESULTS
1          O Tänak (EST)/M Järveoja (EST)                      Toyota Yaris WRC                        3h15m53.8s
2          S Ogier (FRA)/J Ingrassia (FRA)                      Citroën C3 WRC                          +23.1s
3          S Loeb (FRA)/D Elena (MON)                          Hyundai i20 Coupe WRC            +30.2s
RALLY CHILE RECENT WINNERS
2019    Ott Tänak/Martin Järveoja                           Toyota Yaris WRC