Calderón finishes fifth as Iron Dames take LMGTE silverware at Le Castellet
Women in Motorsport-supported crews race into the points at Paul Ricard but opening ELMS weekend is marred by injury for Katherine Legge. This week round 2 of the season at Spa-Francorchamps.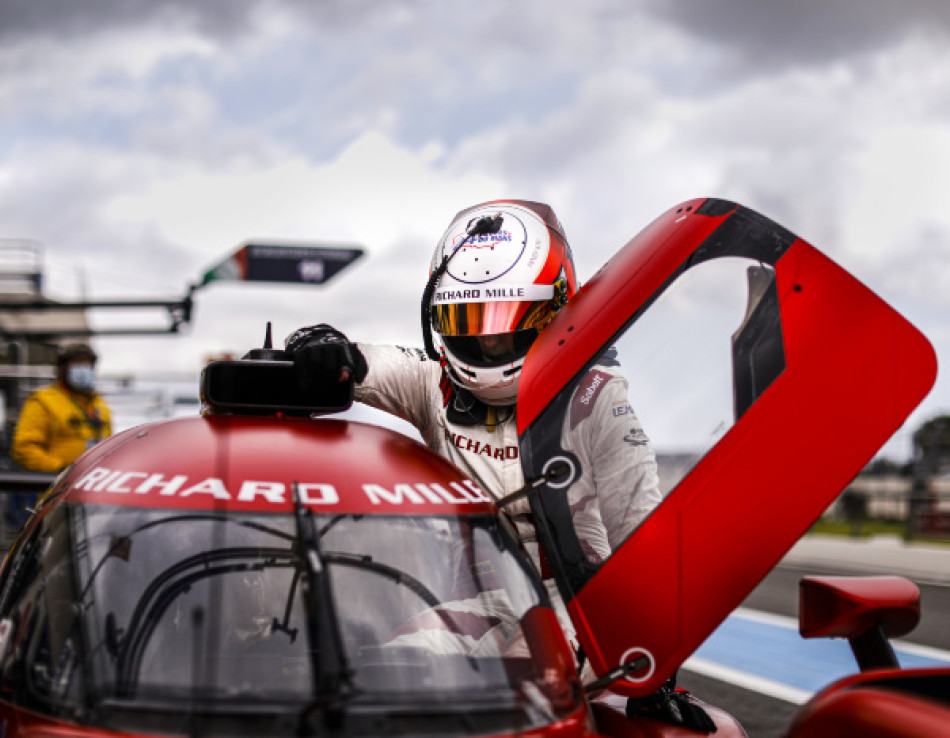 Richard Mille Racing Team driver Tatiana Calderón raced through the pack to claim a battling fifth place in the LMP2 category and the Iron Dames squad of Manuela Gostner, Michelle Gatting and Rahel Frey grabbed their first podium of the year in LMGTE as the highly-anticipated 2020 European Le Mans Series got underway at the Circuit Paul Ricard. 
However, a successful opening round was marred by a pre-event accident involving Calderón's team-mate Katherine Legge. The British racer was left with broken bones after she went off the track and hit the barriers at the Signes corner during testing. 
With the team's other regular driver Sophia Flörsch in Budapest to take part in the F3 event at the Hungarian Grand Prix, the Richard Mille Racing Team drafted in Brazilian driver André Negrão to partner Calderón at the wheel of the team's Signatech-run Oreca 07, Gibson-powered car for the remainder of the weekend. 
"First and foremost we all send Katherine our best wishes for a fast recovery," said Michèle Mouton, President of the FIA Women in Motorsport Commission of the incident. "We really have to thank Richard [Mille] and Signatech for their unwavering support for this women in motor sport programme. To decide to rebuild the car and draft in such an experienced driver at the last moment to help mentor and support Tatiana on her learning journey in endurance racing is incredible commitment; I really can't thank everyone enough for their highly professional attitude." 
Starting from 13th on the grid Calderón and Negrão muscled their way through the midfield over the four hours of the race, rising to as high as fourth at one point. In the closing stages Calderón was passed for fifth by the Cool Racing's Nicholas Lapierre but at the flag the Women in Motorsport-supported Colombian was boosted back to P5 when the second-place Graff Oreca of James Allen, Thomas Laurent and Alexandre Cougnaud was handed a three-lap penalty for a rules infringement which dropped them to ninth. The race was won by the United Autosports crew of Job van Uitert, Will Owen and Alex Brundle.
"We finished our first ELMS race and I'm very happy with the work of the whole team, I think they did an amazing strategy," said Tatiana afterwards. "Of course I'm getting used to the traffic and a little bit the car with heavy fuel, so I'm very happy to have finished and to have got all this experience, which will be very beneficial for the next couple of rounds. I want to thank everyone who came to support us, especially the FIA Women in Motorsport Commission, Michèle Mouton and Cathy Muller, they are always here to support us so thank you."
In the LMGTE category, the Iron Dames - a unique project conceived and supported by Deborah Mayer, a passionate French driver and promoter of women in motor sport - put in a superb performance with Manuela Gostner, Michelle Gatting and Rahel Frey claiming third and a place on the podium at the opening round. 
In a race won by the #77 Proton Competition Porsche of Christian Ried, Michele Beretta and Alessio Picariello, the Women in Motorsport-supported crew pushed hard to climb from 32nd overall on the grid and seventh in their class to third place at the flag. 
"The race couldn't have ended any better," said Michelle afterwards. "I took the start and had a lot of fun out there trying to chase the other cars. I knew I had to get some positions as we started P7 and the car was great to drive, I was enjoying every single lap and to get the podium at the first race of the season, I guess it couldn't be any better. Everybody did an amazing job."
It was a tense race to the flag, however, as in the closing stages Rahel was told to fuel save drastically and she finished the lap after the flag with barely any fuel remaining. 
"We just got our first podium of the season so we are really really happy," said Rahel. "Like last year, first race, first podium, this is a really great motivation for all of us. We went through all the feelings, we had really good lap times, we needed to do some fuel saving, so it was really team spirit and I'm really happy that we made it."
Manuela added: "It's an unbelievable feeling, I'm full of emotion. Everyone did the best she could and I am super super happy and excited."
For WIM President Michèle Mouton the weekend results were a validation of the Commission's efforts in sports cars in recent years. 
"The Commission has been working for the last 10 years and for me the goal was always to have our top drivers being accepted in a professional team and it's really what we have today," she said. "We have two very serious and professional teams who are participating and really it cannot be better. It's exactly what our top women needed to progress.
"Tatiana was really good, everyone was fully working for her, she was so well in her head and full of confidence, which showed in her driving," she added. "Michelle, Rahel and Manuela were also impressive and Rahel, in particular, did an incredible job to manage the fuel to the end. That's not easy for an hour but she showed real mental strength. As a crew, you feel they are just getting stronger and stronger."
Aside from her efforts in the main event, it was a particularly busy weekend for Gatting. The Danish racer also joined Iron Dames project leader Deborah Mayer in a second Ferrari for the ELMS support series, the Michelin Le Mans Cup. The Iron Lynx racing team is now fielding two all-female Iron Dames crews, adding further strength and value to this unique project. The pair finished a solid fifth in Deborah's comeback to the track after two years.
This article was published in WOMEN IN MOTOR SPORT NEWSLETTER #18