CAKF hosts first-ever FIA Esports South European Zone Cup, won by Martin Kadlečik
Czech Martin Kadlečik has emerged victorious in the first-ever FIA Esports South European Zone Cup, held on 19-20 December 2022, on the Assetto Corsa Competizione platform. The tournament, which was supported by the FIA Sport Grant Programme and organised by the Croatian Automobile and Karting Federation (CAKF), saw 15 European auto sport federations compete for trophies in four races held on legendary European circuits: Monza, Catalunya, Spa-Francorchamps, and Nürburgring.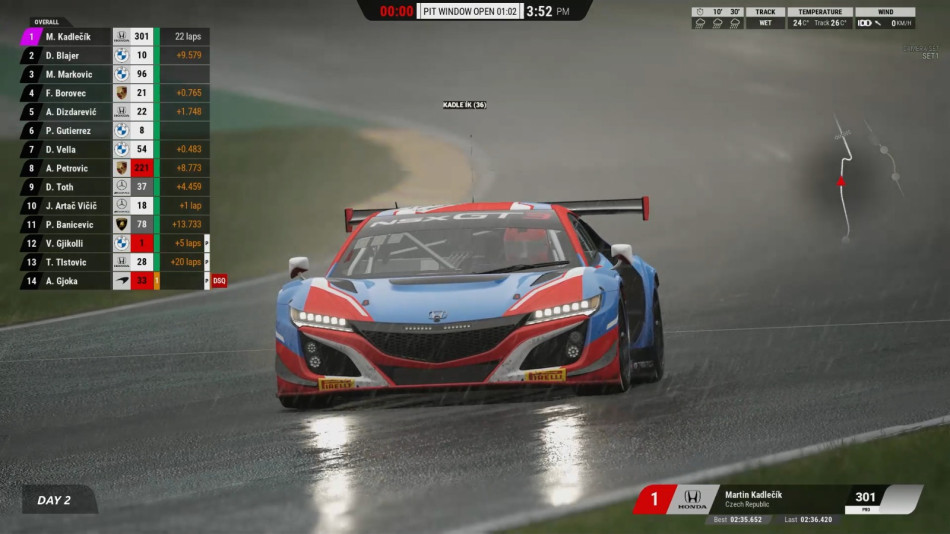 Kadlečik, representing the Autoclub of the Czech Republic (ACCR), won the Southern European Cup with a total of 68.5 points, after winning two races and finishing in the top 10 in the others. The competition also awarded points for the FIA Central European Zone 2022 Championship.
The races were broadcast live on YouTube, Twitch, and some European TV channels.
FIA Vice President Sport Europe Manuel Aviñó welcomed the initiative: 
"I am pleased to see European ASNs taking the lead in promoting international Esports competitions, which is a great way to elevate sim racing beyond national championships. I would like to thank the Croatian Automobile and Karting Federation for proposing this initiative. We are committed to supporting them by providing a driver to represent Spain, and we are confident that other ASNs in the region will join us in this effort."
The competition was also praised by FIA Vice President Sport Europe Anna Nordkvist:
"I would like to extend my congratulations to the Croatian Automobile and Karting Federation and its PresidentDavorin Stetner for their outstanding initiative in organising the FIA Esports South European Zone Cup", she said. "Esports has the potential to inspire and serve as a building platform for aspiring racers, and I strongly believe that this competition will help us in our efforts to make motor sport more inclusive and accessible for everyone."
FIA Esports South European Zone Coordinator and President of the Croatian ASN, Davorin Stetner, said: 
"Four years ago, we established the FIA Digital Motor Sport Working Group, which has since evolved into a large Esports system with organised racing events worldwide under the FIA's umbrella. I firmly believe that this is just the beginning, and Esports is emerging as a genuine grassroots discipline, attracting young competitors and providing them with a path to the world of professional racing."