AUTO #28 NOW AVAILABLE
The third issue of Auto 2019 is packed with interesting and thought-provoking in-depth articles on many topics.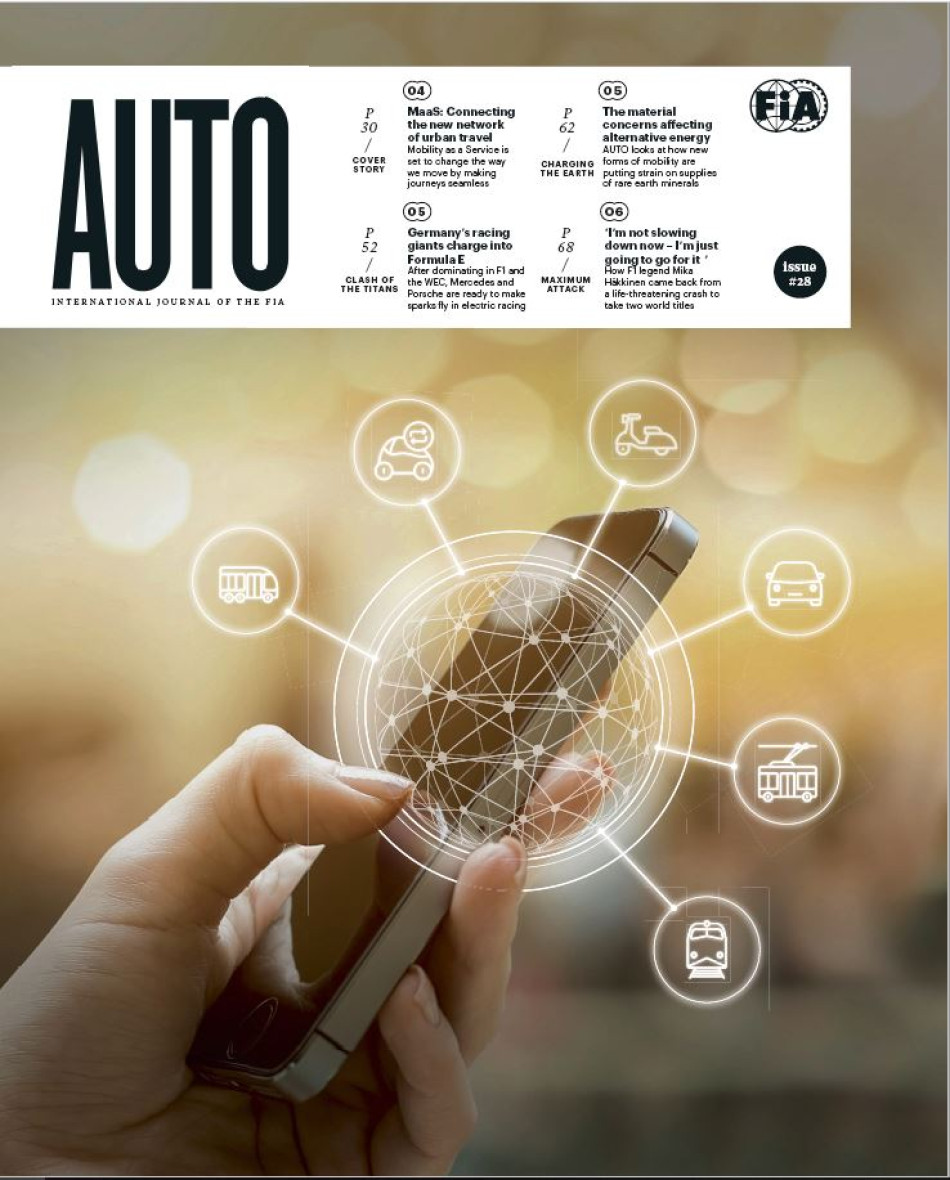 The cover story gives a cogent analysis of Mobility As A Service (MAAS). It examines how mobility in major cities is changing due to technological development and through the actions of urban inhabitants, legislators, public and private transport companies as well as car manufacturers. All are aware of the need to respond to the challenges of climate change. The FIA and its clubs want to be, and must be, at the forefront of sustainability. 
We also hear the thoughts on current aıairs of someone very much involved in the world of motor sport and mobility: the President of the FIA Manufacturers Commission, François Fillon. He talks us through progress made with the Green NCAP Programme and the FIA's Portfolio Strategy aimed at modernising the FIA championships. We then meet Ralf Speth, the man responsible for shaping the future of two historic yet very diıerent brands, Jaguar and Land Rover. 
Our regular look at rising motor sport talent focuses on Oliver Solberg, son of the famous Petter Solberg, who is making waves in the world of rallying. Meanwhile, our Legends section is devoted to a driver who in just a few years went from being close to death to becoming a double Formula 1 World Champion – Mika Häkkinen. We also pay tribute to a recently departed giant of the automobile industry, Ferdinand Piech. Moreover, we meet a champion from the football world, Didier Drogba, who has joined our #3500LIVES campaign, with the aim of improving road safety in Africa.
Formula E is about to embark on its sixth season, with a record number of teams and manufacturers involved. These include Porsche and Mercedes − and they reveal what led them to take part in the championship.
And speaking of the latter marque, I take this opportunity to warmly congratulate Lewis Hamilton and the Mercedes team on their sixth F1 Drivers' and Constructors' World Championship titles.
These stories and many more can be found within the pages of this issue. I hope you enjoy it and, as always, if you have any suggestions on how to make it even better, please get in touch.
Jean Todt, FIA President
FULL EDITION TO READ HERE