This page contains archived information and may not display perfectly
APRC - Stohl wins China Rally as Gill extends points lead
The third round of the FIA Asia Pacific Rally Championship moved to a new location in Zhangye last weekend (5-7 August), a city in the far west of China and a stop on the ancient Silk Road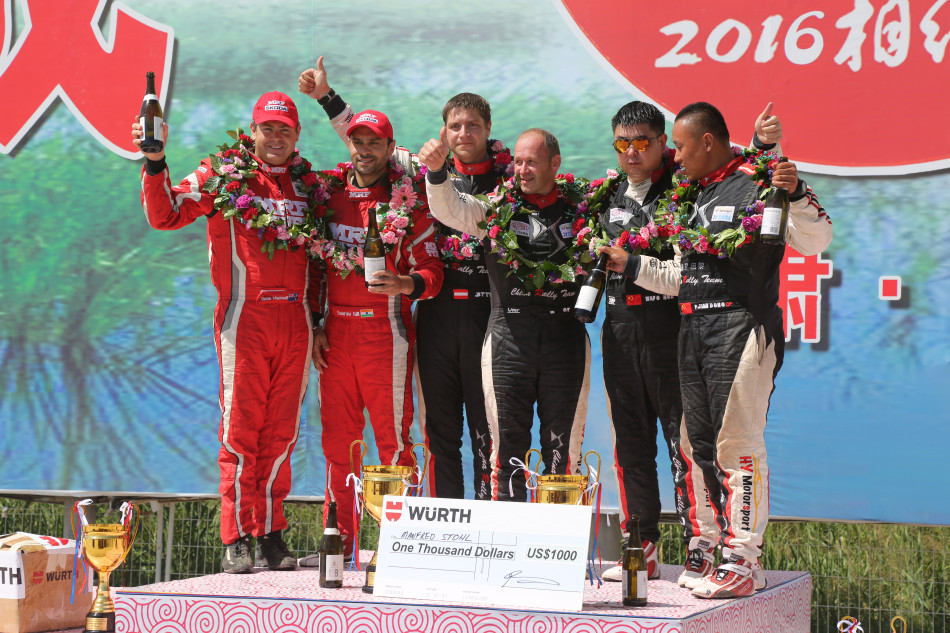 Dodging camels while driving on super-fast desert roads were just some of the challenges that drivers faced in the APRC China Rally last weekend (5-7 August).
Manfred Stohl from Austria in his R5 Citroen DS3 was a clear overall winner, leading the event from Stage 1 and edging further ahead stage by stage.
India's Gaurav Gill driving an MRF Skoda Fabia R5 was the only driver to challenge Stohl, but when he had to stop mid-stage to change a wheel, losing over 4 minutes in the process, the fight was over with Gill deciding that to finish second would still give him maximum APRC drivers points.
"It's been a great event for us, something completely new, very fast stages in the desert, very hot. The car went well, the tyres as well. Maximum points in the kitty, three out of three rallies, so couldn't be better", said Gill at the finish ceremony.
Third overall was Stohl's Citroen team-mate Wang Hua from China also driving a Citroen DS3 using the power of an R5 car to stay well ahead of the rest of the field. There was a Citroen DS3 in 4th place too, but a less powerful two-wheel drive version driven by Australian Eli Evans.
After an early set-back when he lost time in the super-special stage, last year's Asia Cup winner Hitoshi Takayama from Japan fought his way back to 5th overall and 2nd of the APRC registered drivers.
"I am so happy to make it back here to the finish, so many work people worked very hard for this result. Now I look forward to my home event in Japan", said Takayama at final service.
New Zealander Mike Young was given the honour of driving the first hybrid car on an international rally and dually rewarded Chinese car and battery manufacturer BYD with 6th place and winning the 'New Energy Cup powered by Wuerth' .
As he celebrated with the team Young said "It's been a great opportunity to drive a new car with new battery technology and get the result for BYD. It is very important for them as they have some big plans for rallying in the future'.
MRF Skoda driver Fabian Kreim from Germany didn't have such a good event as after consistently posting times in the top three, on SS5 a turbo blew ending any chance of a good finish. Kreim came back fighting on day two to be fastest driver of the day and to haul himself back onto the APRC podium, keeping his driver's title chances alive.
Reflecting on the event, Kreim said "The event was good and bad together, today was very good for us - we were very fast and the feeling was quite good in the car. Yesterday we start slowly and safe, then we had some troubles with the turbo charger, but it's part of the game and this happens. Overall we are really happy with our performance here".
Following home 8th place was Zifeng Chengin a Citroen DS3 and final finisher Japn's Satoshi Imai who went off on the first day ruining any chance of a good result.
The next event in the APRC calendar is the last weekend of September, when the drivers will fight it out on the fast forest stages of Japans, Rally Hokkaido.
 Watch highlights from the event below: