AMFK's Inaugural Young Drivers Academy Ignites Motor Sport Excellence in Central Asia and the Caucasus
In an exciting moment that's sparking enthusiasm in the world of motor sport, the Automotorsport Federation of the Republic of Kazakhstan (AMFK) has propelled Central Asia and the Caucasus region into the fast lane. The debut of the Young Drivers Academy at Almaty's Sokol racetrack in September underscores AMFK's commitment to shaping the future of motor sport in the region.
AMFK President Marat Abykaev expressed his enthusiasm for the project, stating, "This initiative not only places motorsport in our region under the spotlight but also serves as a catalyst for promoting the sport, particularly karting, among our exceptionally talented youth."
The event gathered 12 highly skilled young male drivers and 3 exceptionally talented female drivers, carefully selected from three Central Asian countries—Kazakhstan, Kyrgyzstan, and Uzbekistan, alongside three from the Caucasus—Azerbaijan, Armenia, and Georgia. Their inclusion in the Academy was made possible through the FIA Sport Grant Program.
AMFK's commitment to nurturing motor sport talent was exemplified as they partnered with FIA experts to craft a comprehensive curriculum. This curriculum transcended the racetrack, offering valuable insights into motorsport governance, event organisation, administration, drivers' and event safety, first aid, emotional intelligence, and media training.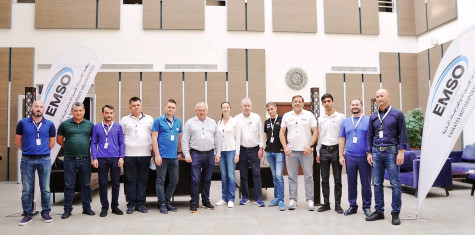 On the last days, following training to enhance on track performance, the drivers competed in single-make karts for the Academy trophies.
The winners of the region's 1st Young Drivers Academy are Kazakhstan's Bekbergen Mirmanov, followed by Georgian Giorgy Tsamalashvili and Aleksandr Khadjia in 2nd and 3rd place. AMFK's steadfast support and guidance played a pivotal role in their path to glory.
The young champions also had the opportunity to participate in the "United Against Online Abuse" workshop, pledging their support to the FIA's global initiative to combat online abuse and create a safer digital space for all.