Alex Lynn: the new King of Macau
Alex Lynn scored a lights-to-flag victory and added his name to the prestigious role of honour of the Macau Grand Prix as well as winning the FIA Formula 3 Intercontinental Cup! The British driver led home Antonio Felix da Costa and Luis Felipe Derani.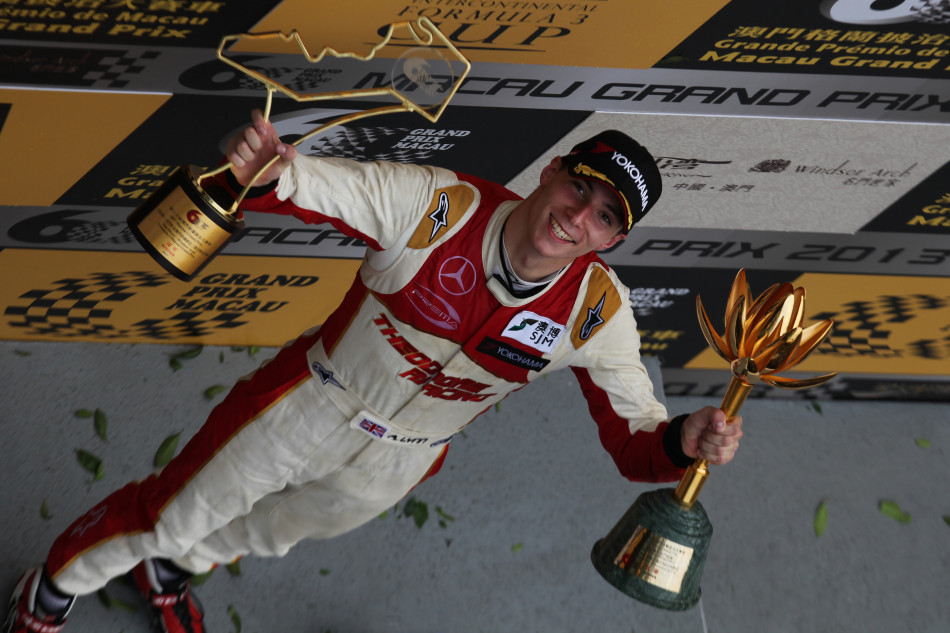 Chance plays no role in victory in the Macau Grand Prix. Alex Lynn (Theodore Racing by Prema) proved it again today. The race celebrating the 60th anniversary of the Macau Grand Prix in the presence of Jean Todt, President of the FIA, was a spectacular one. When the lights went out Alx Lynn made a perfect start and shot into the lead. Confusion reigned behind him and the main victim was Felix Rosenqvist (GR Asia with Mücke). 
This brought out the safety car for several laps. Alex Lynn was in front followed by Pipo Derani (Fortec Motorsports), Antonio Felix da Costa (Carlin), Raffaele Marciello (D88.com Prema Powerteam) and Alexander Sims (ThreeBond with T-Sport). On the restart Lynn held on to first place while there were several changes behind him. Da Costa was the first to overtake Derani. Although the Brazilian put up stout resistance, a few laps later Marciello, who had fallen back to fifth, fought his past to snatch third. 
While Lynn reeled off a string of fastest laps Marciello went off all by himself and finished his race in the guardrail gifting third place to Derani. Da Costa started to pull in the leader but Lynn drove a perfect race to take the chequered flag in first place. 
"I finished third in Macau last year and since then I've had but a single aim – win this race," exclaimed a smiling Lynn. "We did a huge amount of work over the weekend to achieve this result. Yesterday I saw that the car had a lot of understeer and that Raffaele Marciello was clearly quicker than me, especially in the last part of the circuit. Prema Powerteam and I improved the car even further for today. Antonio made a comeback at the end of the race, and I said to myself that I had to give absolutely everything to achieve my objective. Obviously, it's an important victory in my career. When I look at the names of the winners of this event, I know I've good reason to have a smile on my face this evening!" 
Antonio Felix Da Costa, who finished second, was happy with his result even if he didn't manage to win the race for the second time on the bounce. "Obviously, I wanted to win today," stated the Red Bull Junior Team driver, "but I always said that if I didn't come first at least I wanted to drive a good race. And that's what I did yesterday and today. I haven't driven a Formula 3 since the 2012 Macau Grand Prix, and all the guys I was up against are at the top of their form in this type of car. So I'm happy, and congratulations to Alex. He drove perfectly all weekend." 
Luis Felipe Derani, sixth last year, completed the top 3. Alexander Sims came fourth and Jordan King in fifth place won the Best Rookie Trophy, while Mercedes-Benz clinched the FIA Formula 3 intercontinental Cup for Engine Manufacturers.
Thus, the 2013 season finished on a high note with a Macau Grand Prix that will remain engraved in the annals of this legendary event.